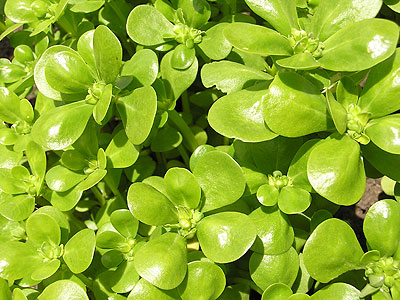 Purslane is high in healthful omega-3 fatty acids – for a vegetable. English photo.
By Roberta Bailey
Last year was the first year that purslane started showing up in my garden. When I saw it my heart leapt with a little fear. All the voices of other gardeners complaining about this difficult weed rushed through my mind and I quickly hoed it. The second time I saw it, I remembered that it is a wild salad green.
But was it one of those nasty things that one eats when one can get nothing else (to grossly paraphrase William Cobbett's words in his 1819 book, American Gardener)? I tried a sprig, and it seemed inoffensively neutral. Then I tried a younger leaf cluster and found it delicious and worthy of a place in that night's salad.
The oval to wedge-shaped leaves are pleasantly succulent, but not mucilaginous, and the flavor is mild and slightly acerbic, a bit like a mild watercress. The cultivated version is said to be milder and more upright than the vining wild version.
This spring, Beedy Parker of Camden, Maine, shared some online links to purslane recipes and its nutritional information. Purslane is high in vitamin C and rich in omega-3 fatty acids, including alpha linolenic acid, and antioxidants. Parker caught me in the flush of spring optimism, that place where everything is possible and nothing has succumbed to insects or blights. I had decided to grow a crop of golden flax for the chickens and for ourselves because of its omega-3 content. Why not give purslane a try? I like the idea of growing my own sources of non-fish-based omega-3 fatty acids and have decided to revisit wilds of my garden and to plant some 'Golden' purslane.
Called "verdolagas" in Spanish and "glistritha" in Greek, purslane is a popular vegetable in European, Asian and Mexican cultures. It is often eaten in salads, soups or cooked in a bit of water as one would spinach. It can be substituted for greens in soups, salads, lasagna and savory tarts. It is great in a Greek salad with feta cheese. If you find that you can't get enough of it, it can be pickled with cider vinegar, garlic and some salt; just use a dill pickle recipe and omit the dill and add peppercorns. It can also be juiced.
Here are a few recipes that intrigue me. Perhaps they will inspire you to save your weeds or cultivate a row. After all, locally farmed omega-3s are all the rage.
---
Cucumber-Purslane-Yogurt Salad
5 large cucumbers, peeled, seeded (optional) and cut into quarter- round slices
1/4 lb. purslane, large stems removed, washed and drained well
2 Tbsp. each fresh chopped mint, cilantro and chervil
4 c. whole milk yogurt
1/4 c. olive oil
3 cloves garlic, puréed with a pinch of salt using the flat side of a knife
2 tsp. ground coriander
salt and ground black pepper
Place the cucumber, purslane and herbs in a large bowl. In another bowl, stir together the yogurt, olive oil, garlic and coriander. Season to taste with salt. Add the yogurt mixture to the vegetables and mix well. Add a pinch of ground black pepper. Taste the dressed salad and add a little more salt if needed. Serve chilled. Serves 6.
---
Spicy Purslane Soup
2 Tbsp. olive oil
1 medium onion, diced
2 cloves garlic, minced
4 chipotle chilies, minced, or 2 to 4 tsp. chipotle powder
4 c. chicken or vegetable stock
1 c. tomato sauce
1 c. stewed tomatoes, chopped
1 c. shredded chicken meat
1 c. cooked white or brown rice
1 c. tender purslane leaves
salt
pepper
a little cilantro, minced
a little strong-flavored white cheese, crumbled – Mexican, Romano or farmer cheese, or even sour cream
lime wedges
tortilla chips
Sauté the onion, garlic and chipotles in olive oil in a heavy saucepan. Add and heat stock, garlic, tomato sauce, stewed tomatoes, chicken meat, rice and purslane. Season with salt and pepper. Simmer until purslane is not crunchy and flavors meld. Make sure soup is salty enough. Serve hot. Sprinkle minced cilantro and some cheese on top of each bowl and serve with lime wedges to juice over the top. Crumble tortilla chips into the bowl if desired. Serves 3-4.
---
Purslane and Parsley Salad
3 Tbsp. olive oil
1 Tbsp. fresh lemon juice
1 Tbsp. finely chopped chives or scallion
1/2 lb. cherry tomatoes, halved or quartered if large
6 c. packed tender purslane sprigs and leaves (from a 1-lb. bunch)
4 c. packed curly leaf parsley leaves (from 2 large bunches)
Whisk together oil, lemon juice, chives or scallion, and 1/4 tsp. each of salt and pepper, in a large bowl. Add tomatoes, purslane and parsley, gently tossing to coat. Serves 6-8.
---
Asian-Style Purslane Garlic Sauté
1 bunch purslane
1 Tbsp. olive oil
3 cloves garlic, sliced lengthwise
1 Tbsp. tamari or soy sauce
1/2 tsp. toasted sesame oil
Wash the purslane and trim off the roots and tough lower ends of stems. Put in a vegetable spinner to dry.
Heat oil and sauté garlic and purslane on low heat. Remove purslane from pan and chop into bite-size pieces. Add soy sauce, sesame oil and mix. Serve.
---
Fish, Nuts, Greens – Relative Amounts of Omega-3s
Data from Tufts University show that greens generally have lower concentrations of omega-3 fatty acids than foods such as some fish and oily seeds. But purslane is said to have higher concentrations of omega-3s than other greens – as well as plenty of other healthful nutrients.
From Tufts:
Recommended consumption: 7 to 11 g omega-3s/wk.
4 oz. salmon – 1.7 g
4 oz. sardines –  1.8
4 oz. mackerel – 2.2
1 oz. walnuts – 2.6
1 oz. flaxseeds –  1.8
1 Tbsp. cod liver oil – 2.8
1 Tbsp. sardine oil – 3.7
1/2 c. spinach, dandelion greens, kale, collards – 0.1
1 c. purslane leaves –  0.4
Also, like spinach, purslane can contain enough oxalic acid to cause problems in people prone to developing kidney stones.
Information: https://www.ncbi.nlm.nih.gov/pmc/articles/PMC3934766/