2023 Seed Swap & Scion Exchange
Sunday, April 2, 12 noon - 4 p.m.
At MOFGA's Common Ground Education Center in Unity
Please note the new date; this event has been postponed due to weather.
This will be an indoor and outdoor event, so wear your woolies and come enjoy a warm drink, see old friends, meet new friends and bring home some scionwood for grafting and seeds for planting!
Gardeners and orchardists are invited to bring their seeds, scionwood and cuttings to share.  We should have over 150+ types of scionwood to share, including from the MOFGA orchards!  We will also have some rootstock for sale (quantities limited).
Custom grafting available (by donation to the Maine Heritage Orchard) from 12:30 to 3:30 p.m – including a special half hour where you can have your tree grafted by awesome expert grafter kids, 1:00-1:30 p.m!
Other items for sharing are welcome: plants, cuttings, seedlings, hatching eggs, kombucha/yogurt starters, salves, other homemade items… 
Want to help out at the event? Sign up to volunteer here. We'd love to have you!
This event will be held at MOFGA's Common Ground Education Center, 294 Crosby Brook Rd, Unity, Maine.
Questions? Please email [email protected]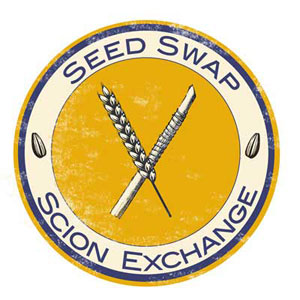 Topic

Time

Presenter

Workshops in the Library

Transitioning from Fruit Foraging to Backyard Apple and Pear Breeding

12:30-1:15 p.m.

Jared Carr

Seed Saving for Beginners: Tomatoes, Peppers, Beans and More

1:30-2:15 p.m.

Amy Leblanc

Maturity Dates, Pests and a Look Ahead to the 2023 Season

2:30-3:15 p.m.

Glen Koehler

Workshops Outside Under a Tent (Weather Permitting)

Planting Your First Fruit Trees: What You Need to Know

12:30-1:15 p.m.

Edgar Evenkeel

Favorite Apple Varieties for the Backyard Orchard

1:30-2:15 p.m.

John Bunker

Scaling Up as a Seed Saver & Intro to Growing for a Seed Company

2:30-3:15 p.m.

Emily Pence
There will be ongoing demos and displays, along with opportunities to chat with experts!
knife sharpening
apple box making
displays of different graft types
plant propagation
garden tools – seeders & weeders
kids activities (making seed paper and seed balls)
and more!
Tips for Packaging Scionwood to trade:
Use elastic bands or string to bunch together a single type of scionwood so that individual sticks can be removed easily.
Label

at least one

stick in the bunch using masking tape – if you have time aim to label 5!

Keep an eye out for wood that looks like it could have problems, like the two sticks on the right in this photo. Don't cut from trees with diseases.

Last year was a very bad year for fireblight and so we're being extra cautious

; if your tree looks potentially diseased, please err on the side of caution!  

We'll have plenty of scionwood to share, so please don't feel obligated to bring wood to swap. We want to share clean wood only!

Remember: after harvesting your scionwood, store it TRIPLE-ziploc-bagged in the fridge (not freezer.)
Each piece of scionwood doesn't need to be very long – 8 inches is plenty!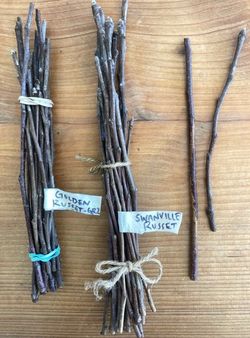 Can't make the swap in person but still want to trade?
Click here to add seeds, scionwood, or other resources you have to share to our public list, and to request varieties of seed or scionwood that you're seeking out. The intention of this shared spreadsheet is to facilitate sharing between individuals across Maine (and beyond) using the postal service. Remember, this spreadsheet is open to the public – only share information you are willing to share broadly, and please do your own due diligence.
On the Origins of the Seed Swap and Scionwood Exchange
The Seed Swap & Scion Exchange was initiated in 1983 by the Maine Tree Crop Alliance (MTCA).  After several years in Augusta and then several more at Unity College, the event found its home in 1999 when MOFGA moved to our campus in Unity and we partnered with the MTCA and the Maine Seed Savers Network to bring this event to our community.  The Seed Swap & Scion Exchange has been a beloved annual event ever since! We are excited to gather this year for the 40th year of this annual celebration of seeds and fruit trees. For more details about the origins of this event read Jack Kertesz' history from his perspective as a founding member of the MTCA here.