2022 Seed Swap & Scion Exchange
Sunday, March 27th, 12 noon - 4 p.m.
This year, we'll be mostly outdoors, so wear your woolies and come enjoy a warm drink, see old friends, meet new friends and bring home some scionwood for grafting and seeds for planting!
Workshops have been moved online, with talks on fruit trees on Tuesday, March 29th & talks on seeds on Thursday, March 31st.
Gardeners and orchardists are invited to bring their seeds, scionwood and cuttings to share.  We should have over 150+ types of scionwood to share, including from the MOFGA orchards!  We'll have pruning demos outside during the event.
Seed Swapping will be indoors & masks will be required.
Other items for sharing are welcome: plants, cuttings, seedlings, hatching eggs, kombucha/yogurt starters, salves, other homemade things – all welcome. 
See below for schedule of educational talks, as well as lists of resources about seed saving & fruit trees.
Questions? Please email [email protected]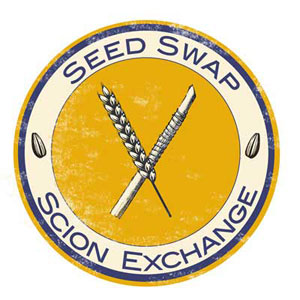 Tips for Packaging Scionwood to trade:
Use elastic bands or string to bunch together a single type of scionwood so that individual sticks can be removed easily.
Label

at least one

stick in the bunch using masking tape – if you have time aim to label 5!

Keep an eye out for wood that looks like it could have problems, like the two sticks on the right in this photo. Don't cut from trees with diseases.

Last year was a very bad year for fireblight and so we're being extra cautious

; if your tree looks potentially diseased, please err on the side of caution!  

We'll have plenty of scionwood to share, so please don't feel obligated to bring wood to swap. We want to share clean wood only!

Remember: after harvesting your scionwood, store it TRIPLE-ziploc-bagged in the fridge (not freezer.)
Each piece of scionwood doesn't need to be very long – 8 inches is plenty!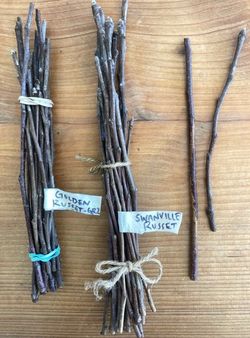 Can't make the swap in person but still want to trade?
Click here to add seeds, scionwood, or other resources you have to share to our public list, and to request varieties of seed or scionwood that you're seeking out. The intention of this shared spreadsheet is to facilitate sharing between individuals across Maine (and beyond) using the postal service. Remember, this spreadsheet is open to the public – only share information you are willing to share broadly, and please do your own due diligence.
Webinar Schedule for 2022 Seed Swap and Scion Exchange
Tuesday, March 29th: Webinars about Fruit Trees
Free; Registration Required
Expand your fruit tree horizons, marvel at the incredible diversity of fruiting plants that we can grow here in Maine & learn how to involve more trees in your agricultural projects!
REGISTER HERE to participate in these webinars about fruit trees.
| Time | Workshop |
| --- | --- |
| 6:30 p.m. | Growing Unique Fruit in Maine: What's New & Exciting? A panel discussion with Aaron Parker (Edgewood Nursery) and Jesse Stevens (Sy's Trees) |
| 7:30 p.m. | Silvopasture: Raising Livestock in Orchards. A conversation with Eliza Greenman (Hogtree Orchard Pork) and Matt Kaminsky (Gnarly Pippins) |
Thursday, March 31st: Webinars about Seeds
Embrace the potential of seed! This years' guests will challenge you to select, breed and produce varieties that can up your growing game. Hop on board!
| Time | Workshop |
| --- | --- |
| 6:30 p.m. | Introduction to Seed Breeding with Heron Breen & Special Guests Roberta Bailey (Seven Tree Farm), Tom Vigue (Kiwi Hill Farm) and Lyndsay Wyatt (cucurbit breeder at Johnnys Selected Seeds.) |
| 7:30 p.m. | Working With Landrace* Seed Lots with Nate Kleinman (Experimental Farm Network) and Chris Homanics (plant breeder & organizer) |
More on the webinars
Growing Unique Fruit in Maine: What's New & Exciting?
Aaron Parker and Jesse Stevens are interested in pushing the limits of fruit growing in northern areas. Both have nurseries. Aaron has a diverse collection of obscure annuals and perennials, and Jesse has a climate-challenged selection of woody plants, including Maine grown figs. Both share a passion for discovery (and eating the results!) and are excited to expand the list of crops that can be grown here. They'll share their own discoveries and experiences from the past year during this talk and would love to hear from you! Did you have a plant produce fruit this year for the first time? Join the conversation and tell us about it.
Silvopasture: Raising Livestock in Orchards
Eliza Greenman and Matt Kaminsky will discuss their experiences with silvopasture– integrating livestock and fruit/ nut trees. Eliza operates HogTree in Virginia raising pigs using fruit, nuts and leaf fodder. She is an avid fruit explorer and has done an incredible amount of work searching for and propagating mulberries, hickories, oaks, apples and more. Matt and his partner operate Meadowfed Lamb  in Hadley, Massachusetts where they pasture Finn sheep in an orchard of apples, pears, chestnuts, etc. Matt is also a dedicated fruit explorer and works closely with many wild apple trees, promoting the selection and propagation of wild apples and pears through Gnarly Pippins and the Wild and Seedling Pomological Exhibition. 
Introduction to Plant Breeding with Heron Breen & Special Guests
Saving seed for our homes and farms encourages the natural action of "selection", a co-evolution of place, plant and person. Whether by happenstance or accident or curiosity (or all three!), plants can reveal to us an even more engaged level of trust with their life processes. This has been called "plant breeding" in modern parlance. Please join us for an evening roundtable of Maine gardeners and farmers sharing their unique journeys with plants! May you come with projects & questions, and leave with even more projects and questions!  
Working with Landrace* Seed Lots with the Experimental Farm Network
Some seed companies exist to sell you seeds; but the Experimental Farm Network exists to sell you on seed growing, messing around with expressed gene traits, and watching out for when the outstanding ones appear in your field! Learn more from founder Nate Kleinman and see how you can volunteer for a project that will likely take you on a rewarding path of discovery. 
 * landrace: a region-specific, genetically diverse population of plants out of which some will thrive, giving you lots of options for seed selection.
On the Origins of the Seed Swap and Scionwood Exchange
The Seed Swap & Scion Exchange was initiated in 1983 by the Maine Tree Crop Alliance (MTCA).  After several years in Augusta and then several more at Unity College, the event found its home in 1999 when MOFGA moved to our campus in Unity and we partnered with the MTCA and the Maine Seed Savers Network to bring this event to our community.  The Seed Swap & Scion Exchange has been a beloved annual event ever since! We are excited to gather this year for the 39th year of this annual celebration of seeds and fruit trees. For more details about the origins of this event read Jack Kertesz' history from his perspective as a founding member of the MTCA here.