Each year, the Common Ground Country Fair (CGCF) takes place on the third weekend (Friday, Saturday and Sunday) after Labor Day.
Mark your calendars for this year's Common Ground Country Fair on September 24, 25 & 26, 2021.
Gates open at 9:00 am each day.
Vendors open until 6 p.m. on Friday and Saturday, 5 p.m. on Sunday.
Members of MOFGA get FREE admission to the Common Ground Country Fair daily.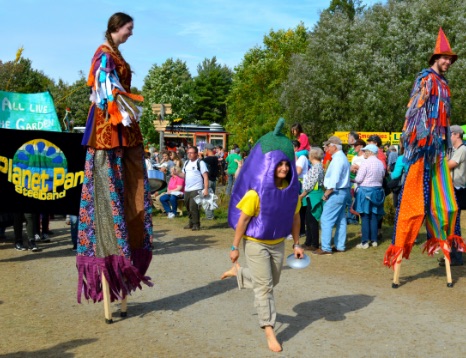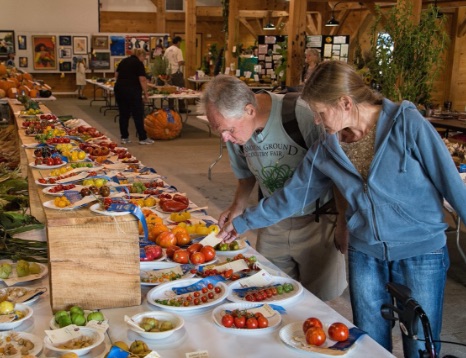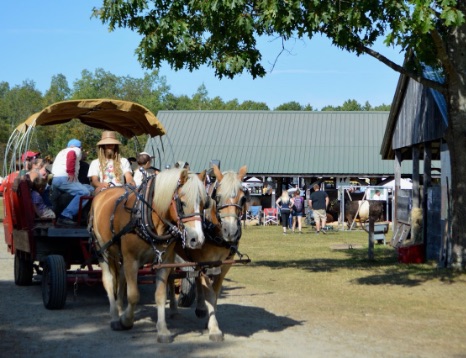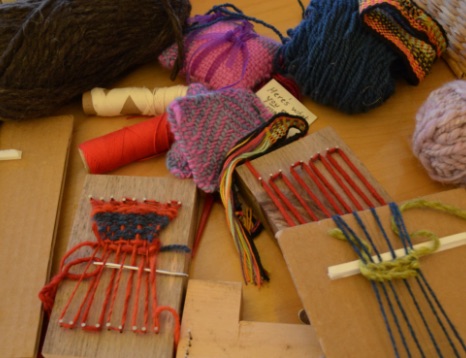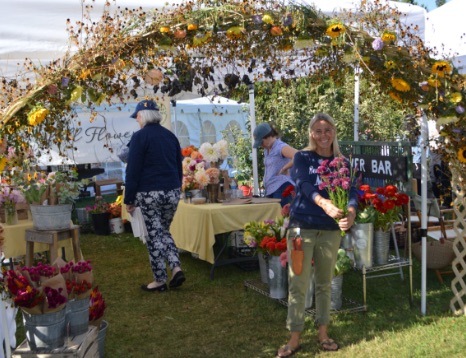 Tickets on sale August 1, 2021
The following guidelines apply to all people attending the Fair in any capacity.
Common Ground Country Fair recognizes the unique perspectives of the various cultures represented in Maine and at the Fair. In order to improve diversity, equity, and inclusion at our events, MOFGA staff and the Fair Steering Committee are working with community members on new guidelines to address these issues.
Until those have been approved, we ask all participants to act with respect in their interactions, presentations, and marketing.
Fairgrounds Accessibility
MOFGA provides free admission to the Fair for persons with disabilities. We also provide
free admission for one aid per person with disabilities as well.
The Common Ground Country Fair is located on 250+ acres of fields, woods and hills in rural Maine. Most of the Fair exhibits and activities take place within a 40-acre parcel around the main building. While we make efforts to accommodate fairgoers with mobility challenges, we want people to recognize that there are parts of the property that may be difficult to access for individuals in wheelchairs or who are dependent on canes or walkers. People with such challenges find it helpful to come with assistants who can help them get around.
Here are some tips to help you plan your visit:
Parking – We provide handicapped parking spots in both the North and South Parking Lots.
Handicapped parking in the North Lot (on the Unity side of MOFGA's property) is near the ticket gates.
Handicapped parking in the South Lot (on the Thorndike end of MOFGA's property) is near the tractor-pulled wagon shuttle, which transports fairgoers to the ticket gates on the south end of the fairgrounds.
Please note that capacity in the handicapped areas is not without limits.
These areas do fill up on occasion. Our volunteer parking crew monitors the handicapped parking areas continually to fill spaces as they open up. Saturday is generally our busiest day, depending on the weather, so you might consider coming on Friday or Sunday.
Grounds and Walkways – The fairgrounds are expansive. Getting from point A to point B can take some time,especially when there are lots of people walking along with you. It's a good idea to look at the
fairgrounds map when planning your schedule for the day. There is a paved ring road that encircles The Common, the Exhibition Hall, and several of the main vendor/exhibitor areas of the Fair. This road has a smooth surface and provides access, or at least a vantage point, to most areas of the Fair. This is the only paved surface on the grounds. The majority of the grounds is comprised of either turf or dirt walkways, which we attempt to keep free of rocks and
Divots.
Restrooms – There are handicapped accessible facilities in the bathrooms in the main building, next to the Exhibition Hall, and in the restrooms on the west side of the fairgrounds near the Poultry Barn. We also have handicapped accessible port-a-potties in several locations around the grounds. See the map in the Fairbook for specific locations.
Assistance – Please note, we do not have carts or wheelchairs available for individual fairgoer use. Members of our
Volunteer Safety Team provide assistance for fairgoers who are in distress.
Service Animals – Dogs that are individually trained to do work or perform tasks for the benefit of an individual with a disability are welcome on the Fairgrounds.
Camping and Accommodations
Note about RVs: We do not have room for RVs in our parking lots and are therefore requiring all RVs to be parked at the independently operated Farwell's Corner Campground. The location is only 3/4 of a mile from the Fairgrounds and there will be a shuttle. The address is 479 Town Farm Road in Unity 04988. Consider biking to the Fair from this location.
Accommodation Suggestions for the Common Ground Country Fair
The following list includes a wide range of accommodation options for vendors, volunteers and fairgoers. Neither MOFGA nor the Common Ground Country Fair assumes any responsibility for reservations, accommodations or overall experiences at any of the establishments listed below. Any business relationship established between any vendor, exhibitor, volunteer or fairgoer, and any proprietor of any listed establishment is made independently of MOFGA and the Common Ground Country Fair. All phone numbers have a 207 area code unless otherwise indicated.
Camping Within a Few Miles of MOFGA's Common Ground Country Fair Grounds (listed in order of distance away from MOFGA)
Farwell's Corner Campground, Unity RV, tent or camper, and for those wishing to stay at the Fair for the weekend. Located 1.25 miles from MOFGA's fairgrounds at 479 Town Farm Road in Unity. You can walk, bike or take the mini-shuttle to the Fair. The rate is $21 per night. Phone: 274-7590
Bioregional Conservancy Retreat (BCRT) – Thorndike Camping – families welcome, yurts for rent, self contained RV's Indoor and outdoor facilities incl. showers, trails, food forest tours, and pasture for large animals upon request. Visitors who are looking for a farm experience are welcome to participate in farm chores, milking, feeding, gardening, apple harvest, and construction. Founders of the Food
Forest Project Reservations requested. Ask for Roger or Martina.

[email protected]

; phone 207-568-3139
The Homestead Air B&B, Unity www.airbnb.com 
Waterfront Camp/Cottage on Unity Pond 6 miles from the Fair located on Horseback Road on Unity Pond. Sleeps up to 8 people. Ask for Linda. Phone: 207-314-1218 E-mail:

[email protected]

Guesthouse in Unity 4 miles from fairground. Common Ground Fair 2019 – $125 a night 2 people, $10 additional person, 3 night min.
Guesthouse: 2 stories, on 100+ acres. 2 bedrooms plus loft, sleeps 1-9, full bath, kitchen, heat, Wi-Fi, Hills-to-Sea hiking trails. Special rates for hikers. Available May-Oct. $80 for a couple Photos: http://tinyurl.com/zwrcomc Contact Julia, email: [email protected], 909-621-0720
Cabin – Thorndike Brand new cabin (2015) with a full bath, sitting area and 2 bedrooms; which sleep a total of four people. Ask for Martha Laitin. Booked for the 2019 CGC Fair Phone: 948-2815 (home) or 323-2368 (cell) Website: www.thorndikecabin.com
Check out TENTRR for areas close to the Common Ground Country Fair Fully equipped campsites on beautiful, private land that are pet friendly and already set up. Sites only hold one group at a time and can have a maximum capacity of 14 people. Contact: Laurel @ (888) 798-9093, or

[email protected]

Website: www.tentrr.com
Deering Acres Campground Primitive tenting and room for self-contained RVS. No hookups. Located in Brooks, just 10 miles from the Common Ground Country Fair. 90 Veterans Highway (Route 7). Contact Kimberly Wood. Phone: 207-332-3751 Email:

[email protected]

Royer Valley Farm Located in Brooks, Maine, and owned by Dick & Amy Royer, has 53 acres of woods and 20 acres of open space that can be utilized for rustic camping. Outhouses and hand wash stations are available onsite. All campers must book their stay through one of the rental sites listed below
Goose Ridge Yurts Yurt for rent 15 mins from fairgrounds in North Montville. Ask for Kim or Glen Widmer Phone: 382-6034 Website: https://www.facebook.com/gooseridgeyurts/ E-mail:

[email protected]

and/or

[email protected]

Hidden Valley Camp – North Montville – 12 miles Affordable small cabins and tipis with continental breakfast on 350 acres with trails, meadows, hot tub, tennis and farm animals. Phone: 207-342-5177 Website: https://www.airbnb.com/s/hidden-valley-maine?ss_id=qgo5ghio
Friends Camp Affordable and rustic overnight lodging/tenting with continental breakfast and dinner. 729 Lakeview Drive (Route 202) South China, Maine. One 3-bedroom lakefront cottage with kitchen available. Friends Camp is 19 miles from MOFGA. Reservationsbegin after August 14. Phone: 207-445-2361 Website: http://friendscamp.org/common-ground-fair-weekend-the-third-weekend-after-
labor-day/ E-mail:

[email protected]

Large wilderness cabin on Hogback mountain in Montville Can sleep up to 5 people with extra sleeping bunks in the carriage house. Convenient to fairgrounds off Rt. 220 in Montville. Convenient to fairgrounds and quick access to Hills to Sea Trail. Contact Kay or Hurley for reservations Phone: 207-631-1023 Website: http://wildernesscabin.org
Green Valley Campground – Vassalboro Phone: 207-923-3000 Website: www.greenvalleycampground.us
Summer home, 3 miles from MOFGA on Lake Winnecook (Unity pond) Two bedrooms (1 queen and 1 double), kitchen, living room, bath, and screened porch overlooking the lake. Non-Smoking and no pets. Full for 2019 Fair. Phone: 207-745-2932. E-mail:

[email protected]

RV site with patio, electricity, and water hookup. Located approx. 3 miles from MOFGA on Lake Winnecook (Unity pond). Full for 2019 Fair. Phone: 207-745-2932 E-mail:

[email protected]

Sunset Pines Cottages – on China Lake in China (18.2 mi from MOFGA) For more information, contact Nick. Please leave your name, return number, email and a detailed message regarding your needs/request. Email:

[email protected]

Phone: (207) 968-2197
Accommodations in Waldo County and the Midcoast Area
For additional help, call the Belfast Area Chamber of Commerce at 207-338-5900
Accommodations in Montville/Searsport (30-40 minutes from Fairgrounds, 5-10 minutes north of Belfast)
Accommodations in Waterville Area For additional help contact the Waterville Area Chamber of Commerce at 207-873-3315
Waterville/Fairfield (~ 30 min. west)
Oakland/Belgrade (~ 40-50 minutes west)
Skowhegan and Dexter (~ 50 minutes northwest and north)
Accomodations in Bangor Area ( ~ 45 minutes from Unity)
For additional help contact the Bangor Area Chamber of Commerce at 207-947-0307
Pet Kennels – please see "Pet Policy" tab above
Pet Policy
Pets are strictly prohibited from the fairgrounds, parking lots (including parked cars) and camping areas.
If you are travelling long-distance with your pet(s), please contact a pet kennel in the area. Here are some suggestions:
It's Raining Cats & Dogs – 16 miles W – 340 Albion Rd, Benton, ME 04901-3645 (207) 453-9490
Applewood Boarding Kennel – 10 miles W – 174 Bangor Rd, Benton – (207) 453-5959
Sebasticook Farms Kennel – 21 miles N – 460 Hartland Ave #2, Pittsfield – (207) 487-3168
Fairfield Kennels – 26 miles W – 80 Horn Hill Rd, Fairfield – (207) 465-7801
Willow Run Bed, Biscuit & Bath – Route 27, Belgrade – (207) 495-3596
Canine Country Club – 1 Canine Lane (Route 1), Northport – (207) 338-8300
Pussy's Port O' Call Inc – 144 Atlantic Highway (Route 1), Northport – (207) 338-6050
Country Kennel – Bangor – (207) 945-9221
Green Acres Kennel Shop – Bangor – (207) 945-6841
Service animals, dogs that are individually trained to do work or perform tasks for the benefit of an individual with a disability, are welcome on the Fairgrounds.
Audio/Video Recording Policy: The Maine Organic Farmers and Gardeners Association (MOFGA) reserves the right to make sound and video recordings of presentations and performances. All recordings remain the property of MOFGA. MOFGA will use the recordings for subsequent promotional or commercial purposes only with the expressed permission of the entertainer(s). All fairgoers wishing to make audio or video recordings of presentations or performances must request written permission from the presenters or performers.