2023
Common Ground
Country Fair
Planning has already begun for the annual

Common Ground Country Fair

on

September 22, 23 and 24, 2023 here in Unity, Maine!

 

 
Thank you for your ongoing support!
To visit our volunteer website and view available shifts:
Please Note:
Fair volunteer shifts will be posted on June 1, 2023. Please check back then to view available shifts and sign up!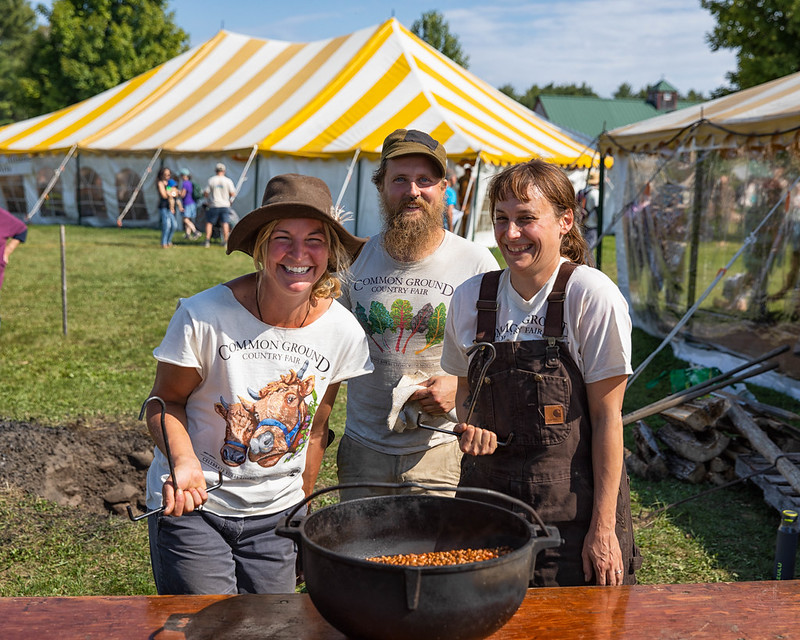 Benefits
One Fair Volunteer T-shirt
Fair Admission for the day you work
One meal at the Common Kitchen on the day you work
Camping privileges – tent site (one night per shift, either the night before or the night after your shift)
One 4-hour shift
For any additional 4-hour shifts you will receive
Meals
Additional Benefits
Camping
Information for Fair Volunteers
Thank you so much for your interest in volunteering at the Common Ground Country Fair. We rely on our many volunteers to keep the fair running smoothly and are so thankful you want to help out! To view available shifts, visit MOFGA's volunteer site: MOFGA VOMO Volunteer Website
Pre-registration – There are two ways to register in advance for volunteer shifts at the Fair:
1. Pre-registration Online
Register online by utilizing our online volunteer website:    MOFGA VOMO Volunteer.  If you have questions, please email the community engagement coordinator at  [email protected] or call 207-568-6046 during business hours.
2. Pre-Registration by mail
Please contact the office to request a volunteer registration packet! You can also get a copy of the Minor Consent Form from the office for anyone under the age of 18 who wants to volunteer.
Eligibility
Volunteers under the age of 18 must have parent or guardian signed consent. Volunteers must be at least 13 years old to volunteer without a guardian. Children between the ages 10 – 12 may volunteer if accompanied by a guardian 21 years of age or older with at least 1 adult : 2 children ratio.
Special cases

Children's Area: Minimum age 13 years old.
Auto Gates, Common Kitchen, Country Store, Entertainment, Low Impact Forestry, Parking, Ticket Takers: Minimum age 16 years old.
Safety: Minimum age 16 years old for daytime shifts and 18 years old for nighttime shifts.
Ticket-sellers: Minimum age 18 years old and must be well-known to MOFGA staff or Board members.
Shuttle Assistants: Minimum age 18 years old.
Confirmation
Arriving at the Fair
Volunteer Check-In
Volunteer Guidelines
Volunteer as an Area Coordinator
Area Coordinators organize every aspect of the Fair – from organizing speakers to laying out parking lots to working at the gates. Coordinating is an amazing way to support the Fair and work with a group of amazing people. We have openings for coordinators, assistant coordinators, and understudies. We have leadership opportunities before, during and after the Fair.
Watch Our Volunteer Webinar