The Maine Heritage Orchard
About the Maine Heritage Orchard
The Maine Heritage Orchard (MHO) is a 10-acre preservation and educational orchard located at the Maine Organic Farmers and Gardeners Association (MOFGA) in Unity. The orchard is home to over 360 varieties of apples and pears traditionally grown in Maine, with more being added each year. The collection includes varieties from all 16 counties in Maine, dating back as far as 1630, many of which MHO has reintroduced to Maine growers through MOFGA's yearly seed swap and scionwood exchange.
The orchard is planted in a reclaimed gravel pit and is managed using innovative, organic orcharding practices. In 2013 the land was reshaped into terraces, and the first trees were planted on Earth Day 2014. Clovers, grasses, native flowers, shrubs and trees are encouraged to grow alongside the fruit trees to help stabilize the depleted land, promote healthy soil growth and create a balanced ecosystem.
In collaboration with College of the Atlantic and Washington State University, MOFGA staff are in the process of analyzing and cataloging the DNA of all trees in the orchard, as well as many old trees in the state. The goal of this project is to fill in gaps in genetic lineages, confirm identification of Maine varieties and fill in the early history of European agriculture in North America.
Read More About the Orchard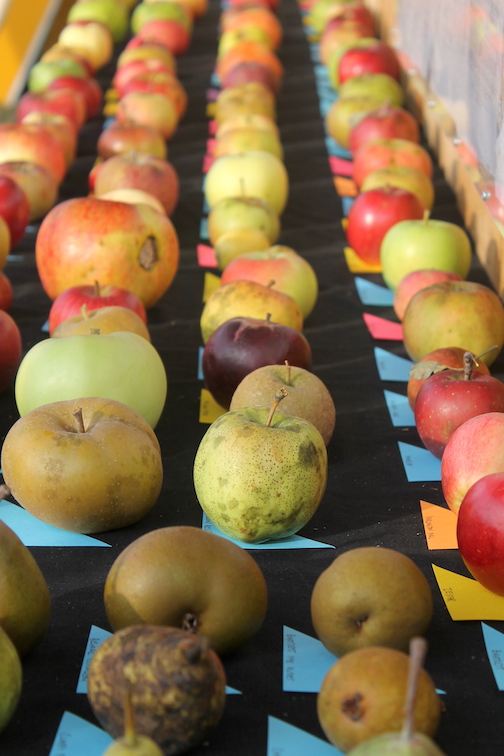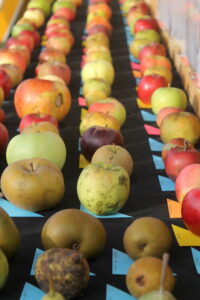 By C.J. Walke, MOFGA's Orchard Program Manager At this year's Common Ground Country Fair, the Hayloft Tent was packed with educational talks, abuzz with fruit enthusiasts hovering over our heritage fruit displays, and brimming with curious fairgoers looking to learn about topics such as beekeeping, beneficial plant propagation and permaculture, among many other things. However,
Read More »