Maine's apple expert John Bunker has been a friend of MOFGA for years as a volunteer facilitating the planting of the North and South Orchards, and previously served as board president. As part of his life's work investigating, searching for and propagating old apple cultivars of Maine and New England, he set out to find a permanent location to make these historically significant varieties available to the public. Russell Libby, in his last year as executive director of MOFGA (1995-2012), proposed to Bunker that they start a reclamation project, transforming the old gravel pit down the street from the MOFGA fairgrounds into an educational preservation orchard. The project was unanimously approved by the board of directors at Libby's last board meeting that fall.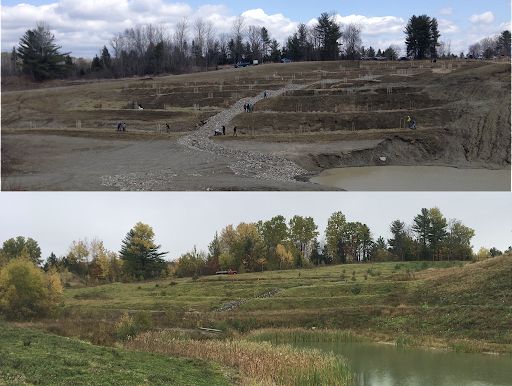 The following spring, the pit was terraced and leveled in preparation for trees. Woodchip and rock swales were created to find a balance between recommendations from the orchard committee and the National Resource Conservation Service. Round bales were rolled out on the flats of the terraces to protect against erosion before the orchard understory could be established. To protect young saplings, a 10-acre deer fence was put up around the orchard through a generous donation.
In fall of 2014 the first hundred saplings went in the ground. Clovers and clumping grasses were seeded, and hundreds of woody and herbaceous companions were planted. Since the last bulldozers retreated, native plants have made their way into the orchard, vying for spaces left unplanted.
In 2015 and 2016, two other sections of about 80 trees each were planted on a gentle slope on the south side of the orchard — in three terraces and two flat rows overlooking the pond. The original terraforming was followed by the shaping of an additional area on the west side of the orchard pond in the summer of 2017. That fall the orchard produced its first few apples. As more trees reach maturation and start producing, MHO makes it possible to see and taste apples that haven't been experienced by the general population for over a century. As of summer 2022, there are now over 70 trees fruiting in the orchard.
The orchard's current manager, Laura Sieger, was John Bunker's apprentice during college and one of the orchard's first volunteers. Their first project for the heritage orchard was painting the signs that hang on the orchard's main gate. In 2018 Bunker retired and Sieger was hired as orchard manager. Since Sieger's management, there have been over 124 trees planted, as well as more perennial and companion plants. In the past few years the orchard crew has grown to include two seasonal orchard assistants and a summer internship program.