What is the Low-Impact Forestry Program?
The Low-Impact Forestry (LIF) program at MOFGA is a group of loggers, foresters, landowners, farmers and interested persons educating about, practicing and advocating for ecologically-based and economically-sound forest practices. We practice and endorse forestry that seeks to reduce the known harmful impacts of logging, and promote the social and ecological benefits. The LIF program hosts workshops year-round covering all sorts of forestry related topics from logging with draft animals to home firewood production. The LIF staff also participates in collaborative logging projects that explore creative forest management and contracts that benefit both landowner and logger.
The Low-Impact Forestry program hosts seminars and workshops for all skill levels and interests. For a complete listing of upcoming LIF events and registration information please visit the LIF Trainings page.
Read more about Low-Impact Forestry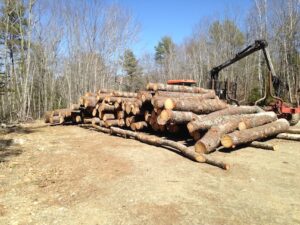 By Noah Gleason-Hart In a low-impact forestry system, humans have an active role to play as forest consumers and stewards as long as we acknowledge our limited understanding of forest ecosystems. LIF recognizes that forest ecosystems are more complex than we currently understand and therefore operates thoughtfully with caution and humility as core principles. Another
Read More »