Celebrate the history, flavor and tradition of Maine apples!
Sunday, October 17th, 2021
12 noon – 4 pm
Sponsored by MOFGA and Fedco Trees.
Admission by donation, at the door.
Join us outside at MOFGA for a day of celebration and community. You can take an orchard tour or attend a workshop, participate in cider pressing, check out educational displays about fruit trees, get help identifying your unknown apples (see details below), visit food vendors, participate in kids activities, sample MOFGA-grown apple varieties, purchase local & organic seed garlic, and more!
See this year's event listing here.
 This will be an all-outdoor event (please dress for cool weather!) and we will be requiring masks.  Pre-registration is required.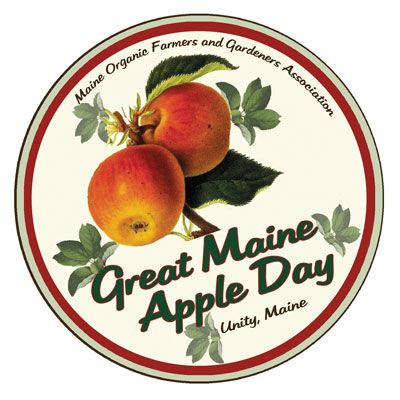 2021 Apple Identification
John Bunker will be identifying apples again at Great Maine Apple Day again this year! 
If you have some you'd like identified please bring 6-8 apples in a paper bag. On the bag please write:
Your name and contact information (phone number or email)
The town your apples were grown in
If you can't attend Great Maine Apple Day but are interested in having an apple identified, please send an email to [email protected]. This initial email will help John determine if your tree was grafted and therefore if the apple variety can, potentially, be identified. John will respond to your email and tell you about next steps!
Please include this information in your email:
Your name
The location of the tree
A measurement of the circumference of the tree at shoulder level
3-4 photos of your tree
One photo standing back from the tree, capturing its complete form
Several close-ups of the base of the trunk below the lowest limbs
Good lighting is important!
Check here for more information on the apple identification process.
If you'd like help understanding whether a tree is a seedling or grafted tree read this.
John does not charge for this service, although we do ask that you make a donation of any amount to the Maine Heritage Orchard. Please write "Maine Heritage Orchard" in the memo line to ensure the gift is used for orchard expenditures.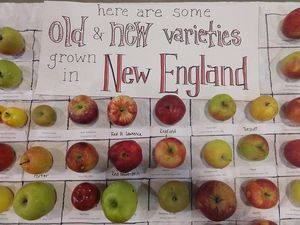 2021 Perennial Plant Swap
We'll be digging up some great orchard companion plants to swap with you at this year's event!
Do you have a big patch of echinacea, coreopsis, yarrow or bee balm? Black eyed susan or figwort? Comfrey or creeping thyme? There are SO many wonderful perennial plants that make excellent companion plants in an orchard (as well as lovely garden plants that provide native pollinator habitat and beautiful blooms.)
Dig up whatever extras you have at home before heading over to Great Maine Apple Day to swap with your neighbors!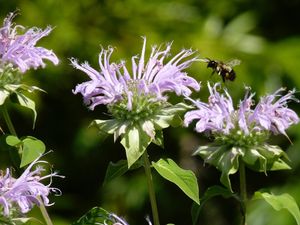 2021 North Orchard Discovery
Try the New North Orchard Augmented Reality Quest with MMSA! 
Experience the orchards here at MOFGA in a whole new way with the Maine Mathematics and Science Alliance (MMSA) augmented reality app, The Station. Watch a short video about the app here!
You can be one of the first people to playtest this new app as you follow a quest through the North Orchard and learn how to identify apple varieties. Help MMSA continue to develop this unique tool for other locations around Maine by providing feedback when you finish. 
If you miss out during Great Maine Apple Day, don't worry! You can learn more about The Station here.  The Station is part of the NSF-funded STEMPorts Project.

An online discussion recorded in October 2020 with John Bunker, Todd Little-Siebold and Laura Sieger. These passionate fruit explorers discuss recent discoveries of old Maine apple and pear varieties that will be preserved in the Maine Heritage Orchard, and lots more.
Join Seth Yentes of North Branch Farm for this online talk recorded in April 2021 all about "learning from his mistakes" to keep your young fruit trees healthy in our climate here in Maine. He begins by covering some basic things to consider when selecting trees and rootstock. Seth has been grafting and growing fruit trees for over 20 years and now grows nursery stock for wholesale.
Fruit explorers share their recent discoveries and thoughts on growing adaptable tree crops for our changing climate: Aaron Parker (Southern Maine; growing pawpaws & persimmons); Eliza Greenman (Virginia; mulberries, nut trees); Matt Kaminsky (Western Mass.; wild apples & pears, silvopasture); William Mullan (Brooklyn, N.Y.; city apples); and Jesse Stevens (Western Maine; figs and more).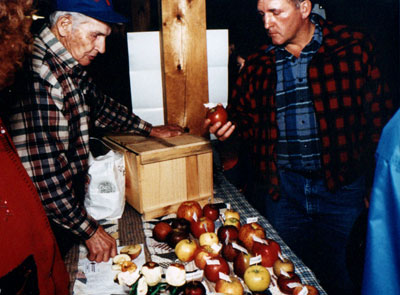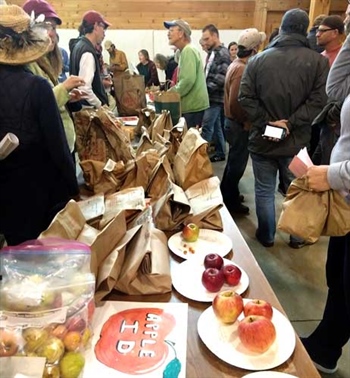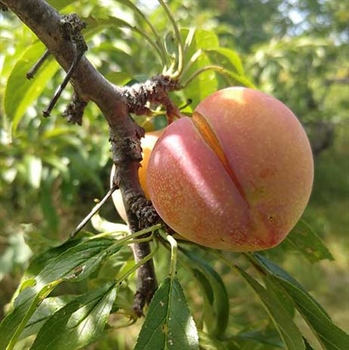 Articles from the Archives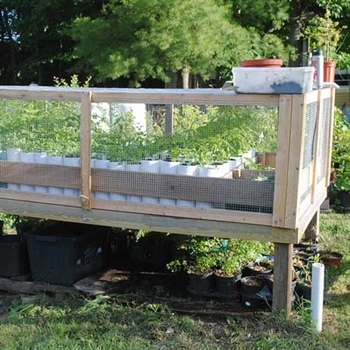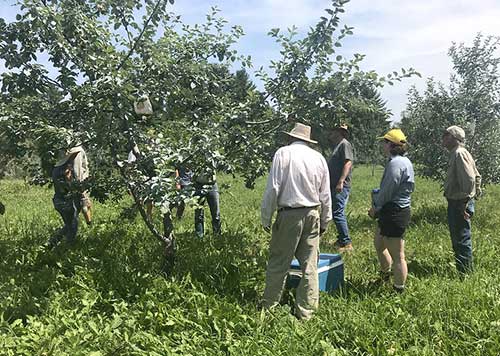 The Apple Farm (Fairfield, Maine)
Sandy River Apples (Mercer, Maine)
Lakeside Orchards (Manchester, Maine)
North Branch Farm (Monroe, Maine)
5 Star Orchard & Nursery (Brooklin, Maine)
Teltane Farm (Monroe, Maine)
Bailey's Orchard (Whitefield, Maine)
Rowe's House of Apples (Newport, Maine)
Mainely Apples (Dixmont, Maine)
Sweetser's Apple Barrel & Orchards (Cumberland, Maine)
Portland Food Map- A Guide to Maine Cider (food/apples/cider blog by Anestes)
Out On A Limb Apples/ Super Chilly Farm
(Unusual/ Rare/ Historic Apple CSA based in Palermo, ME several distribution sites)
Take a virtual tour of MOFGA's North Orchard using Google Earth – including photos of each variety of fruit tree taken at various times of year, and the fruit it produces!
Visual Media and Botanical Apple Descriptions