Celebrate the history, flavor and tradition of Maine apples!
Sunday, October 15, 2023
12 – 4 p.m.
Sponsored by MOFGA and Fedco Trees.
This event will take place at MOFGA's Common Ground Education Center in Unity, ME with a mix of outdoor and indoor activities.  Donations gratefully accepted at the door to support this and other MOFGA programming.
Fall fruit season is here! Join us at MOFGA for a day of celebration of apples & other delicious tree fruit. There will be guided tours of the Maine Heritage Orchard, workshops, cider pressing & help identifying 'mystery' apples by our Apple Identification team.
We're also looking for volunteers! See available volunteer shifts here. We would also love to reduce the impact of this event in terms of greenhouse gas emissions from driving – if you can offer a ride to others attending, or would like to ride with somebody else, go here.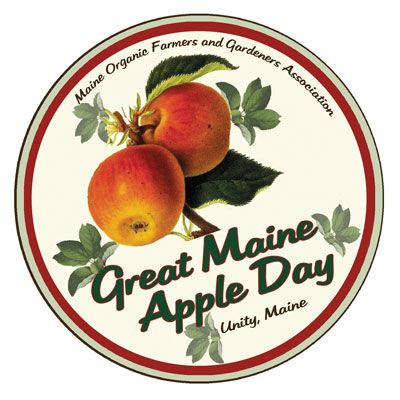 Please consider carpooling with other Great Maine Apple Day attendees to reduce traffic; and save time, money and energy. For more information about Group Carpool, please visit their FAQ page. MOFGA does not assume responsibility for anything that transpires before, during or after use of Group Carpool rideshares.
To register for Group Carpool see the link below.
Join us for talks and demonstrations about apples and beyond!  The schedule is:
| Time | Library | Kitchen & Orchards |
| --- | --- | --- |
| 12 p.m. | | |
| 1 p.m. | Pomology Pathology with Edgar Evenkeel | Preserving Fall Fruit Jenn Legnini |
| 2 p.m. | Compiling Fruit Maturity Dates with Glen Koehler | (Preserving Fall Fruit continued) |
| 3 p.m. | Cider Tasting Moderated by Sean Turley and with ciders donated from Rocky Ground Cider and Absolem Cider | Orchard Tour on MOFGA Campus |
Workshops will include:
A Panel on Pears with Molly DellaRoman & Tim Skillin from 5 Star Orchard, Seth Yentes of North Branch Farm & Dan Newman, who researches historical pear varieties;
"Easy Cider With Angus" – your chance to learn how to make great hard cider from a professional (Angus Deighan runs Rocky Ground Cider with his partner Abbey in Newburgh, Maine);
An Apple Growing Q&A with Glen Koehler, from the Pest Management Unit at UMaine Cooperative Extension. Glen will share some observations on dates, weather, disease & insect pests from the 2022 orcharding season and then open up the floor for questions on growing apples (and beyond);
A demo about preserving apples (apple sauce, apple pie filling & apple butter) in the kitchen with Jenn Legnini from Turtle Rock Farm;
A Grape Growers Panel with Margot Manzur & friends.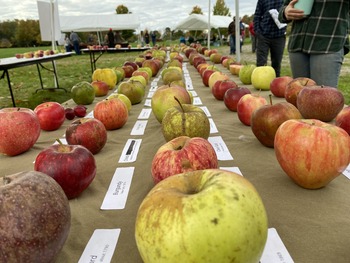 Apples are not just red, yellow or green – they come in every shape, size and mix of colors!
Come see educational displays about fruit trees and a huge display of heritage apples. Talk with apple variety experts about the incredible diversity that's growing all around us in this state.  MOFGA's Orchard team has also put together educational posters about apple characteristics, pests & diseases, which varieties to use for which purpose, and much more.
We'll also be sampling every heritage variety of apple we can find (likely hundreds), including many from MOFGA's own orchards – vote for your favorite!  (And come back in the spring to the Seed Swap and Scion Exchange to grab some scionwood from the same variety so you can grow your own.)
Do you have an old apple tree on your property but don't know what kind it is? John Bunker (& other apple ID experts) can help.
To have apples identified, please bring 6-8 apples in a paper bag. On the bag please write:
Your name and contact information (phone number or email)
The town your apples were grown in
If you can't attend Great Maine Apple Day but are interested in having an apple identified, please send an email to [email protected]. This initial email will help John determine if your tree was grafted and therefore if the apple variety can, potentially, be identified. John will respond to your email and tell you about next steps!
Please include this information in your email:
Your name
The location of the tree
A measurement of the circumference of the tree at shoulder level
3-4 photos of your tree
One photo standing back from the tree, capturing its complete form
Several close-ups of the base of the trunk below the lowest limbs
Good lighting is important!
Check here for more information on the apple identification process.
If you'd like help understanding whether a tree is a seedling or grafted tree read this.
John does not charge for this service, although we do ask that you make a donation of any amount to the Maine Heritage Orchard. Please write "Maine Heritage Orchard" in the memo line to ensure the gift is used for orchard expenditures.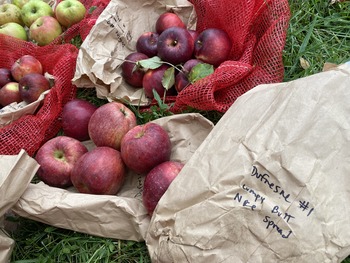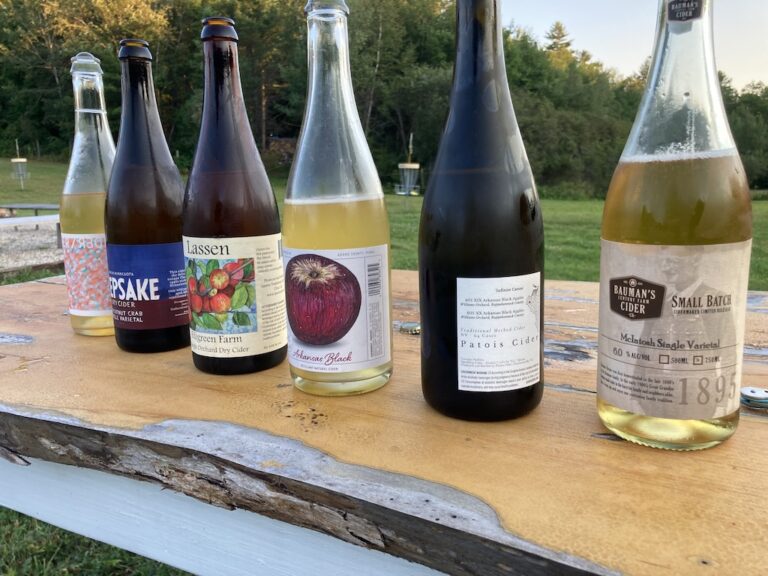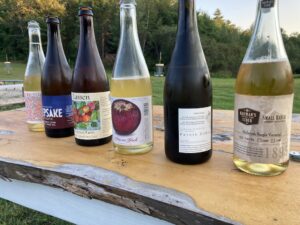 We are also happy to host a cider tasting at the event this year! From 3 p.m. to  4 p.m., guests aged 21+ (space permitting – first come, first served) can enjoy hard ciders donated by local cideries such as Rocky Ground Cider and Absolem Cider, guided by Sean Turley.
There will be wonderful vendors at the event this year! Participants can enjoy afternoon snacks or bring home some fresh, organic apples and other produce from vendors like B&T bakery, 5 Star Orchards, Pressed for Cider, North Branch Farm, Balfour Farm, and Fedco.  Plus, we will have MOFGA merchandise available as well!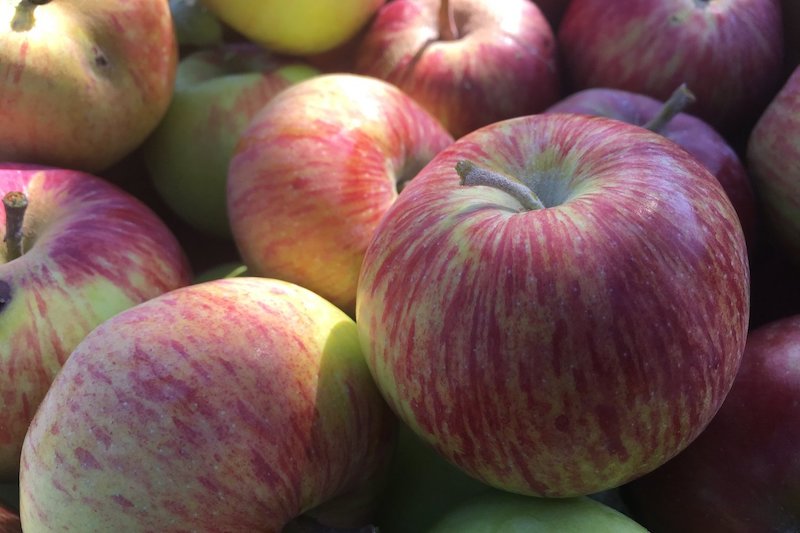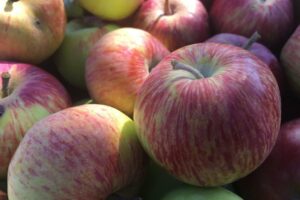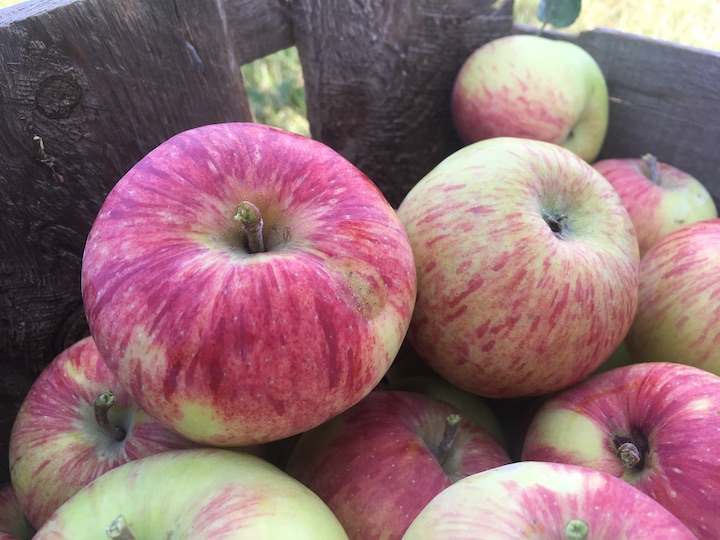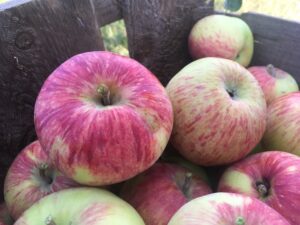 Bring your family and friends of all ages to enjoy walks through MOFGA's orchards and gardens, fresh cider pressing, and to enjoy activities for the young and young at heart.
Do you have a big patch of echinacea, yarrow or bee balm at home? Comfrey or creeping thyme? There are many perennials that make great companion plants for fruit trees. Check out which ones have been planted in the Maine Heritage Orchard here!
If your perennial beds at home are getting too full, why not dig up a few before heading over to Great Maine Apple Day?  You may have exactly what someone else is looking for! Find the swap table beside the back entrance to the Exhibition Hall.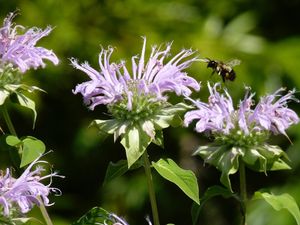 Webinar Recordings from past Great Maine Apple Day events
An online discussion recorded in October 2020 with John Bunker, Todd Little-Siebold and Laura Sieger. These passionate fruit explorers discuss recent discoveries of old Maine apple and pear varieties that will be preserved in the Maine Heritage Orchard, and lots more.
Join Seth Yentes of North Branch Farm for this online talk recorded in April 2021 all about "learning from his mistakes" to keep your young fruit trees healthy in our climate here in Maine. He begins by covering some basic things to consider when selecting trees and rootstock. Seth has been grafting and growing fruit trees for over 20 years and now grows nursery stock for wholesale.
Fruit explorers share their recent discoveries and thoughts on growing adaptable tree crops for our changing climate: Aaron Parker (Southern Maine; growing pawpaws & persimmons); Eliza Greenman (Virginia; mulberries, nut trees); Matt Kaminsky (Western Mass.; wild apples & pears, silvopasture); William Mullan (Brooklyn, N.Y.; city apples); and Jesse Stevens (Western Maine; figs and more).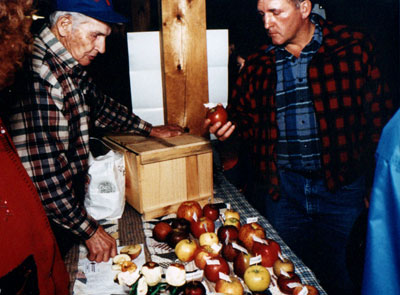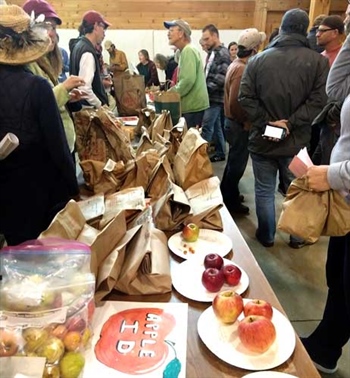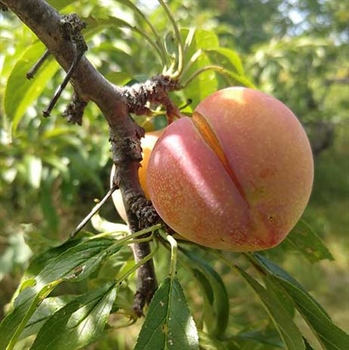 Articles from the Archives
Some Sources for Trees & Plants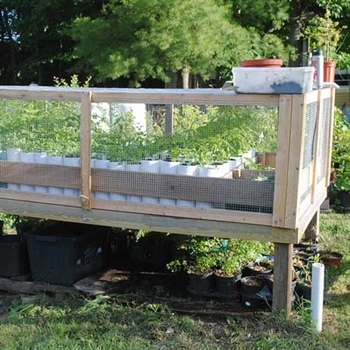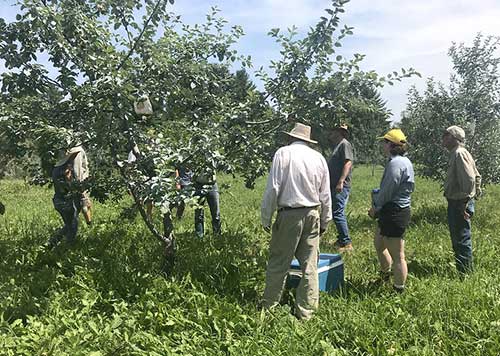 Local Orchards to Explore
The Apple Farm (Fairfield, Maine)
Sandy River Apples (Mercer, Maine)
Lakeside Orchards (Manchester, Maine)
North Branch Farm (Monroe, Maine)
5 Star Orchard & Nursery (Brooklin, Maine)
Teltane Farm (Monroe, Maine)
Bailey's Orchard (Whitefield, Maine)
Rowe's House of Apples (Newport, Maine)
Mainely Apples (Dixmont, Maine)
Sweetser's Apple Barrel & Orchards (Cumberland, Maine)
Portland Food Map- A Guide to Maine Cider (food/apples/cider blog by Anestes)
Out On A Limb Apples/ Super Chilly Farm
(Unusual/ Rare/ Historic Apple CSA based in Palermo, ME several distribution sites)
Take a virtual tour of MOFGA's North Orchard using Google Earth – including photos of each variety of fruit tree taken at various times of year, and the fruit it produces!
Visual Media and Botanical Apple Descriptions