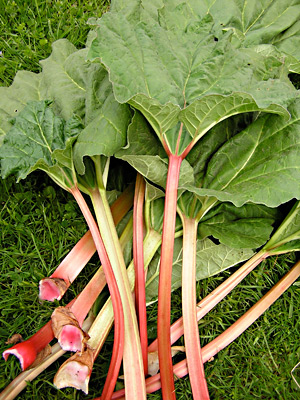 Rha rha for rhubarb! English photo.
By Roberta Bailey
I don't grow rhubarb. My neighbor has a double row with more than 20 plants in it. I just cross the street and pick what I need. Walking back to my house, a bundle of red stalks in my arms, I get to take in the view of my farm. I like the shift in perspective. I like the broadened view. I like the little discoveries that happen along the journey – a closer look at the rose of Sharon bush, or the pear in blossom; how the peach buds fared on this side of the road. This is a well established rhubarb patch and part of a well established friendship, one filled with many favors, both ways, and no tally sheet.
It took many centuries and many false starts before people figured out how to eat rhubarb. Thought to have originated in northern Asia, probably Siberia, its first recorded mention is found in China, in the Pen-king herbal believed to date from 2,700 B.C. The roots were used as a purgative. I imagine the high oxalic acid levels would cause one to purge. The oxalic acid levels in the leaves made for even more millennia of culinary rejection.
"Rhubarb" comes from the Latin, Rhabarbarum – Rha of the Barbarians. Rha was the name for the Volga, and the barbarians who cultivated the plant along its shores were the Tartars. An early scientific name, Rheum rhaponticum, tells us more. The Rha flows into the Pontus, or the sea, which would have to be the Black Sea into which the Volga flows.
The roots traveled across the Silk Road to Turkey and Europe, where the culinary merits of its stalks were discovered (or re-discovered, I suspect). From there, recipes for compotes, fools, stews, charlottes, juices and teas migrated along with the plant roots to North America.
My neighbor planted his rhubarb with a bushel of horse manure under each plant. I give him hen manure compost for side dressing. He shared his recipe for rhubarb juice, the raison d'être for all those plants.
I will share it and a few other favorites I have collected at the kitchen tables of many of my elder mentors. So many thanks for so many lessons and so many favors; may they always flow both ways.
Tip: Freezing rhubarb is very easy. Then you have it on hand for all those off-season recipes. Simply wash, dry, then chop stalks into 1/4- to 1/2-inch pieces and place them in freezer bags or containers. I have pre-measured bags for pie and large general use bags.
---
Pete's Rhubarb Juice
1-1/2 qt. fresh rhubarb stalks, cut into 1-inch pieces
2 qt. water
1 c. sugar or 2/3 c. honey
Wash and chop rhubarb. Bring to boil with water in a tightly covered kettle, then simmer until very soft (10 minutes or more). Strain through a sieve or colander. Add sweetener and adjust for personal taste. Refrigerate. Can be frozen as is or canned. To can, bring juice to a boil and fill sterilized pint or quart jars. Process in a boiling water bath for 10 minutes.
Stewed Rhubarb
This recipe is from Hazel Noyes of Topsfield, Maine, who once told me that as a kid she remembered being so starved for greens in the spring that they ate the buds off the beech trees. Rhubarb was a real treat.
4 to 6 c. rhubarb, chopped
1 c. water
sugar, honey or maple syrup to taste
In a heavy stainless saucepan, heat the water and rhubarb. Boil and stir until rhubarb softens and turns to a sauce. Add more water if needed. Cool a bit and sweeten to taste. Serve hot or cold or with ice cream.
To can, pour boiling sauce into hot sterilized pint jars. Process in a boiling water bath for 10 minutes.
Gingered Rhubarb Jam (makes 6-1/2 cups)
2 lemons, organic only
4 c. rhubarb, cut into 1-inch pieces
2 tart apples, finely chopped, or 1 1/2 c. strawberries
1 c. water
3 c. evaporated cane juice
2 c. honey
3 to 4 Tbsp. finely chopped crystallized ginger
Remove thin outer rind from lemons with a vegetable peeler or zester. Snip with scissors or sharp knife to desired size if needed.
Place rind in a medium stainless saucepan. Juice lemons and reserve. (2 Tbsp. juice needed).
Add the rhubarb, apple or strawberries, and water in the same saucepan. Bring to a boil, cover, reduce heat and boil gently for 15 minutes. Stir often.
Add evaporated cane juice, ginger and lemon juice and return to a boil. Boil rapidly for 8 to 10 minutes or until a gel forms. Add honey and boil for a few more minutes. Remove from heat. Ladle into hot sterilized jars, seal and process in a boiling water bath for 10 minutes.
Beet and Rhubarb Salad
2 lb. beets, any color or many
3/4 lb. rhubarb, cut into 1/2-inch pieces
3 Tbsp. sugar
2 tsp. sherry vinegar
3 Tbsp. maple syrup
2 Tbsp. olive oil
1/4 to 1/2 tsp. ground allspice
1 small red onion, thinly sliced
2 to 4 Tbsp. chopped fresh parsley
4 oz. crumbled Gorgonzola or blue cheese
salt and freshly ground black pepper to taste
Set the oven to 400 F. Wrap beets individually in foil or place in a covered baking dish and bake for 40 to 70 minutes, depending on size. To check, push a sharp knife through to the center – the beet should be soft all the way through. Set aside to cool, then peel and dice into 1/2- to 1-inch cubes.
Toss the rhubarb with the sugar, spread it over a well greased baking sheet and roast for 10 to 12 minutes, until soft but not mushy. Set aside to cool.
In a large bowl, whisk the vinegar, maple syrup, oil, allspice and some salt and pepper. Add the onion, set aside for a few minutes to soften, then add the parsley and beets. Stir to combine, season to taste and, just before serving, gently fold in the rhubarb, its juices and the cheese.
Sugar-Free Rhubarb Crisp
Filling
4 c. chopped rhubarb
1 c. fresh organic strawberries
1 large apple (a sweet variety, in season)
3/4 c. organic apple juice concentrate
1 tsp. cinnamon
1 Tbsp. tapioca starch (or non-genetically-engineered cornstarch)
Topping
1/2 c. quick-cook oats
1/2 c. walnuts or other nuts or sunflower seeds
1/2 c. quinoa, uncooked
3 dates, seeds removed
1 tsp. sunflower or organic canola oil
Preheat oven to 350 F.
Place filling ingredients in a saucepan, bring to a boil and immediately reduce heat. Simmer for about 1 hour, stirring frequently, until the starch is completely dissolved and the filling is thick.
While the rhubarb cooks, blend topping ingredients in a food processor until well combined.
Pour the rhubarb mixture into a greased 9- by 13-inch baking pan. It will be a thin layer. Sprinkle evenly with the topping. Bake for 30 minutes, until the topping is a gold color. Check often after the first 20 minutes to prevent burning.
Allow to cool completely, then chill (don't freeze) for two hours in the freezer. Remove from freezer, cut into pieces and serve. If the crisp did freeze and is very hard to cut, let it sit on the counter until it's soft enough to cut.
Rhubarb Chutney (makes 3 cups
4 c. rhubarb, sliced into 1/2-inch pieces
1 c. dried dates, pitted and chopped
1 c. brown sugar or 2/3 c. maple syrup
1/2 c. chopped dried apricots
12 c. cider vinegar
1/4 c. finely chopped onion
1/4 c. finely chopped crystallized ginger
1 tsp. curry powder
1/4 tsp. ground nutmeg
1/4 tsp. sea salt or pickling salt
Combine all ingredients in a heavy saucepan. Bring to a boil over medium heat. Reduce heat and cook, uncovered, stirring frequently, for 8 minutes or until thickened and fruit is soft.
Cool to room temperature and enjoy. Refrigerate the remainder.
To can, pack in hot, sterilized jars and process in a boiling water bath for 10 minutes for half-pints and 15 minutes for pints.
Rhubarb Chipotle Sauce (makes 2 to 3 cups)
1 tsp. olive oil
2 chopped garlic cloves
1/4 tsp. chipotle pepper
1/2 onion, sliced thinly
1/4 tsp. salt
4 c. chopped rhubarb
1 Tbsp. maple syrup
Over medium heat, combine garlic and oil and cook for 2 minutes. Add onion pieces, salt and pepper flakes and cook for 3 minutes. Add rhubarb and cook for 6 or 7 minutes, until the rhubarb is getting tender. Add maple syrup. Reduce heat and serve warm. Great with meat, fish or grains.
Reference
"Food," by Waverly Root, Simon & Schuster, 1980
This edition of the Harvest Kitchen was originally published in the spring 2014 issue of The Maine Organic Farmer & Gardener.
Looking for more seasonal recipes? Sign up for MOFGA's Local and Organic Kitchen Newsletter.