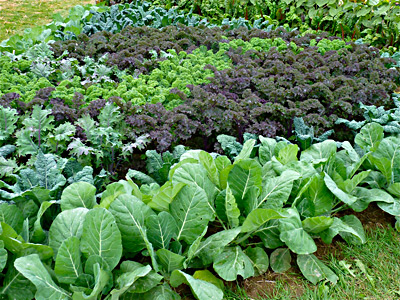 A lush planting of collards (front row) and kale at the Johnny's Selected Seeds display at the 2010 Common Ground Country Fair. English photo.
By Jean Ann Pollard
Collards. Until a few years ago, this big, paddle-leafed member of the cabbage family – Brassica oleracea, Acephala group – was considered strictly Southern in the United States, but, as the song says, "the times, they are a changin'."
The name, like a lot of others, is a corruption of Anglo-Saxon colewort or colewyrt, but the plant was grown by ancient Greeks and Romans who seemed to make no distinction between it and kale. Both are loose-leaf and non-heading and doubtless resemble the original wild sea cabbage growing along the Mediterranean coasts of Greece and Turkey.
Some historians say that cabbages have been satisfying human hunger since prehistoric times; and collards in particular must have provided healthful eating. They're rich in calcium, potassium, vitamins A and C, dietary fiber and the trace element manganese.
Ancient Romans even lauded the therapeutic powers of collards. Julius Caesar, for instance, is rumored to have eaten a plateful after a heavy banquet to ward off indigestion … and we all know what Roman banquets were like!
From the eastern Mediterranean, collards may have ventured into Europe with groups of exploring Celts around 600 B.C. Or they might have arrived later with Romans and Saxons in the first century. But they didn't get to America until the 17th century, although one writer mentions a 1565 occurrence in Haiti.
Collards and kale, unlike their cousins cauliflower, broccoli, Brussels sprouts, head cabbages and kohlrabi, have edible leaves that spring from an elongated, tough stem. The oval leaves of collards boast a medium green color and smooth texture, while kale is crinkled and dark green. Collard leaves are also milder tasting, although kale, when dried, makes a delicious, health-inducing "chip" – the latest thing in health food stores.
According to the 2014 Fedco Seeds catalog, a collard variety called 'Champion' is a "rich dark Vates strain" resembling kale and best "for greens into November in northern New England." Advice is to plant it in midsummer for a late crop.
Fedco also offers 'Variegated' collards, which become variegated once the nights cool.
Though they're grown almost year-round in the warm South, collards thrive – and even become sweeter – when nipped by frosts and cooler temperatures. "Cool weather changes starches in the leaves to sugars," states Dr. Doug Sanders, horticulturist at North Carolina State University.
And they like Maine! So don't hesitate! Grow collards!
Recipes
Collards are rich in cancer-preventing compounds. Like Swiss chard, beet greens, rhubarb, spinach and sorrel, however, they also contain a small amount of oxalic acid, which may be problematic for those prone to kidney stones. Dairy products, as in the custard recipe below, bind with the oxalate so that the body does not absorbed it (https://www.uwhealth.org/files/uwhealth/docs/pdf/nutrition_kidney_stones.pdf).
Note: One pound of collard greens should produce 1-1/2 cups of chopped stems and 2 cups of chopped leaves.
Green Custard (6-8 servings)
In a medium-sized skillet, heat
1 Tbsp. sunflower seed oil or olive oil
Sauté in it until limp
1 large onion, chopped fine
1 heaping c. sliced mushrooms
Spread the mixture in a buttered 9- by 12-inch pan.
Rinse, pat dry and finely chop to measure
4 c. fresh collard leaves
(Save the stems for salad.)
In a large bowl, mix the chopped leaves with
1 c. small-curd cottage cheese or crumbled tofu
1 c. thick yogurt
1/2 tsp. dried thyme
1 tsp. powdered mustard
In a big bowl, beat until fluffy
6 eggs
1 tsp. sea salt
freshly ground black or white pepper
1/8 tsp. freshly grated nutmeg
Combine the greens and egg mixtures. Spread over the onion/mushroom layer in the pan and bake, uncovered, for 30 minutes at 325 F.
Sprinkle with
1-1/2 c. freshly grated Jack and/or cheddar cheese
Continue baking for a few minutes, until cheese is melted and custard is set in the center. Let stand for 10 minutes. Cut into squares. Serve with a salad and hot yeast rolls.
Collard Lentil Soup (serves 2-3)
Collard greens and red lentils make a nutritious soup for cold weather, and the combination of hot pepper, lemon tang and cool yogurt enlivens taste buds. Save the chopped collard stems for salads.
Pick over and rinse in cold water
1 c. red lentils
In a large pot, bring to a boil
1 qt. vegetable stock
Add, reduce the heat, cover and simmer for 15 to 20 minutes
the lentils
1/2 c. thinly sliced leeks
1/2 c. diced carrots
1/4 c. diced celery
1 small potato, diced to equal 3/4 c.
1 small hot chili pepper (optional)
Into a skillet, pour
1 Tbsp. extra-virgin olive oil
Add and cook until wilted
1/2 c. chopped onions
Add and stir for 1 minute
2 to 3 minced garlic cloves
Rinse, drain and pat dry
1-1/2 to 2 lbs. collard greens
Roll the leaves into a "sausage" and slice into 1/2-inch strips to equal 4 cups.
When the lentil mix is tender, stir in
the 4 c. sliced collard leaves
the wilted onion-garlic mix
1/2 to 1 tsp. freshly squeezed lemon juice
Simmer, covered, for another 10 minutes or until vegetables are tender but not mushy.
Add
1 tsp. sea salt
freshly ground black pepper
a few drops of hot pepper sauce to taste (if chili was omitted)
Serve in warmed bowls with a dollop of yogurt on top.
About the author: Jean Ann Pollard of Winslow, Maine, is the author of The New Maine Cooking, available from www.jeanannpollard.com.