What is the Low-Impact Forestry Program?
The Low-Impact Forestry (LIF) program at MOFGA is a group of loggers, foresters, landowners, farmers and interested persons educating about, practicing and advocating for ecologically based and economically sound forest practices. We practice and endorse forestry that seeks to reduce the known harmful impacts of logging, and promote the social and ecological benefits. The LIF program hosts workshops year round covering all sorts of forestry-related topics from logging with draft animals to home firewood production. The LIF staff also participate in collaborative logging projects that explore creative forest management and contracts that benefit both landowner and logger.
For several years, professional members of the LIF staff have gathered annually at MOFGA's Common Ground Woodlot to manage the forest. The purpose of these harvests has been not only to implement MOFGA's forest management plan, but also to experiment with various methods of logging and methods of compensation. The LIF group promotes the appropriate use of machinery in the woods and has used machinery alongside draft animal power. Throughout the commercial harvests we have maximized efficiency while minimizing the known harmful effects of logging by using animals and machines in their most appropriate roles. The result has been a complete management plan and a large amount of lumber that has been used throughout the fairgrounds.
Read more about Low-Impact Forestry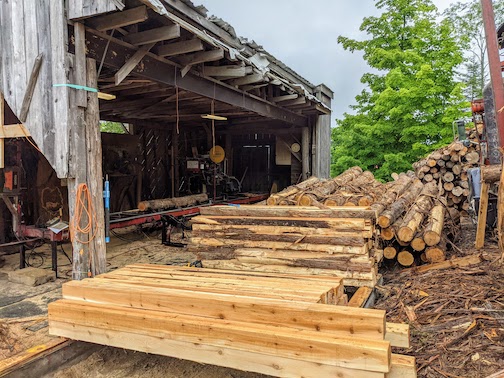 By Noah Gleason-Hart As MOFGA members, we all recognize that eating local, sustainably grown food is good for us, good for the environment, and good for our communities. However, we sometimes forget to extend our view beyond the field edge to see that local wood provides similar benefits. "Know you farmer" is a catchphrase folks
Read More »
Upcoming Low-Impact Forestry Events