Information for Prospective Apprentices
MOFGA's Apprenticeship Program is targeted for young adults, with or without previous farming experience, but all are welcome to apply. Apprenticeships may begin any time during the year, and last for any duration, but most farmers are looking for apprentices who will commit for the entire growing season (early March through late October). The usual apprenticeship is an immersive practicum involving labor in return for room and board, instruction, financial compensation and experience.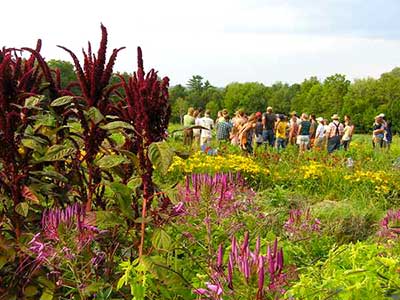 If you're interested in becoming a farm apprentice, follow these steps:
When we receive your application, we will forward it to the farms in which you have indicated interest, and we will send you the contact information for those farms. It is then up to you and the farmers to contact each other.
Once you've found a farm to work on, you should contact MOFGA to let us know, so we can offer support during your apprenticeship.
Farm work can be extremely rewarding, but it also can be tedious, exhausting and frustrating. Communal or shared living situations can be challenging. The more farmers and apprentices are able to learn about each other before making a commitment, the better. We very strongly recommend that you visit a farm and interview the farmer(s) before taking an apprenticeship position.
Please note that applicants may choose to have their applications forwarded to up to 12 farms. As the growing season approaches we try to get every farm and every applicant matched up with good situations. If you have not listed 12 farms on your application, we reserve the right to send your application to additional farms who are still seeking apprentices.