Dharma Farm produces vibrant, organic, veggies, herbs and seedlings. We are two farmers growing on two acres using no-till and bio-intensive methods to provide our community with year-round, nutrient dense food and medicine. We sell at two farmers' markets and to our local co-ops, camps and restaurants.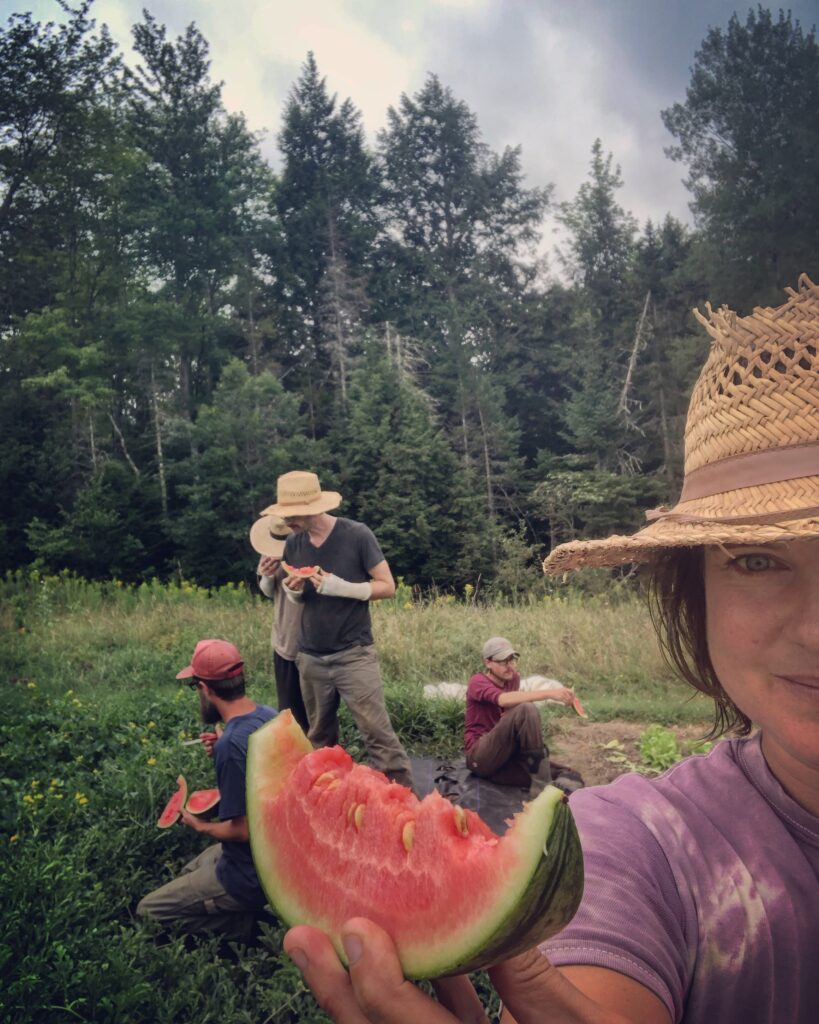 175 Calderwood Rd
Washington, ME 04574
Full and part-time positions available. Our season runs Mid-April- October with possibility for hours into the Winter. We work 8 hour days with some seasonal variability, i.e longer harvest days in July and August.
$15-$17/hour depending on experience
Do you enjoy working with vegetables, flowers, and herbs? Are you motivated, hard-working and passionate about local food systems and organic, regenerative agriculture? If so, we are hiring for our 2022 crew and we may be farm for you!
An ideal candidates has/is:
One year of farm and/or relevant experience
Positive attitude
Excellent communication skills
Reliable/punctual
Drivers license and reliable transportation
Detail oriented, listens well, ask questions and follows directions closely
Strong work ethic/ownership of results
A willingness to work (and being prepared to work) in any and all weather
A desire to learn new skills
A willingness to learn, receive feedback about, and integrate efficiencies related to the task at hand
Desire to contribute to a positive and supportive farm crew
Is motivated to contribute to our farms success
Ability to work efficiently alone and with others
Ability to lift up to 50 lbs
Physical and mental endurance
A sense of humor
Job duties are diverse and varied but include:
Harvesting vegetables for farmers' markets and wholesale accounts
Washing/Packing vegetables for markets/accounts
Bed prep (composting, amending, broadforking)
Direct Seeding and transplanting crops
Weeding/thinning/other cultivation
High tunnel pruning and trellising
Seedling production (seeding, potting up, tagging, organizing)
Setting up/breaking down infrastructure (irrigation, caterpillar tunnel, moving tarps, etc)
Deliveries
Farmers' market help (setting up, selling, breaking down)
Dharma Farm is an inclusive workplace that offers respect, clear communication, and a supportive, positive, and fun environment in which to grow one's farm skills and contribute to a robust local food system. We enjoy sharing our farming knowledge and the fruits of our labor with deep conversations in the field, belly laughs in the wash station, and delicious pot-luck lunches with the crew. ​
Application Details and Deadline
To apply, please send a resume, 3 references, and a cover letter telling us why you would be a good fit to:
[email protected]
Applications due 3/31/22
We take Covid-19 protocols seriously and expect to continue following the current health and safety recommendations for the 2022 season in order to keep the farm, our crew, and our customers safe and healthy.