This article is provided by the Maine Organic Farmers and Gardeners Association (MOFGA), PO Box 170, Unity, ME 04988; 207-568-4142; [email protected]; www.mofga.org. Joining MOFGA helps support and promote organic farming and gardening in Maine and helps Maine consumers enjoy more healthful, Maine-grown food. Copyright 2009. If you reprint this article, please include this reference, and please let us know that you have reprinted. Thanks!
---
by Jean English. Copyright 2009.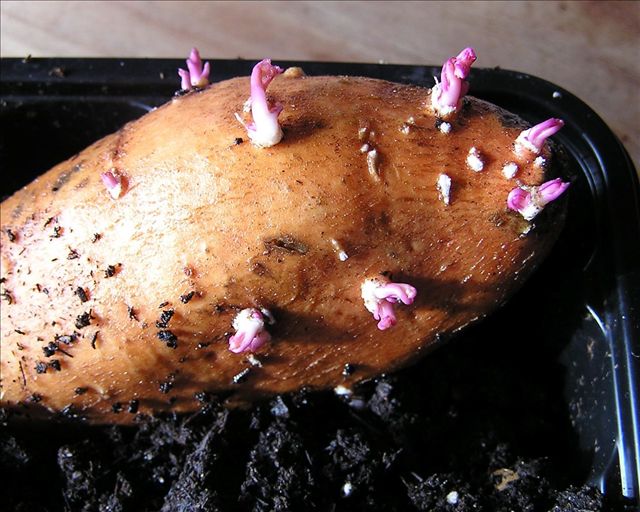 Sweet potatoes sprout when they're kept warm and moist. English photo.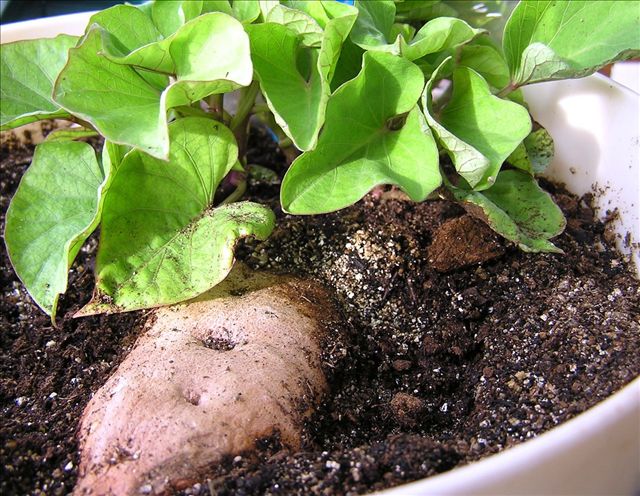 The sprouts grow into vines, which can be pulled from the sweet potato, rooted in water and planted in the garden after all danger of frost has passed. English photo.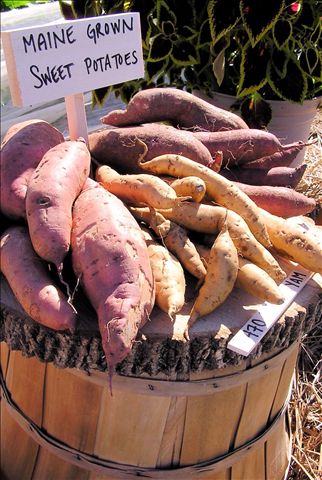 Maine-grown sweet potatoes at Johnny's Selected Seeds' demonstration garden at the 2008 Common Ground Country Fair. English photo.
Sweet potatoes in Maine? Yes! And gardeners who want to start their own plants can do so now. At the 2008 Farmer to Farmer Conference, put on by the Maine Organic Farmers and Gardeners Association and Maine Cooperative Extension, Farmers Mark Guzzi of Peacemeal Farm in Dixmont and Roberta Snell of Snell Family Farms in Buxton talked about their experiences growing sweet potatoes. Dr. Becky Grube of the University of New Hampshire Cooperative Extension described her research and N.H. growers' experiences with the crop. Here's a brief "how-to." A detailed report on the sweet potato session is posted at www.mofga.org under "Publications" and "Maine Organic Farmer & Gardener," Spring 2009.
Sweet potatoes are grown from "slips," which are rooted cuttings of sprouts that grow from the potatoes. You can encourage a sweet potato to send out sprouts by setting it horizontally in moist sand, perlite or vermiculite and keeping it at 75 to 80 degrees (next to the wood stove, for instance, or on top of a water heater). Use an organic sweet potato for sprouting; non-organic sweet potatoes are often treated with sprout inhibitors.
Once sprouts appear, set the sweet potato root in a sunny window. As sprouts grow to 6 inches long or so, twist them off the sweet potato and stick them in a glass of water to root. These are your slips. (If you don't want to grow your own slips, you can buy them from Johnny's Selected Seeds; other sources are listed in the article at www.mofga.org.)
Plant rooted slips in the garden after all danger of frost has passed and once the soil is warm—usually around the first week of June. The soil should be well drained, not too fertile, and have a pH of 6.5 to 6.8.
Set the slips about a foot apart within rows that are at least 3 feet apart. Planting them through black plastic will provide the warm soil that promotes their growth best, but you can grow them without plastic.
Dig sweet potatoes in the fall, around late September. They can take a light frost but not a hard frost then.
Cure the potatoes by exposing them to warm temperatures (85 degrees, if possible) for about a week. This will help heal any wounds on the surface of the vegetables so that they last longer in storage. Store the potatoes at 55 to 60 F and 75 to 80 percent relative humidity, much like winter squash. Temperatures under 50 can easily damage the roots. They take a few weeks in storage to develop their sweet flavor.

Guzzi had some sweet potatoes that were still good in storage a year after harvest, so growing sweet potatoes is one way to help feed yourself locally for several months.