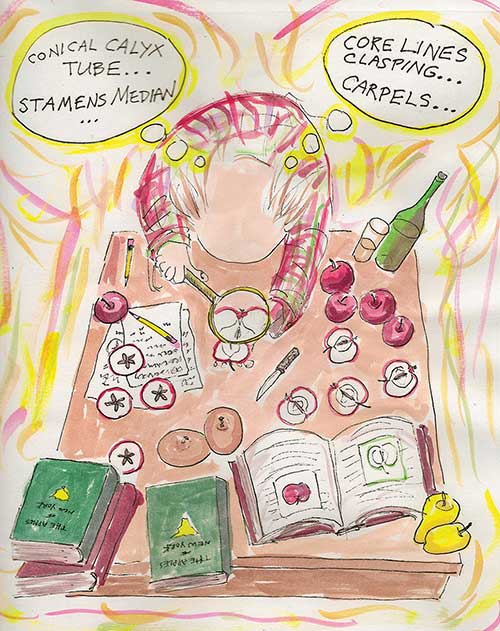 Illustration by John Bunker
By John Bunker
"A further knowledge of the facts is necessary before I would venture to give a final and definite opinion." Sherlock Holmes, "His Last Bow"
Although we usually begin to identify apples each year in August and early September, the Common Ground Country Fair weekend is the official kickoff of Maine apple ID season. A dedicated group of us looks forward to the opportunity to identify apples. It's an annual ritual. Not only is doing the IDs a challenge, it also puts us in touch with people from every corner of the state who introduce us to the last of the rare historic fruit trees. Over the past few decades, we have been able to identify thousands of apples for people throughout the state. We have also collected and propagated hundreds of rare traditional apple and pear varieties. We have planted 300 varieties at MOFGA's Maine Heritage Orchard (MEHO). Many of these are trees that we would almost certainly never find on our own. For many of the ancient varieties, time is running out. As the last trees planted in the 19th century die, many of the old American apples will be gone forever. By telling us about your trees and bringing us your fruit, you become a partner in this valuable preservation work. Thank you!
It will feel odd this year not to be sitting in front of the Hayloft Tent in the hot sun or the cool rain looking at apples of every conceivable size, shape and color. I will miss working with our enthusiastic, impromptu "pickup" team of apple experts that assembles each day to listen to all the amazing apple stories and pore over what awaits us in the next bag or box. Like so many things, doing apple IDs has to be different this year. Below is a list of things to do if you'd like us to identify your apples. Please do all of them – or as many as you can – and we promise to do our best to get back to you ASAP with a verdict.
How to Do a 2020 Apple ID
• Send an email to [email protected]. If you don't do email, send a letter to MEHO Apple IDs, P.O. Box 12, Palermo, ME 04354. Include your name, the location of the tree in question and two photographs of the tree itself: one of the trunk at ground level from about 15 feet away and the second of the tree as a whole from about 20 feet away. (You don't have to include photos of fruit.)
• We'll send you a questionnaire and your 2020 ID number. After that, always put your apple ID number in the subject line of any emails.
• Send the questionnaire back to us with four specimens from each variety. We'll do the rest.
Is there a fee for doing IDs?
No. We do not charge anything, although we do ask that you consider making a donation. While the apple identification work that has led to the rescue and preservation of hundreds of rare apples in Maine is done primarily by volunteers, maintaining the orchard and presenting our educational programming is expensive. If you appreciate the MEHO work and you'd like to donate to support the effort, please do. Every little bit will help. Send donations to MOFGA, P.O.Box 170, Unity, ME 04988. Note that your donation goes to the Maine Heritage Orchard. Donations of every size will help.
How long does this take?
Please be patient. It takes time! We will do everything we can to look at your apples and identify them this fall.
What about home visits?
Every year we visit old trees and orchards throughout the state, especially when we determine they are rare and may be of historic significance. If you have ancient trees or know of a site we should visit, please let us know. We hope to get out and do a lot of fruit exploring this fall. The old trees won't be around forever. We want to save as many as we can.
Where can I learn more?
For more about MEHO, go to https://www.maineheritageorchard.org/.
For information about purchasing "Apples and The Art of Detection" by John Bunker, go to https://www.outonalimbapples.com/.