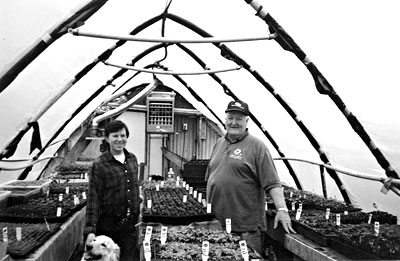 Beth Schiller's childhood dreams of becoming a farmer are becoming a reality, thanks in part to her business partnership with experienced grower Ted Sparrow. Photo by Alice Torbert.
By Alice Torbert
Something is seriously rotten in the state of Maine agriculture. We may fly a flag with a farmer on it, but farmland acreage is steadily shrinking, and less than 1 percent of Maine's people live on farms. Wisconsin cows are causing our cows some serious trouble, and Frito-Lay prefers Idaho variety #X129W to a good old-fashioned Kennebec. (Well, you know what they say – there's no accounting for taste.)
Maybe the doomsayers are right. Maybe agriculture is dying: All the old farmers will die off, leaving no one to replace them, because the young folk skipped town years ago to become hairdressers and accountants in Massachusetts.
Organic Profits
Or maybe not. Luckily for us optimistic MOFGA types, the organic sector keeps showing us a different picture: an increasing number of farms (whose owners are actually making profits!), and a strong tradition of passing on information and expertise. This tradition is strengthened by the educational business partnership between 71-year-old Ted Sparrow and 27-year-old Beth Schiller.
Ted Sparrow has spent most of his life in various agricultural capacities: as a consultant for the Hawaiian sugar industry, as a trainer of Iranian farm managers, and as a USDA agriculturist. He established Sparrow Farm in 1978, when he bought his uncle's 50 acres of meadow and tree plantation in Pittston to raise sheep and vegetables. He abandoned the sheep operation when the wool market collapsed and turned entirely to producing organic vegetables and cranberries. He is now retired from the USDA to farm full-time, and his property boasts a 2.5-acre cranberry bog, 6 acres of vegetable fields, a half-acre orchard, and over 4500 square feet of heated hoop houses.
Beth Schiller spent some time running away from her own dream. As a little girl in Readfield, she had always wished for sheep and chickens, but while she joked about getting a "farming degree" when she left for Kenyon College in Ohio, she seriously intended to complete a premedical program. However, she found herself incorporating her agricultural interests into her program as often as possible.
She obtained a grant from the Jordan Environmental Professorship to set up an experimental garden comparing the differences in productivity between heirloom and hybrid varieties and between polycultural and monocultural plots. Finally, she exchanged her premedical degree for a self-designed program in human ecology, which culminated in a senior thesis examining the social, economic and biological effects of urban growth on rural areas and especially on family farms. Once graduated, she determined to "get farming out of her system" by apprenticing for a season at a CSA farm in Rhode Island. But the farming bug proved hard to shake; for the next two years she worked as the assistant farm manager for the Chewonki Institute.
While Schiller praises Chewonki as an institution, its non-commercial character frustrated her ambitious side; she wished to combine in her agricultural work the "intentionality" expressed by Chewonki (a concern for sustainability and natural stewardship) and the potential for profit and financial independence. Several events coincided to make this change possible. She chose to leave Chewonki to live on her stepfather's conventional dairy farm in Union, where she set up her home and her kitchen garden. She found a landowner in Appleton who was willing to provide her not only with an acre of certifiable land to cultivate, but also with the financial backing to start Sukeforth Farm. Finally, in the new farm's infancy, she met Ted Sparrow.
The South Portland Farmer's Market is "pretty slow, with lots of time to talk," according to Schiller, so while she and Sparrow set up their adjacent stands and waited for customers, they discovered a lot about each other's projects and plans. Finding that Schiller "knew a lot of stuff and was nice to work with," Sparrow suggested a business partnership for the purpose of pooling produce for sale – an agreement he often organizes with other growers, because the larger pool reduces supply uncertainty and provides access to bigger markets. However, the bulk of Sparrow Farm's production is in cranberries and root crops, especially potatoes, while Schiller's biggest money-maker is lettuce. Therefore, though Schiller did grow some lettuce for Sparrow's stand, the opportunity for partnership became an opportunity for employment and education instead, as Sparrow hired Schiller.
Efficiency in Production and Marketing
In the past, Sparrow had always hired high school students; an employee who was a competent farmer in her own right was something of a novelty. For Schiller, Sparrow was more than just a paycheck source; as the successful owner and manager of an organic vegetable farm for over 30 years, he was a wealth of experienced advice on how to orchestrate her agricultural knowledge, her resources, and her potential markets to meet her goals for her land and for her bank account. He began to teach her the methods of agricultural bureaucracy: farm budgeting, yield estimation, fertilization recommendations, and marketing strategy.
Although she began small, with 1 hand-cultivated acre, Schiller is interested in expanding her operation – perhaps doubling it soon, now that she has acquired a row-crop tractor. Knowledge is as necessary as equipment for this expansion, however, and here again her employment at Sparrow Farm will be useful. This summer Schiller sold her produce at two farmers' markets, while Sparrow has attended as many as a dozen; she produced 10 senior farmshares to his seventy-five. By helping to cultivate Sparrow's larger acreage, attending the Augusta farmers' market for him, and delivering many of his senior farmshares, she has learned a lot about handling the complexities of high-volume fresh vegetable production.
When it comes to agricultural techniques, the education goes both ways. Schiller had little experience with potatoes and other root crops before working for Sparrow, and now knows enough to incorporate them into her own farm plan. On the other hand, she has shown Sparrow new ways of planting and caring for the winter greens in his hoop houses. Though both farmers share a common philosophy of sustainable and respectful land use, Sparrow has influenced Schiller's thinking on one aspect of farming. "When on her own, she's very detailed," says Sparrow. "We don't worry about details here – like a patch of weeds here or there." While admitting that she prefers her fields to look tidy, Schiller agrees: "I've found spending lots of time on tiny stuff can actually reduce productivity."
The old and the young farmer make an amusing and suprisingly harmonious team. Sparrow, while pleasant and humorous, is fairly taciturn, answering questions with monosyllables whenever possible and rarely posing one of his own. Schiller, in contrast, is happily conversational and energetic about her plans for the future (which include the chickens and sheep she wanted 20 years ago). Their senses of humor, their caring for the soil they work, and their respect for each other's knowledge let them work together and teach each other. Cooperative efforts like theirs are the best examples of the intergenerational communication that continues and builds agricultural knowledge and lets Maine hope for a future as a farming state.
About the author: Alice is a student at Colby College and a member of MOFGA's public policy committee. She lives on a small farm in Whitefield.