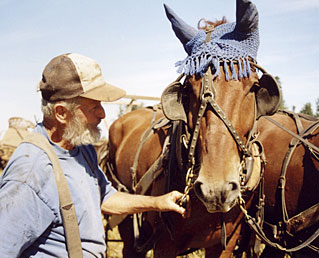 Long-time MOFGA member Paul Birdsall has helped train over 100 MOFGA apprentices in the art of farming with draft horses. Photo courtesy of the
Small Farmer's Journal.

Teaming Up with the Next Generations of Farmers
By Marada Cook
© 2005. For information about reproducing this article, please contact the author.
Don Nickerson swapped draft horse tips with Paul Birdsall for some 20-odd years before bringing his team to the Common Ground Fair in 1999. "He came looking for me," Nickerson says, explaining how the Connecticut native roped him into participating in both friendship and co-organizing the Draft Horse Demonstrations. "He ranks high on my list of good organizers," Nickerson says, and despite Birdsall's inescapable out-of-state origins, calls the Connecticut transplant, "a top quality man."
Still going strong at 77, Birdsall's beginnings in farming were much like those of many aspiring homesteaders, but his perseverance has made him an exception to what Nickerson describes as 'come and go' out-of-state farmers.
"Mollie and I were part of the back-to-the-land movement," Birdsall says about himself and his late wife, "but I don't think we knew it at the time. We felt all along that small-scale farming had a future." The two believed that training apprentices was crucial to the survival of Maine agriculture. After Bruce, the College of the Atlantic student who hitchhiked to Horsepower Farm in Penobscot from Bar Harbor in 1971, the Birdsalls hosted more than 100 apprentices.
In a similar testament to his continual presence in Maine farming, Birdsall and his favorite team of horses have participated in all but one of the 28 Common Ground Country Fairs. His work has inspired many young farmers to take up the reins.
"Paul has that real old time spirit," says David Fisher. As a farm apprentice at Horsepower Farm, Fisher was inspired by Birdsall's resilience and trust, and brought his impressions of Birdsall with him to Natural Roots Farm in Conway, Massachusetts. "The very first day on the job," Fisher explains, "he gave me a team and a wagon and pointed to the hay barn." Birdsall explained the basics, Fisher says, but always left his apprentices room to make (and solve) their own mistakes.
When Fisher wanted to learn how to clean hooves, Birdsall didn't hesitate to share what he knew. "He took off one shoe, made sure I was watching, and then handed me the tools and said, 'All right, I gotta go to town for a bit, you finish this up." Seven years later, Fisher has a team of three horses, a thriving CSA farm, and several apprentices of his own.
Birdsall's ability to teach and work with students of all ages has stood him well with MOFGA over the years. He has taught Low-Impact Forestry Workshops, sat in on board meetings as a chapter representative for Hancock County, and volunteered as coordinator for the draft horse and mule demonstrations.
"I think Paul is a natural teacher," says Nickerson; "he's a great asset to the farm, the Fair, and the community as a whole."
In some respects, that 'community as a whole' is attracting more and more of Birdsall's attention. He jokes about being the 'hired horseman' on the farm since his son and daughter-in-law began farming several years ago, but in 'backing off' from the farm work, Birdsall has become a crusader in the effort to conserve coastal farmland. As a volunteer not only for MOFGA, but also for the Soil and Water Conservation District, Birdsall has worked to create an 'Ag Zone' in Blue Hill, an achievement he feels is essential to the future of farming.
"It's pretty clear that if this movement is to experience any real validation, we have to engage the younger people who'll see it into the future," Birdsall says, after telling me about the latest young farming couples to settle in the area. "It's a good thing we conserved the land when we did."