By Danielle Walczak
Each early spring for the past 15 years, Eli Berry has walked Crystal Lake Farm & Nursery looking for invasive plants. The non-native species stand out like sore green thumbs among the brown and gray field edges of the farm which he runs with his mother, Sharon Turner.
Things look different now than in 1996 when Berry first moved back to Turner's childhood home in Washington, Maine.When Berry moved in, the woodlot, which once neatly encircled a barn, orchard, pasture and farmhouse crept into the fields. Trees closed in the old garden area behind the farmhouse overlooking Crystal Lake across the road.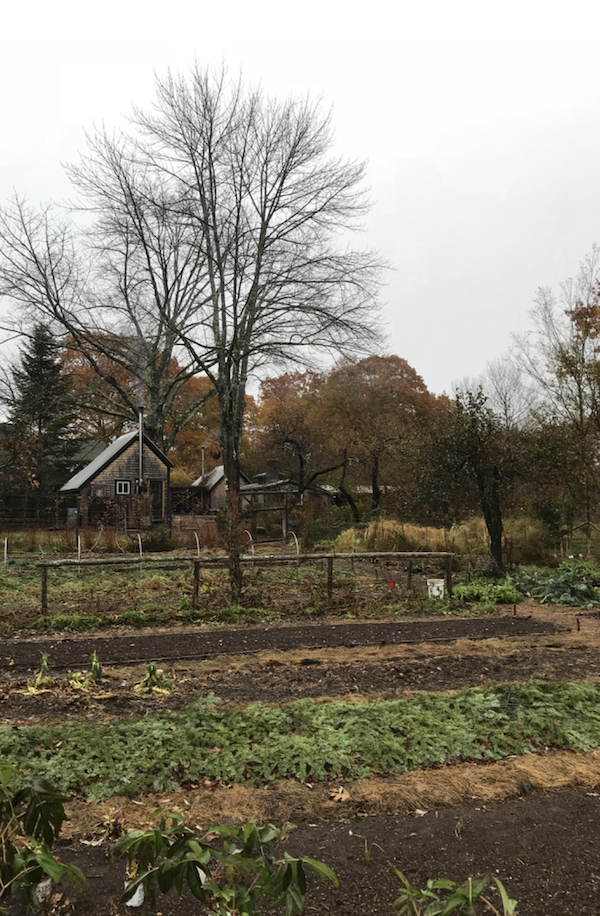 "Even the porcupines had moved out of the farmhouse at that point," Berry said.
After traveling while doing agriculture and carpentry work in the western United States Berry returned home to Maine. Being the type of person who likes to do what needs doing, he built a tent platform, cleaned out the buildings and began clearing back the encroaching woods.
Now in 2022, on the same land the mother-and-son team of Berry and Turner co-own Crystal Lake Farm & Nursery where they run a tree, shrub and perennial nursery and manage a woodlot. They rotationally graze four Dexter cattle, while growing large vegetable and flower gardens and a small orchard and maintaining four hoop houses — one made with the tent poles from Berry's first home on the farm.
In season, they offer native and favorite potted and field-dug trees, shrubs and perennials chosen especially for birds, bees, butterflies and other beneficials. They also sell herb and vegetable seedlings in spring; garlic, garlic braids and seasonal decorations; cut flowers and foliage; customized steel hoops, floating row cover and greenhouse-grade plastic; and tools for the garden, field and woodland. Turner and Berry teach a variety of garden-based classes. The farm also hosts a lakeside picnic spot.
"When there is multi-faceted production of many different species you're going to have a lot of challenges. I think, more often than not, we've been prepared for what comes at us with good soil health and good practices that don't rely on off-farm inputs, even labor. We've kind of governed ourselves by what we can sensibly, or maybe not sensibly, handle," Berry said.
It's with this attitude they slowly began growing the farm. As Turner was approaching retirement as a dean in student affairs at Bowdoin College, she enlisted Berry to transplant some plants from her overflowing garden in Brunswick to the land in Washington which once served as a boys' camp before William Sperl, Turner's father, bought the land in 1955.
What started as a few plants turned into more and more. By the time Turner retired in 2000, Berry cleared the first acre of garden space, moved a small camper on-site to live in and built a cabin for Turner.
Turner has a way of picking away at things until their purpose is clear. "Go do something then you'll be aware of what needs to be done," she said.
That year, what started as an exploratory summer garden stay for Turner turned into fall and winter.
"I liked the simplicity of living off-grid. Being very much in the moment, I just decided to stay. The cabin was perfect and still is. It's very simple and I can focus on plants and what I want to do in my old age," Turner said.
In 2004 she moved into her cabin full-time while Berry completed a second and third for himself and guests. Soon they expanded the garden to grow over 1,000 trees wholesale. "Mom's idea of a small garden is a little bigger than some," said Berry.
Each year, Berry began expanding the farm's open area a little further: first with a chainsaw, then pasturing the Dexter cattle in a confined area to browse down stumps, grasses and sprouts while their hooves tilled manure into the earth.
Using manure and clippings Berry laid out a windrow that he planted squash in. The large cucurbit leaves suppressed weeds and grass. Next, he planted garlic, a cash crop for the farm, and a crop that could use up the last of the nitrogen from the manure. The next year, he planted vegetable crops and/or jumped directly to small trees, mulching heavily with wood chips and sawdust. He uses only a small shovel to plant the bare root trees which are dug and sold between 2 and 3 years of age.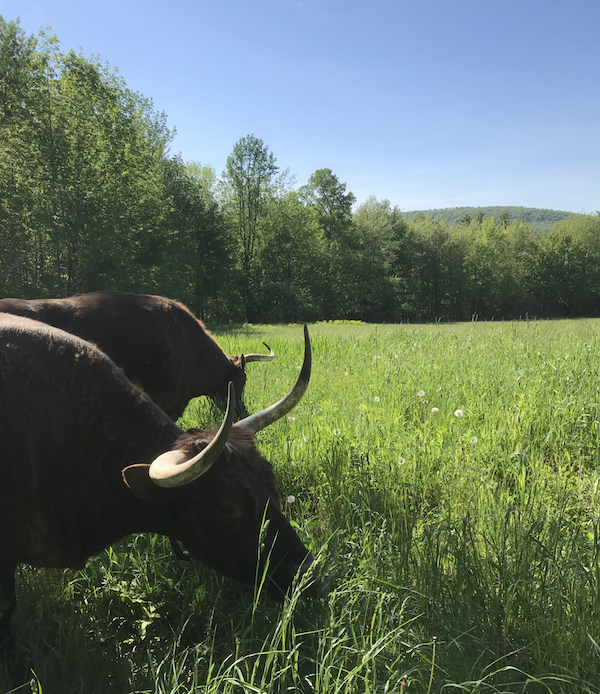 "With that unbroken soil intact it's amazing what the trees will do and how many native predators of pests will reside there," Berry said.
Each year the fence moved back, as he added new windrows. He expanded the last field a few years ago and will lay the last windrow in the expansion this year.
Once fenced, the Dexter cattle often take care of themselves, eating rough woody pasture in summer, supplemented in winter with local hay, orchard prunings, and the occasional squash or apple. What they consume and produce daily is integral to the system.
"People ask are those cows for dairy or meat? I say it's for the manure and the land clearing. It's the manure that we want, to improve the soil so every year we can grow better than the year before," Berry said.
Berry and Turner do not use plastic mulches on the ground. They instead use what is readily available on their property, primarily leaves, woodchips, hay, sawdust, fir boughs and cow manure — these materials also build soil health.
To Turner and Berry, growing organically isn't just about producing safe food, it's about creating a thriving biodiverse community of plants, animals and insects.
"I liken what we do to hosting a big gathering," Berry explained. "You don't know how many guests will be there, who will show up, what they'll want. You take what comes and you need to be able to move and think on your feet. You really don't know but you use the good in what you have. We don't sweep the plate clean with an herbicide or rototiller [each year], we grow through the problem. We use what we have here as tools and allies and that's often other plants, it's the bugs, it's the birds, it's the whole culture, grossly called 'ecosystem services,'" he said. He added that he thinks they're doing a good job if the land, in season, seems like "a party, a celebration, a riotous situation."
Building a biodiverse community is a role both Turner and Berry embody, not only on their farm but throughout the community in Washington and the farming community at large.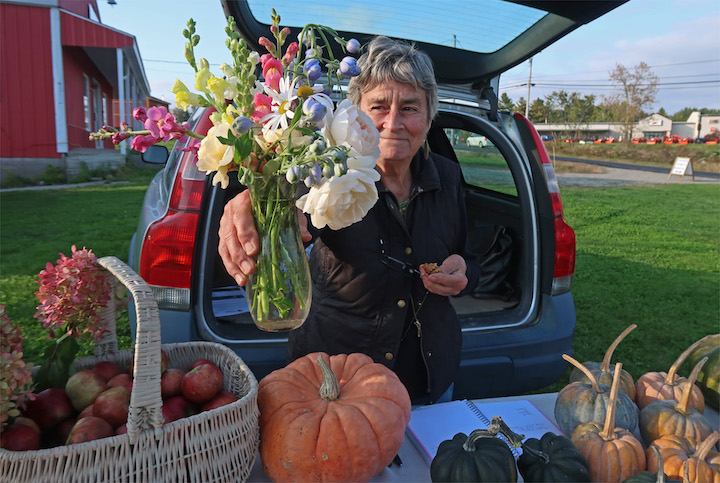 When Turner first moved back to the farm she was integral to founding the Washington Grange Farmers Market. The market became a gathering place to build community in the town that now hosts plenty of newcomers interested in farming, including a movement to revitalize the grange.
"The farmers' market helped network a lot of people who didn't know each other. Farmers' markets are a rare public space, the town transfer station and library may be the only other spaces like that," Berry said.
Berry grew up thinking what he wanted to do wasn't valued or understood. A lot has changed.
"I can get pretty grim about the state of the world sometimes but PFAS [per- and polyfluoroalkyl substances] notwithstanding, climate change notwithstanding, development notwithstanding, growing food and plants tends to make you healthier, makes your neighborhood healthier, and [while] it may seem like a small thing, it's changed Maine in my lifetime," Berry said.
His grandfather, the first principal in Washington's school, would always say, "Leave it better than you found it."
Berry took this to mean that whether growing food or anything else that sustains a community, each of us has an obligation to participate as both a "good guest" and a "good host."
"Whatever my father did he was a teacher, and I feel that for myself too, and I'd much rather
teach people how to grow a vegetable garden than sell them the vegetables," Turner said. "I really love to teach."
Now Turner and Berry see their roles as educators passing along the information they've learned to those in their community.
Turner teaches a variety of adult education courses through Five Town CSD Adult and Community Education in Rockport and consults privately. Her most popular class is called "Designing Your Landscape: Making the Most of Your Yard and Garden." Each class is held at a different student's home, where they can discuss the student's goals and site-specific plans.
"Design is very important to me, and I think it's about the highest and best use of each property," Turner said.
The lines between human, plant and insect communities begin to blur when you talk about the work happening at Crystal Lake Farm & Nursery. When the pandemic hit, Berry felt guilty for not growing food. But a friend reminded him, he was growing food for all the pollinators who helped grow the food humans eat.
During the pandemic Berry and Turner added on-farm appointments, which has further expanded their teaching opportunities. Now they market directly to folks on the farm, which they believe is better for customers and also the trees they sell. When a customer visits the farm Turner can give instructions on the tree's needs and Berry can offer a strategy to deal with the tree when they get home.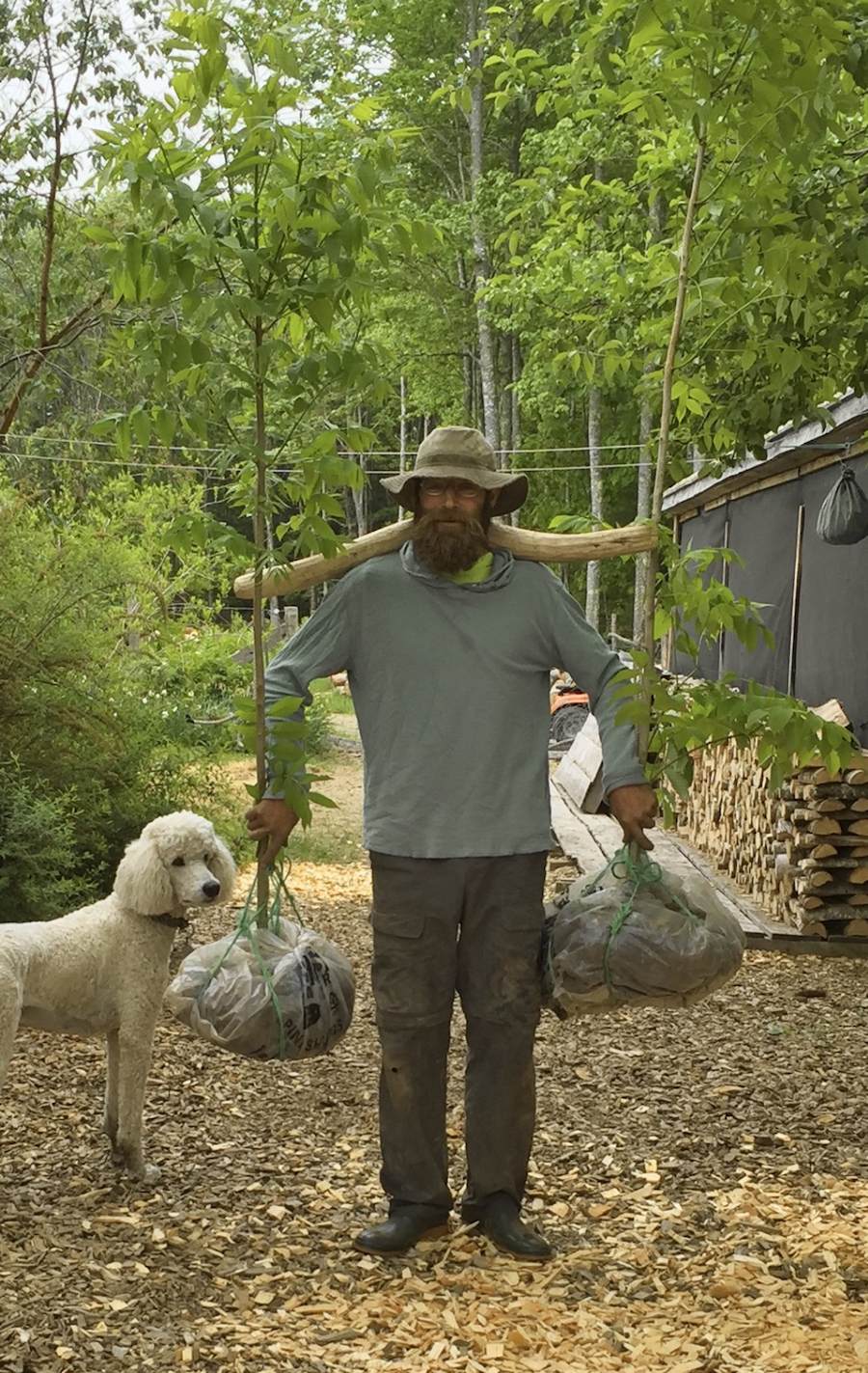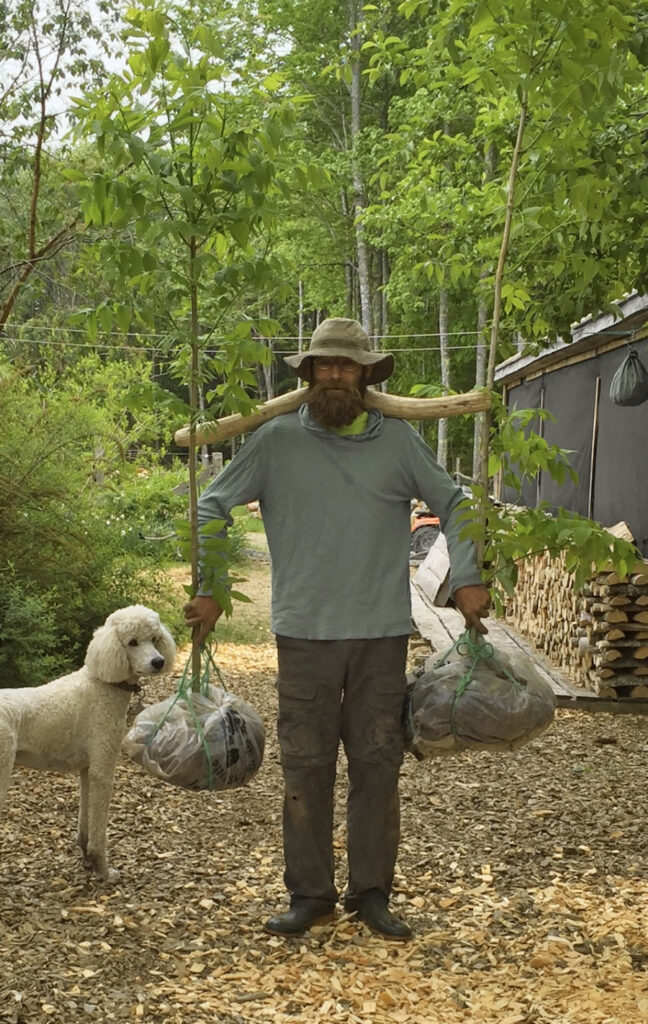 Berry has served on theMOFGA board and the Common Ground Country Fair steering committee as well as in MOFGA's low-impact forestry group. He works with Hidden Valley Nature Center in Jefferson. Crystal Lake Farm & Nursery also hosts Cooperative Extension Master Gardeners for their volunteer training.
Berry and Turner don't always agree on where the farm is headed. Berry focuses on systems and plans — what needs to happen next, while Turner likes to make use of what is there and what needs to happen now. Turner argues you never know what will happen next: "It could snow," she said. However, they find common ground in being able to drop whatever they're doing when the time is ripe.
The farm has had a variety of predators and sometimes the balance of plant and animal health is disrupted. Browntail moths have seriously infested the mature red oak overstory across the farm. Berry now has to carry an EpiPen due to severe allergic reactions from the browntail moth caterpillars.
"I'm amazed how many of those trees, drought-stricken, mostly defoliated by moths, despite the abuse, survived. Nature is a wonderful teacher of resilience. With just enough food, water and sunlight — plus a little TLC — it's amazing what will come back and thrive. It's good medicine for all of us these days," Berry said.
The future of the farm looks different for each of its two owners.
"I consider what we're doing with the nursery an investment. I can joke, 'What am I doing with my retirement money?' Well I'm putting it in the ground. It's there," Turner, who is 78, said.
Now, each early spring when Berry walks the fields he sees very few invasives. Instead, he sees reminders of the gathering he and Turner have hosted each season: wild elderberry, or high bush cranberry, propagated from the nursery by water, winds and birds — a communion of his and Turner's contributions to this land they both inhabit.
If they walk away tomorrow, they're leaving a diverse bank of seeds and plants in a patch of vigorous, healthy soil, Berry said. He added that what they have done in a short period of time will sustain for much longer. Hard work, done with understanding, yields a valuable but quiet return, he said.
About the author: Danielle Walczak is a farm worker-turned-gardener living in Portland, Maine. She writes about farming and the natural world.
This article was originally published in the summer 2022 issue of The Maine Organic Farmer & Gardener.