By John Bunker
The orchard community suffered a terrible loss this past winter when orchardist, author and educator Michael Phillips died unexpectedly one night out in his northern New Hampshire orchard. Many of us in Maine knew Michael from his regular visits to teach workshops at MOFGA. Others who never had the good fortune to meet him in person knew him through his ground-breaking books. His online Holistic Orchard Network (groworganicapples.com) connected growers throughout North America and beyond. His efforts to observe, understand and clearly explain the botanic world were remarkable. Without him, organic orcharding as we know it would not exist.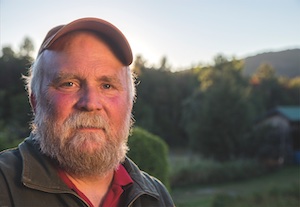 I feel fortunate to have spent a great deal of time with Michael over the years. He often stayed with us in Palermo when he came to Maine to give workshops. He'd typically arrive the night before, and we'd have a big dinner and invite apple friends. Early the next morning, before he left for his workshop, he and I would tour the farm, and he'd look curiously at my latest odd orchard practices. I could tell he was closely observing every detail. I found myself alternatively gulping and smiling. "Did you really want to plant the comfrey that close to the trunk?" he asked with a hint of a twinkle in his eye. What an honor it was when I opened one of his books for the first time and found a photo of daffodils surrounding the base of our Black Oxford tree.
One year I had an article to give him so we went into my office. On my desk I have small a shelf with a few favorite books: the two volumes of Beach's "Apples of New York," a reprint of Bradford's "Apples of Maine," my trusty old Webster's, a well-worn address book and Michael's two apple books. While I was searching for the article, Michael noticed his two books. He looked at me in disbelief. "You just put them there for me to see!" No, actually, they were always there, close at hand.
Michael had the willingness, patience and ability to dig deep into the densest reading, to listen to everyone and to entertain all possibilities. His books have been the go-to guide for organic/wholistic orcharding since his first book, "The Apple Grower," was published nearly 20 years ago. He read, studied and dissected mountains of scientific research. He steeped himself in biodynamics and ancient folklore. He worked closely with his herbalist wife, Nancy, with whom he wrote "The Herbalist's Way." He appeared to be utterly fearless. For many years he chaired an annual two-day roundtable apple meeting in western Massachusetts. A bunch of us Mainers were always there. Although Michael was clearly one of the most knowledgeable growers in the room, he rarely said more than a word or two here and there. Most of the time he asked questions, listened quietly and took piles of notes. He wanted to hear what everyone had to say.
Although I never talked to him about his writing process, I imagine Michael late at night like Merlin the wizard from King Arthur days. By candlelight, he dumps stacks of scientific papers, herbal blends, folklore and hearsay from every corner of the orchard world — much of which seemed utterly contradictory — into a gigantic caldron, stirs it around with a huge oaken spoon, and then pulls out an elegantly detailed recipe of how to grow fruit to perfection: something only Michael could imagine. Not only did his process seem like magic, it all made sense and it worked!
Michael's tireless research, writing and curiosity went far beyond the mechanics of growing fruit. He also immersed himself in the mystical world of the orchard, what I think of as the partnership between people and plants. One November long ago at Franklin County Cider Days we attended a workshop led by Michael on "Wassail," the ancient mid-winter apple celebration. It seemed like fun so we decided to check it out. There was big, burly Michael in his signature work vest skipping around an old McIntosh tree, sprinkling cider and singing a jolly wassailing song. We were hooked. We hosted our own Wassail the following January on one of the coldest nights of the winter. The cider froze before we could pour it around the apple tree, but the apple trees seemed happy to see us out there at 10 below. Before long Wassail became one of the highlights of our own agricultural year. We read poems and sing songs around a bonfire, perform zany skits up in the trees, drink cider, share food and bask in the company of friends and neighbors.
I think of Michael Phillips as one of a long lineage of baton passers in the centuries-old orchard relay race. Many others came before him and gave generously to us all. Many more will do so in the days ahead. The challenges faced have been many. There will be more. Michael is part of that continuum. He came along at a perfect moment when the thirst for a different approach to orcharding was great. Those he inspired will pick up Michael's baton and carry it into a future we can now only begin to imagine. Wherever people gather to plant trees or harvest fruit or celebrate Wassail, Michael will be there. They might know his name or not. Still, he will be there. His contributions will continue to be felt for as long as there are people like us who can't stay out of an apple tree.
The last time I saw Michael was on a North American Fruit Explorers (NAFEX) Zoom webinar he gave late last fall. He was in top form and the talk was truly outstanding. Thank you, Michael, for who you were and what you generously gave to us all. We will miss you.
This article was originally published in the summer 2022 issue of The Maine Organic Farmer & Gardener.