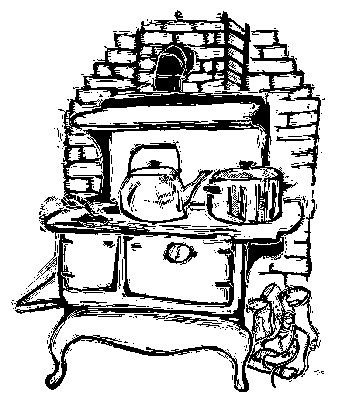 Toki Oshima drawing
By Roberta Bailey
Another fall has come, time to give up the quest to keep the garden watered and weeded. Many of the plants have faded to golden hues already. The brown of skin fades. We welcome a sweater and jeans. It is a time of surrender, yet it can be the busiest time of year in the garden.
You may have one day's warning that the killer frost is coming tonight. You have to harvest all the winter squash, the green tomatoes, the ripe tomatoes, the rest of the summer squash (do you really want any more zucchini?), and the flowers. What will you do without the brilliance of summer flowers on your table? With as much time and help as you can muster, you scramble around picking everything, laying tomatoes in crates as carefully as hurriedness will allow, and filling the wheelbarrow to brimming with green and orange squash, careful on that corner.
The kids carry the big pumpkins to the shed, each laying claim to their jack o'lantern prizes. They tramp through the vines searching for renegade pumpkins, hoping for the really big green one that will turn orange in time for Halloween. They help the youngest one cut the vine from his pumpkin, then remind him not to carry it by the stem.
You turn on the headlights of the car and shine them across the pepper patch as you cover it with double plastic, hoping to buy more ripening time. They say next week will be in the high seventies. Then you glance at the long ghostlike shadows that spread across the garden. Is this enough? Yes, it will have to be. There is supper to make and it is already late. We'll have to hope that the frost isn't so hard that it damages the cabbages. It isn't supposed to be.
Inside, the house is warm, still holding heat from the day. You slump on the couch. Your hands are stained so dark green that they look black. The squash will have to cure for a few weeks before being put away. You wonder if the kids would object to cold cereal for supper. The tomatoes are all late varieties, very sweet, they'll need more acidity when canned—lemon juice, vinegar or ascorbic acid. You yell to the kids that they are having cereal. As you lie back on the couch you tell them, Yes, they can have the sugary cereal, and promise yourself that they will have vegetables tomorrow. They seem to be eating the stewed tomatoes this week.
Tomato Sauce
(to can or freeze)
5 lb. plum tomatoes
1 T. olive oil
1 onion, chopped
1 clove garlic, crushed
1/2 green pepper, chopped
3 T. minced celery
2 T. finely chopped parsley
1 t. oregano
1 bay leaf
pepper to taste
1/4 c. lemon juice, if canning
Loosen tomato skins by plunging them into boiling water for 1 minute, then under cold water. Remove skins. Cut into chunks. Heat the oil in a large, heavy, stainless, enamel or nonreactive pot. Sauté the onion and garlic, then add the remaining ingredients. Simmer uncovered until thickened (2 hrs.). Remove bay leaf.
To freeze, pour into freezer containers.
To can, add the lemon juice and pour into hot scalded pint jars, leaving 1/2-inch head space. Wipe rims clean, seal and process in a boiling water bath for 35 minutes.
Mexican Tomato Salsa
(to can or freeze)
2 T. olive oil
3/4 c. finely chopped onion
1/2 c. minced celery
1 c. chopped green pepper
1/4 to 1/2 c. minced hot peppers (more heat if you leave seeds in)
4 cloves minced garlic
6 to 8 medium tomatoes, skinned and chopped, or 1 to 2 c. tomato puree
4 T. fresh lime juice
1 t. honey (unless tomatoes are very sweet)
2 to 3 T. minced cilantro or 1 t. coriander
1/2 t. cumin powder
1 t. dried chili powder, or to taste
In a large, non-reactive skillet, heat the oil. Add celery, onions, garlic and chili peppers. Saute for 2 minutes, then add the tomatoes, lime juice, honey and spices. Bring to a boil. Reduce heat and simmer for 20 minutes.
Freeze in small containers. To can, pour into hot scalded half pint jars. Seal and process in a boiling water bath for 35 minutes.
Apple Butter
6 lb. apples (about 25 apples)
2 qt. water
1 qt. sweet cider
3 c. sugar (Less with very sweet apples)
cinnamon and cloves, ground
Wash the apples and cut into small pieces, leaving skins and cores. Add the water and boil the apples until they are soft (30 minutes). You may be able to use less water. Put through a food mill or sieve.
In the meantime boil down the cider to half its volume, add the hot apple pulp, sugar or maple syrup, and spices to taste. Cook until thick enough to spread. Either simmer on the stovetop with frequent stirring or bake at 250 degrees in glass or stainless baking pans. When thick, ladle into hot, sterilized pint or half pint canning jars, leaving 1/4-inch head space and seal. Process in a boiling water bath for 10 minutes. Yields 5 to 6 pints.
Harvest Soup
(for canning or freezing)
20 c. puréed tomatoes (about 8 to 10 lb.)
3 green peppers, minced
5 onions, chopped
1-1/2 c. minced celery
6 to 10 cloves garlic, minced
1/2 c. minced parsley
1/4 c. minced fresh basil
3 T. minced fresh oregano or l T. dried
1 t. minced fresh or dried rosemary
1/2 c. lemon juice
1/2 c. olive oil
2 to 3 c. dry beans, soaked overnight
3/4 c. cornstarch
3 T. salt
1/2 c. honey
5 T. hot water
Soak dry beans overnight. In a large stock pot, blend together the pureed tomatoes, green peppers, onion, celery, garlic, herbs, lemon juice, olive oil and soaked beans. In a separate bowl, mix the cornstarch, salt, honey and hot water. Add to tomato mixture, stirring well. Bring to a full boil, then pour into hot sterilized quart canning jars. Seal. Pressure can at 10 pounds pressure for 30 minutes.