By Roberta Bailey
The word "corn" denotes the staple grain of a region. In countries where wheaten bread is primarily eaten, wheat is their corn. In countries where rye is eaten most often, their corn is rye. In the Americas, our corn, our staple grain is maize. Maize is inextricably intertwined into our daily world. Meat is fattened on it; dairy is part maize. Canned fruits are floating in corn syrup, corn oil is omnipresent, paper is dusted with cornstarch. Upholstery in houses and cars is part maize, as are embalming fluids and spark plugs and the inspection stamps on meat. Maize was the staple grain of the Indigenous tribes long before Europeans invaded their lands.
This past year, after a 22-year hiatus, I returned to growing maize. Early in my farming life, I grew Mandan Bride corn, a high-protein flour corn from the Mandan Nation of North Dakota and the northern reaches of the Missouri River. I stopped growing it because I was quite busy growing commercial crops of various garden seeds. I enjoyed supporting farmers who were growing grains and selling flour and cornmeal. About two years ago, the farm from which I bought my grains learned of its PFAS contamination, a crushing discovery that shut down their entire operation. I decided to start growing my own flour corn again.
There are many more varieties of flour, flint and dent corn available now. Some new varieties have been bred; some old heirloom and Indigenous varieties have been produced on a commercial scale (hopefully with compensation to their Indigenous stewards*). But I knew and loved Mandan Bride. A quick Google search told me that Seed Savers Exchange still listed it. I bought a pound and planted half of it.
I planted seven 65-foot rows and protected it from crows and then deer. In early October, I harvested the dry ears and spread them on greenhouse benches with row cover underneath them to catch any loose kernels and to help alert me to any rodent problems. Once dried, I had a shucking party with some young friends. It is so much fun to shuck Mandan Bride because almost every ear is uniquely colored. So many oohs and aahs. And memories of doing this with my children.
After a good stretch of warm weather, I was confident that the corn was ready to put away. Kernels did not dent when bitten. I saved a few kernels from each ear as I put the whole ears into mesh bags. Saving from each ear maintains as much genetic diversity as possible. Corn is wind-pollinated and needs a large population for genetic strength or integrity. It needs miles of isolation to maintain purity. I could see that a dozen or so ears had been crossed with what appears to be Glass Gem popcorn. (Seed Savers Exchange does grow Glass Gem.) I culled those out. Later, as I removed the kernels from the ears, I also saved seed from ears that shelled easily: a very valuable trait, as shucking can be difficult. I wore silicone gloves and twisted the ears. I also set up a tray with hardware cloth on top of it and rubbed the ears. Small batches make for less tired hands and arms.
My patch yielded three bushels of ears. (I won't need to grow a crop for a few years.) Fifteen ears of corn ground up to be about 6 cups of cornmeal. It is flecked with red, orange and blue. It is delicious. I grind it with a dry hopper for my Vitamix. It is fast (and loud). When I first grew corn, I ground it with a Corona corn mill, which I recently passed along to a friend. It is a good mill and a good workout. Later, I used an attachment for my KitchenAid mixer. It worked but was not that easy. The Vitamix is a dream, and it is ideal to have another use for an appliance I already own.
I would love to have a cornbread taste trial with as many varieties of flour corn as one could gather. I am so curious about which one has the best flavor, and the subtle differences. I do know that growing your own flour corn and going through each step, then eating the cornbread or tortillas is powerful and grounding and sacred and incredibly delicious. It connects me with every soul that has ever planted corn, this corn. We are connected as planters of seed.
* I grow my Mandan Bride corn on Passamaquoddy land. I donate annually to Nibezun, a Native-led nonprofit dedicated to preserving, protecting and promoting the traditional wisdom and culture of the Wabanaki Confederacy.
BerBer's Cornbread
I use this recipe adapted from Molly Katzen's "Moosewood Cookbook" to make blueberry corn muffins with my granddaughter. I am her BerBer.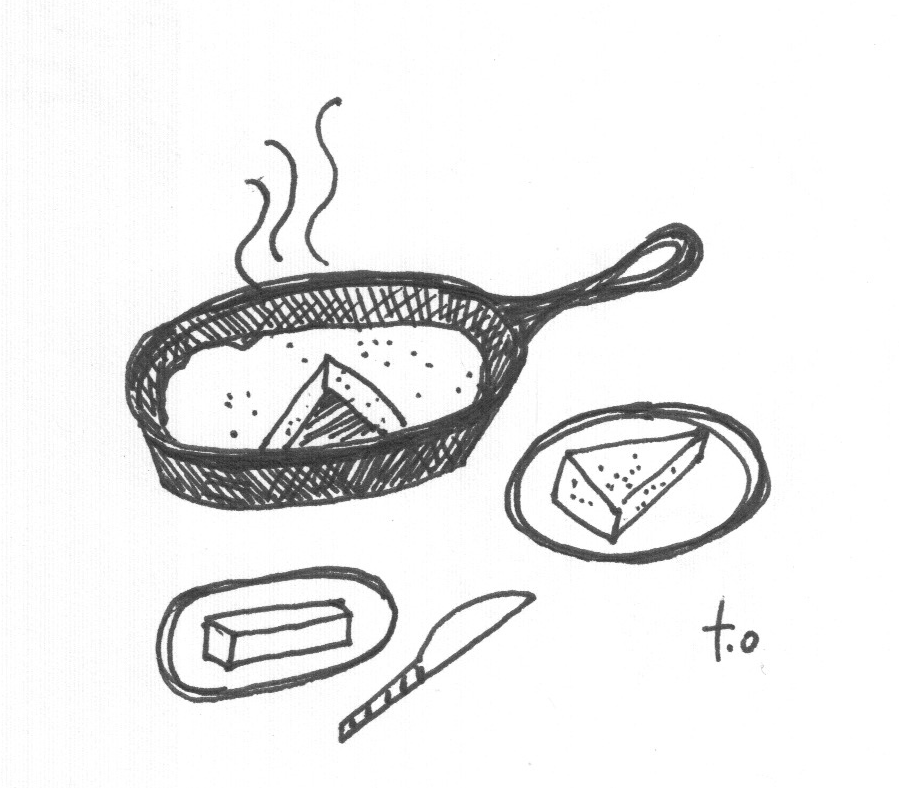 1 cup cornmeal*
1 cup white flour
2 tsp. baking powder
½ tsp. baking soda
½ tsp. salt
1 cup buttermilk or oat milk or yogurt thinned with water
1 egg
¼ cup maple syrup or honey
3 Tbsp. vegetable oil or melted butter
Optional: 1-2 cups blueberries, fresh or frozen
*If your cornmeal is very coarse, you may want to use ¾ cup cornmeal and 1 ¼ cups flour.
Preheat the oven to 350 F. Grease an 8-inch square pan or a medium cast iron skillet or muffin tins.
Combine the dry ingredients. Make a well in the center of the mixture and add the wet ingredients. Stir until just mixed. Add the blueberries, if desired. Fill your chosen pan.
Bake for 20-30 minutes, until a knife comes out clean when inserted into the center. Serve hot or at room temperature. This recipe can be doubled, and can also be cut up and frozen. Leftovers can be grilled for breakfast and served with maple syrup.
One can also reduce the sweetener and add diced onion, sweet peppers and grated cheese.
My Dad's Favorite Cornmeal Pudding
3 ½ cups whole milk
½ cup cornmeal
½ cup molasses
¼ cup maple syrup
1 cup applesauce (optional)
2 Tbsp. butter
2 eggs
¼ tsp. salt
½ tsp. cinnamon
½ tsp. ginger
Pinch of nutmeg
Preheat oven to 300 F. In a heavy-bottomed saucepan, whisk together the milk, cornmeal, molasses, maple syrup and eggs (and applesauce if using). Heat to a simmer. Whisk in remaining ingredients. Grease a casserole dish and pour in mixture. Bake for 2-3 hours or until the pudding is set, but the center is still slightly moist.
Slow cooker/crockpot method: Pour the hot mixture into a 5-6 quart slow cooker. Cook for 2-3 hours on high setting or 6-8 hours on low setting.
Great with ice cream.
Seven Tree Farm Fresh Corn Fritters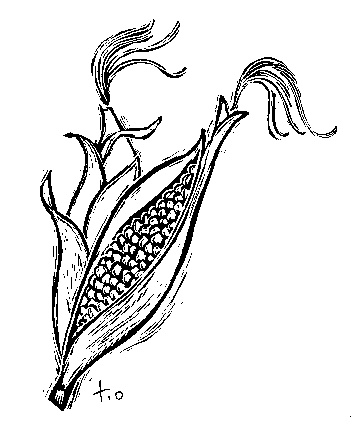 Cut the kernels off of four large ears of corn, to make 2 cups. If you cut them twice, first shallow, then closer to the cob, you get a creamier corn. (You can also use 2 cups frozen corn.)
Add ½ cup white flour and ¼ cup cornmeal, 1 tsp. baking powder and ¼-½ tsp. salt. Optional: Add ¼ tsp. nutmeg or other spice.
Separate two eggs. Beat the whites until stiff. Set aside.
Beat the two yolks with 2 Tbsp. milk or other liquid. Stir in ¼ cup vegetable oil. Stir the corn and the egg mixtures together. Fold in the beaten egg whites.
Fry the batter in a hot, oiled frying pan, as per pancakes. Serve hot.
Tamale Pie
Makes 8-10 servings.
8 ounces bacon slices, cut into ½-inch pieces (can omit and add oil to sauté)
1 large onion, diced
2 cloves garlic, minced
1 quart (or 28 oz. can) stewed plum tomatoes
6 oz. black olives, chopped
1 ¼ cups milk or broth or even oat milk
3 Tbsp. chili powder (should be dark red if fresh)
2 cups fresh or frozen corn kernels
3 eggs, beaten
2 cups cornmeal
2 Tbsp. olive oil
Preheat the oven to 375 F. In a large skillet, cook the bacon until translucent. Pour off three-quarters of the grease. Add the onion and garlic, and sauté over low heat until the onion is translucent, about 5-8 minutes.
Add the tomatoes and drained olives. Cook over medium heat until the liquid has reduced and thickened slightly, about 5-10 minutes. Add the chili powder and corn kernels and return to a boil. Remove from the heat and whisk in the eggs. Whisk in the cornmeal, quickly, to avoid lumps.
Pour the mixture into a large greased cast iron frying pan or 9-by-12-inch baking dish. Bake 30-40 minutes until cooked and slightly cracked on top.
Plum Berry Crisp
Filling:
½ cup honey or sugar
2 Tbsp. flour
Pinch of salt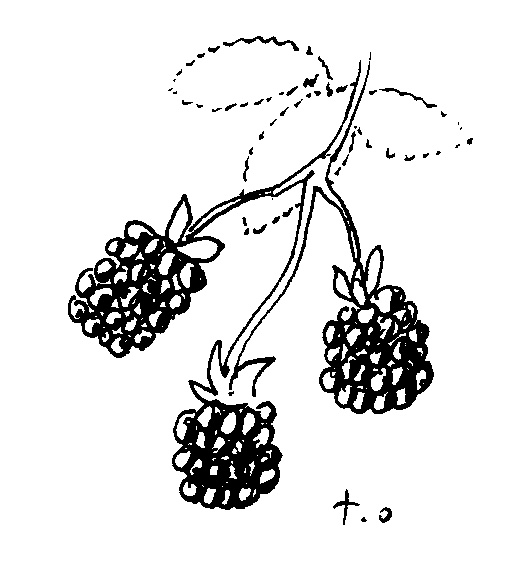 4 cups plums, cut into 1-inch pieces
2 cups berries (raspberries, blueberries, etc.)
2 Tbsp. fresh lemon juice
2 tsp. vanilla extract
Topping:
1 cup flour
½ cup medium-grind cornmeal
½ cup light brown sugar
¼ tsp. baking powder
½ tsp. sea salt
½ cup melted butter or vegetable oil
Preheat the oven to 350 F. Combine all the filling ingredients, taking care to avoid lumps. Add the berries last to avoid mashing them.
In a large bowl, mix the flour, cornmeal, brown sugar, baking powder and salt. Add the butter or oil and pinch the mixture together with your fingers until evenly mixed and crumblike.
Grease an 8-inch square baking dish. Lay in the fruit mixture then sprinkle the topping evenly over the top of the fruit.
Bake for 50 minutes or until the topping is golden brown and the fruit is bubbling. Serve with ice cream, yogurt or whipped cream, if desired. Will keep in refrigerator for 3 to 4 days.
Cornmeal Citrus Shortbread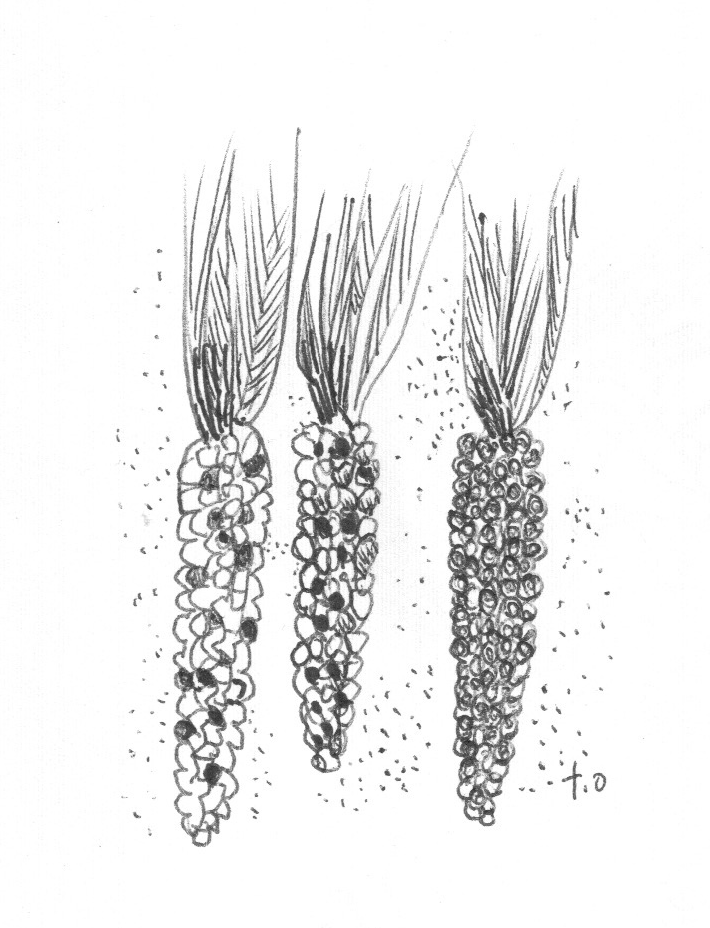 Makes 12-16 cookies.
2 lemons or limes, or 1 orange
1 ½ cups all-purpose flour
⅔ cup finely ground cornmeal
⅔ cup granulated sugar
1 cup salted butter, cut into 1-inch chunks
½ cup confectioner's sugar for glaze
Heat the oven to 325 F. Grate 1 tsp. of zest from citrus. Add to the food processor with the flour, cornmeal, sugar and butter. Pulse until well mixed, resembling fine crumbs. Don't over process.
Press the dough into an ungreased tart pan with a removable bottom or form a 9-inch circle on a pie or sheet pan with parchment paper lining the bottom.
Bake until golden brown, about 40-50 minutes. Cool on a rack. Cut with a butter knife while still warm.
To make a glaze, squeeze 1 Tbsp. citrus juice into a small bowl. Whisk in the confectioner's sugar. Add more citrus juice if a thinner, less sweet, zippier glaze is desired. Add more zest if desired.
Drizzle the glaze over the cooled shortbread. Add very fine zest over the glaze if desired.
This article originally appeared in the spring 2023 issue of The Maine Organic Farmer & Gardener.