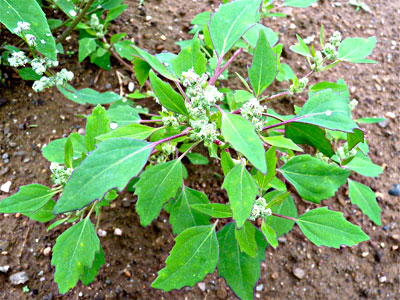 Lambsquarters, a common garden weed, is edible. Harvest it before it goes to seed. English photo.
By Jean Ann Pollard
Lambsquarters! Pigweed! Fat-hen, goosefoot, bacon weed, dirty Dick, Muck Hill weed. Despite numerous, often odoriferous monikers (and this little list is only partial), Chenopodium album is a delicious, nutritious delight for foragers, and a summer treat no one should miss.
In fact, one can hardly ignore the plant. Magically appearing anywhere bare earth shows in garden plots, it's eager to produce edible greens until frost. And it's considered a weed because few companies sell the seeds to make it sound domesticated. Lambsquarters can also take over a garden, so if you find it, pick it before it goes to seed.
Once upon a time, lambsquarters greens received more respect. Their ancient name was "all good," and all good they are. They contain more iron and protein than raw cabbage or spinach, more calcium and vitamin B1 than raw cabbage, and more vitamin B2 than cabbage or spinach.
According to Joan Richardson's Wild Edible Plants of New England, lambsquarters "even outclasses spinach as a storehouse of protein, calcium, phosphorus, iron, vitamin C, and great amounts of vitamin A, not to mention all the minerals pulled out of the earth by its strong taproot." It also lacks the puckishness of spinach, although lambsquarters, too, contains oxalic acid.
Ancient people revered it. English writer Audrey Wynne Hatfield in How to Enjoy Your Weeds says that lambsquarters were "once the most valued vegetable for human beings and fodder for their animals… It lost favour only after its relative, the novel spinach, was introduced [to England] from Southwest Asia in the sixteenth century," and lambsquarters even grew so profusely in some areas that settlements were named for it.
Hatfield adds that in Britain, "We find this plant … growing … in the Late-glacial and the Post-glacial periods. It was in the accustomed diet of the Neolithic, Bronze Age and early Iron Age people; and … was much used by the Romans and later diners."
Angrily thrown out by most gardeners today, lambsquarters was introduced to America by settlers from Europe. Both have since run rampant – and no wonder. By puberty the human female has some 400,000 eggs in place waiting to be fertilized, while a single lambsquarters plant can produce at least 75,000 seeds a season.
Of course, gardeners who don't view a weed as an enemy are apt to cheer: They don't have to purchase seeds, plant them, or coddle seedlings to get a healthy crop. Not all reproduction is this easygoing!
Identifying lambsquarters is straightforward. Euell Gibbons' amusing Stalking the Wild Asparagus is fine, but Richardson, in Wild Edible Plants of New England, gives, I think, the clearest clues: "The shape of its leaves and, especially, the talcum-powdered appearance of the young growing leaves gives it away. This mealy powder, most noticeable on the undersides of the leaves as the plant gets older, repels water, but disappears upon cooking. The leaves themselves are bluish-green, delicate to the touch. The stem is fleshy, tender when young."
Richardson notes that the upright, branched, mature plants (growing to 3 or more feet tall) have alternate leaves; and that the top leaves may be smooth-margined, but lower leaves are somewhat triangular and toothed. She warns that people should forage only in uncontaminated soils and that if crushed leaves smell like turpentine, you've found "an inedible relative. Leave it alone."
Such caution is true for any foraging. Warnings from www.kingdomPlantae.net suggest avoiding lambsquarters if it grows in artificially fertilized or treated soils, because it absorbs pesticides and "is prone to accumulate high levels of nitrates." Likewise, don't harvest it from manure piles, where it commonly grows, because of possible pathogen contamination.
Foragers are also cautioned to eat only moderate amounts of lambsquarters because of its oxalic acid content. As with spinach, however, oxalic acid, which can interfere with the body's absorption of iron and calcium, breaks down in cooking. And cooks have known for ages to pair spinach (and lambsquarters) with calcium-rich dairy products to obviate any difficulties.
Like many greens, lambsquarters shrinks with cooking, so pick a lot – which is often easy, because plants often grow in clumps.
Simply Steamed Greens
Steamed lambsquarters makes a delicious addition to basmati rice, bean salads, colorful vegetables such as carrots or sliced tomatoes, and side dishes of yogurt.
Pluck 2 inches of tender lambsquarters tops shortly before dinner. Gather twice what you think you'll need; they shrink. Rinse gently and pop them, still dripping, into a big pot with an additional 1/2 inch of water. Cover and steam over medium heat, turning occasionally, for 5 to 10 minutes (depending on the amount) or until barely tender. Drain well in a sieve or colander. You'll be gifted with a soft lump. Place the lump on a hot dish and, using a sharp knife, cut it into large cubes or triangles for easy serving.
In a cruet, shake together
2/3 c. extra-virgin olive oil
1/4 c. shoyu (naturally fermented Japanese soy sauce)
1 Tbsp. umeboshi vinegar.
Each diner can dribble on as much as desired.
Green Custard
(6-8 servings)
Far from being a nuisance, leftover cooked lambsquarters provides the basis for many delicious dishes, such as this main-dish custard. Note that the top 2 inches of plants are the most tender. You could also substitute milkweed tops, spinach, Swiss chard leaves (minus stalks), leftover blanched fiddleheads or cooked dandelion greens.
Shortly before dinner, gather a basketful of lambsquarters greens. Rinse them quickly and set them in a colander to drain.
Preheat your oven to 325˚F.
Into a frying pan, pour:
1 to 2 Tbsp. extra-virgin olive oil
Sauté in it until limp:
1 large onion, chopped fine
1 heaping c. sliced mushrooms
Spread the onion/mushroom mixture over the bottom of a buttered 9- by 12-inch lasagna pan (or pan of approximately the same size), or a 10-inch, deep-dish pie pan.
Pat the drained lambsquarters dry, and chop finely to measure:
4 (packed) c. of chopped leaves and tender stems
Place this in a large bowl and add:
1 c. small-curd cottage cheese or crumbled tofu
1 c. thick yogurt
1/2 tsp. dried thyme
1 tsp. powdered mustard
Mix together well.
In a big bowl or blender, beat until fluffy:
6 eggs
1 tsp. sea salt
freshly ground black or white pepper
1/8 tsp. freshly grated nutmeg
Pour the beaten eggs over the greens mixture and combine well. Spread over the onion/mushroom layer. Bake, uncovered, for 30 minutes, then sprinkle with:
1-1/2 c. freshly grated cheddar cheese
Continue baking for a few more minutes, until the cheese melts and the custard sets in the center. Let stand for 10 minutes before cutting into squares or triangles. Offer as an entrée with a vegetable salad and sliced tomatoes, or for lunch with fruit and hot yeast rolls.
About the author: Jean Ann Pollard is the author of The New Maine Cooking (Lance Tapley, 1987; DownEast Books, 1996) and The Simply Grande Gardening Cookbook (Burford Books, 2001). She lives in Winslow.
Looking for more recipes for foraged greens? Check out our Harvest Kitchen column on Wild Spring Edibles.