By Roberta Bailey
When I was first farming in Maine, I befriended as many elders in my small rural town as I could. My partner and I would visit them in their extraordinarily warm houses, we always remembered to dress in layers, and we would ask a steady flow of questions about how to do things. Plant rhubarb with a bushel of horse manure underneath it. Use a board to guide your row when cedar-shingling a barn. Lash two poles together at the bottom, place your pulled-up dry bean plants in between them, then when the poles are full, lash the top so that the poles act as a long vice; then hang the bean plants and poles in a barn or prop them up until fully dry and ready to thresh.
One early spring evening, while showing me how to make cider doughnuts, my neighbor told me that as a child, some years in spring, they were so hungry for greens that they would eat the buds off the beech trees. I think of that tale every spring while walking the woods. I nibble different tree buds. Beech buds are quite mild. Yellow birch is a wintergreen treat. I recognize that I have never been that hungry.
Wild spring greens are always a welcome transition toward our slow-coming warmth and bounty. At first, a few greens mix with grains for a salad, then there are enough for a pot of greens, or a salad mixed with root cellar carrots and cabbage. I particularly love the dandelion greens that volunteer in my high tunnel. They are so tender and sweetly nutty and mild. And bitter — some bitter is good for you. It is nature's cleansing tonic.
The fields and garden edges offer a wild buffet of "weeds" for all to gather. Dandelion, chickweed, nettles, wild mustard, wild onions or chives, sheep sorrel, fiddlehead ferns, plantain, and burdock and yellow dock root offer anti-viral, antibiotic, anti-inflammatory, immune-supportive and stimulating properties. Pick tops or dig deep for the winter-sweet roots that can help revitalize our sluggish bodies as we start to move into the expanse of spring and summer.
Roots like burdock or yellow dock and dandelion can be added to any soup or dish. Wild greens can be mixed into or substituted in any dish as well. Taste them first to make sure that your dish will not become too bitter. I often mix them with frozen greens from last year's gardens.
Dandelion Flower Tempura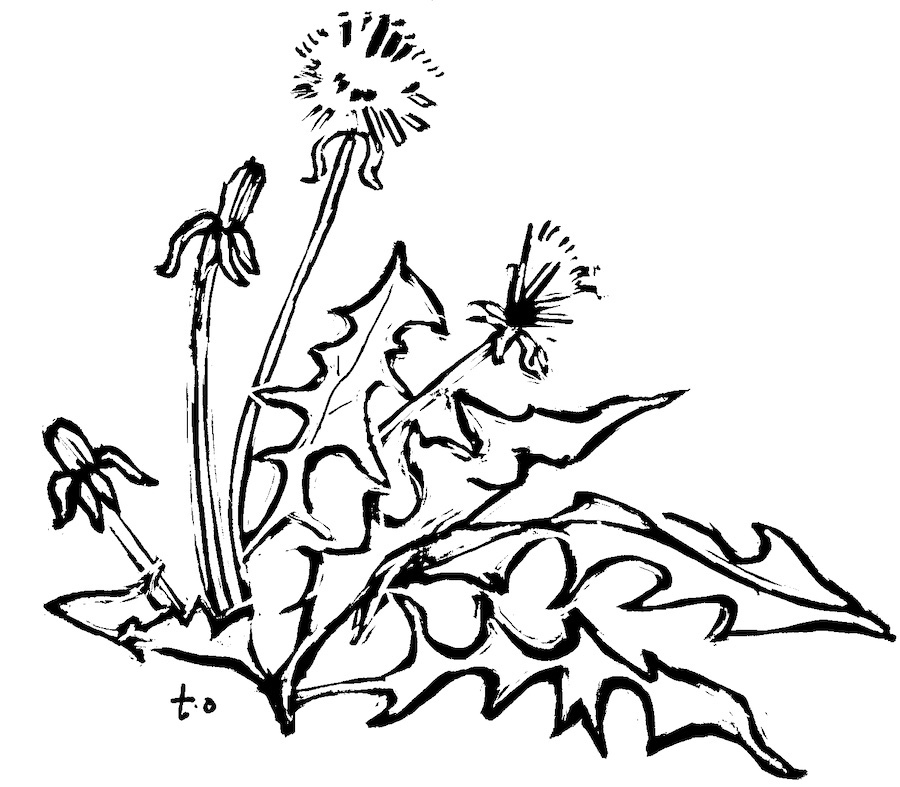 Adapted from "Healing Herbs for Women: A Guide to Natural Remedies" by Deb Soule. Soule's books include many spring tonic, soup and tea recipes. You can learn more at the Avena Botanicals website.
Pinch off dandelion heads with no stem.
Measure 1 cup of whole wheat pastry flour, brown rice flour, etc. into a mixing bowl. Mix in 1 teaspoon arrowroot powder. Add one egg yolk, 1 teaspoon herbal brown rice or cider vinegar, 1 cup of water, a pinch of salt or tamari or finely ground kelp, and some freshly minced garlic, to taste.
Gently stir the dry and wet ingredients together until the consistency is similar to pancake batter. Heat vegetable oil such as safflower or sunflower oil in a frying pan. Dip the flower heads in the batter and fry quickly until golden brown. Place them on a brown paper bag or towel to drain. Serve hot.
Wild About Pies
Makes 20 to 24 pieces
5 c. mixed wild greens (dandelion, nettle, chickweed, etc.)
1 package organic phyllo pastry dough, thawed
1 c. ricotta cheese or 5 oz. soft goat cheese
2-3 cloves garlic
4 Tbsp. butter
5 Tbsp. grated parmesan
3 Tbsp. olive or vegetable oil/melted butter
1 tsp. flour
Pinch of grated nutmeg
Salt and pepper to taste
1 large egg, beaten
Preheat the oven to 350 degrees F.
Finely chop the greens, then sauté them in a frying pan until limp. Let cool. Squeeze out any excess liquid.
Cut phyllo dough into 3-inch squares and press them into muffin tins, brushing every third sheet with butter or oil as you layer them into the cups, six to nine layers in all. Bake until golden, about eight minutes.
Heat the butter or oil in a heavy saucepan. Add the garlic and sauté until translucent. Stir in the flour, nutmeg, salt and pepper, making a smooth paste.
Stir in the ricotta or goat cheese, let melt. Remove from heat and mix in the beaten egg.
Mix with the greens in the bowl. Spoon 1-2 tablespoons of mixture into each phyllo cup and top with parmesan. Bake until set, about 15 minutes. Let cool slightly in pans before serving. (The ingredients can also be constructed like a spanakopita-style dish.)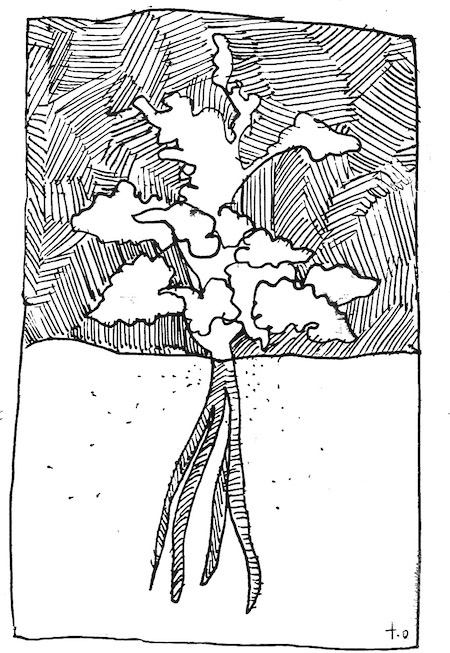 Dandelion and Burdock Fries
Adapted from Kathi Langelier's book, "Herbal Revolution."
Handful of tender fresh burdock roots, scrubbed
Handful of tender fresh dandelion roots, scrubbed
1 Tbsp. olive oil
Salt and pepper to taste
Optional: spices such as smoked paprika, cayenne, smoked cayenne, chipotle, cumin, garlic powder or nutritional yeast
Thoroughly wash and dry and trim roots. Preheat the oven to 350 degrees F. Cut roots lengthwise into thin fries. Place them in a bowl, toss with oil, salt, pepper and any optional flavorings. Mix thoroughly, then spread in a single layer on a baking sheet.
Bake for 10 minutes. Then check every two to three minutes until they are your preferred texture and doneness.
Serve as is or with hot sauce, vinegar or aioli.
Chickweed and Dandelion Salad
Use any amount of the following ingredients to make the salad mixture that works for you:
Freshly chopped chickweed
Freshly picked baby dandelion greens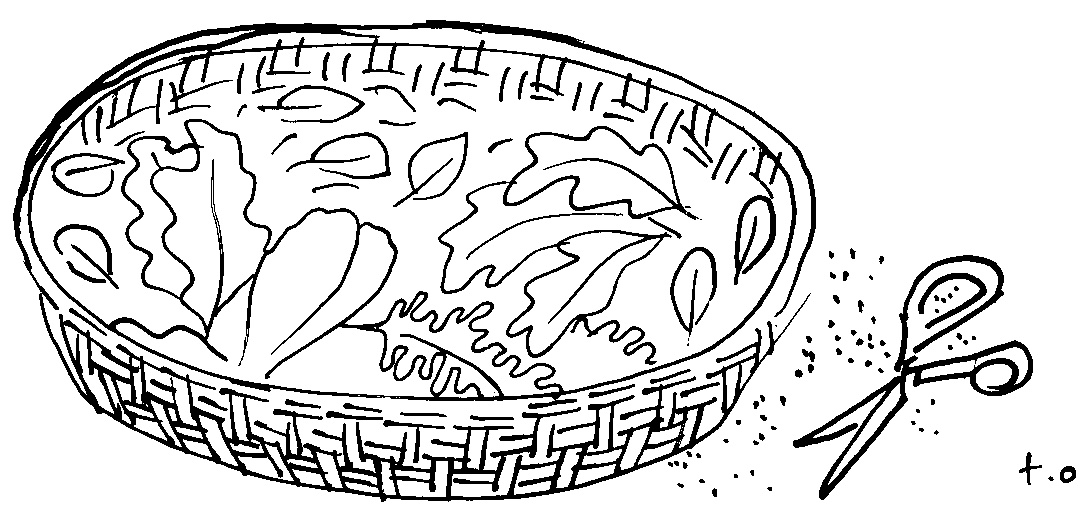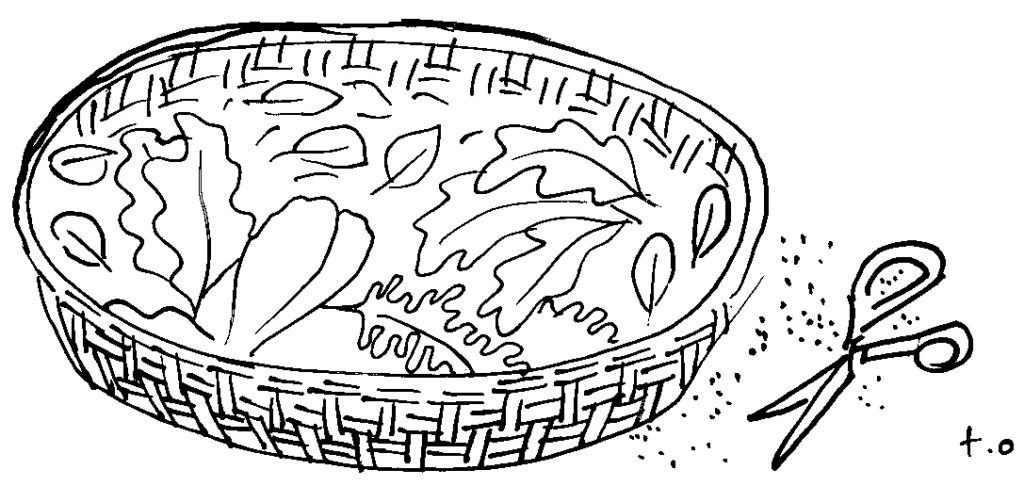 Chives or chive blossoms
Johnny Jump-Up flowers
Spring scallions
Grated carrot
Microgreens or bean sprouts
Young lettuce or spinach
Finely sliced cabbage
Slivers of cooked beets
Slivers of apple
Toasted sunflower or pumpkin seeds
A sprinkle of dulse
Crumbled feta or other cheese
Toss together and dress with your favorite salad dressing.
Nettle or Wild Greens Soup
Makes six servings
1 Tbsp. olive oil
1 Tbsp. butter
1 leek, washed and thinly sliced
1 scallion, washed and thinly sliced
1 clove garlic, chopped
1 Tbsp. sea salt
4 c. vegetable or chicken stock, or water
2-3 c. stinging nettles, lightly steamed
1 c. tender young dandelion leaves
1 c. sorrel leaves (optional)
1 c. lamb's quarter leaves
Creme fraiche, Greek yogurt or olive oil for serving
Minced fresh chives for garnish
In a soup pot, melt the butter with the olive oil. Add the leek, scallion, garlic and salt then cook for 10 minutes. Add the stock or water. Bring to a simmering boil. Add the greens and simmer until just tender. Remove from heat and puree the soup with an immersion blender or food processor. Season to taste.
Serve hot, or chill the soup and serve cold. Top each bowl with a drizzle of olive oil, a dollop of creme fraiche or Greek yogurt, and minced chives.
About the author: Roberta grows an abundance of produce and saves seeds at her Seven Tree Farm in Vassalboro, Maine. She is the longest-running columnist for The MOF&G.
Sign up for MOFGA's monthly Local and Organic Kitchen Newsletter for seasonal recipes delivered to your inbox.