By Anneliese Abbott
Maine organic farmers will be excited to hear that their state came in near the top in a recent survey of organic growers. The survey, sent out through 51 northeastern and midwestern organic and sustainable agriculture organizations in May-June 2021, asked organic farmers to list the authors, people and organizations that influenced their farming practices. A total of 253 people filled out the survey, 78% of whom were farmers and gardeners. Maine tied with Minnesota at 21 responses, just behind the top three states of Michigan, New York and Wisconsin.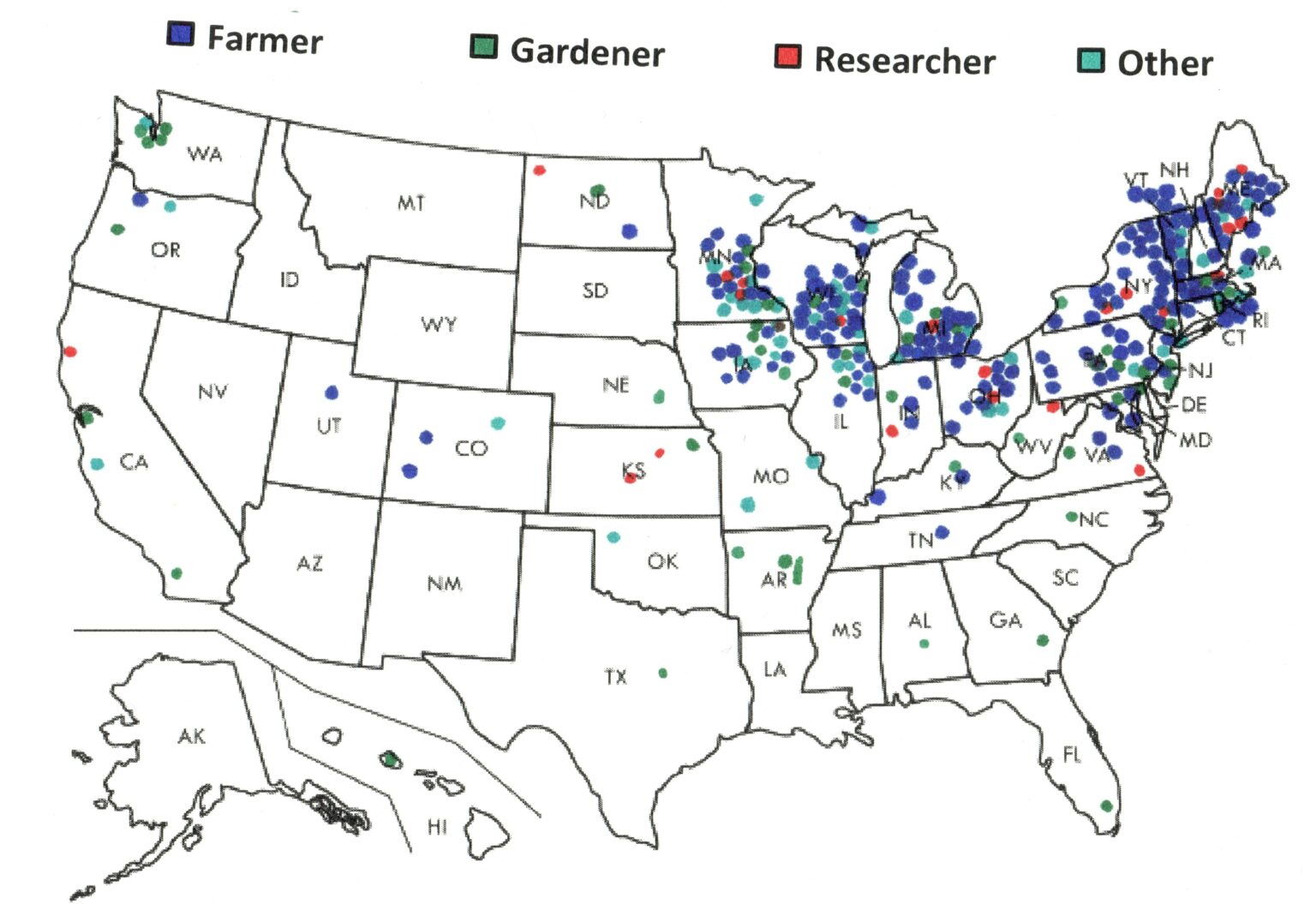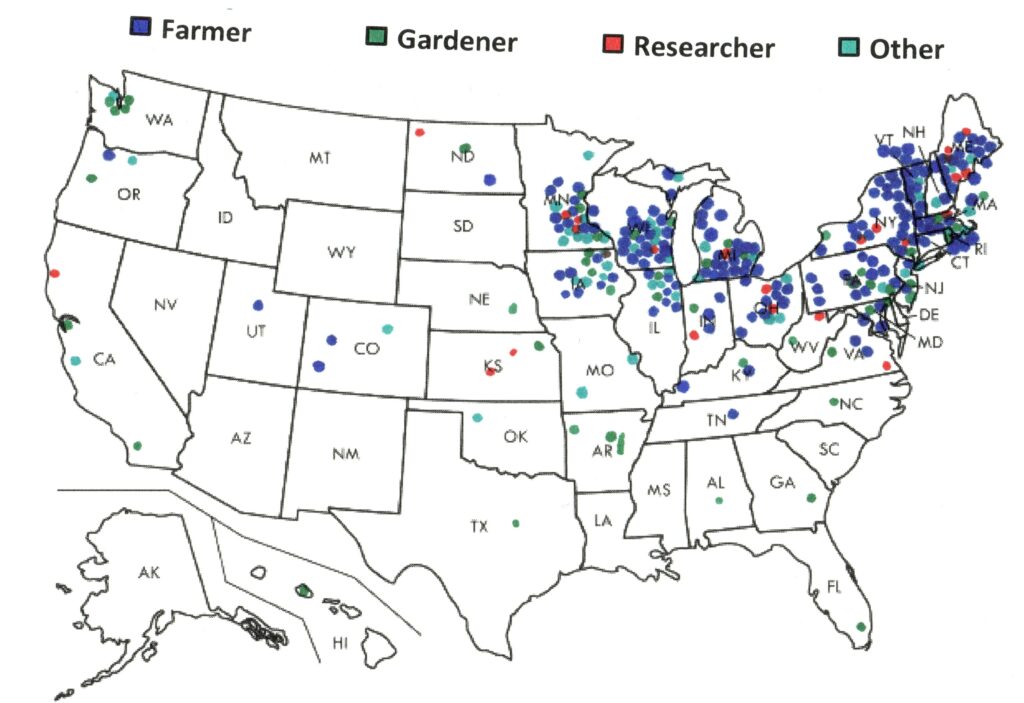 Most survey respondents — 77% — listed at least one book or publication as influential. The top author for both the Northeast and Midwest was Maine vegetable farmer Eliot Coleman of Four Season Farm. Coleman received 62 mentions, far surpassing 43 mentions of Rodale Press publications and 37 references to Wendell Berry. Other top authors included Acres U.S.A. magazine, Masanobu Fukuoka, Joel Salatin and Michael Pollan.
Respondents mentioned a total of 219 authors, reflecting the breadth of available literature on organic farming. Organic growers who started farming before U.S. Department of Agriculture organic certification in 2002 were more likely to list classics by Rodale Press and Acres U.S.A., while farmers who started more recently were more likely to list recent works by Joel Salatin and Michael Pollan.
| | | |
| --- | --- | --- |
| Author | Title(s) | Mentions |
| Eliot Coleman | "The New Organic Grower"; "The Winter Harvest Handbook"; "Four-Season Harvest" | 62 |
| Rodale publications | Organic Gardening magazine; "How to Grow Vegetables and Fruits by the Organic Method"; "Encyclopedia of Organic Gardening"; "The Complete Book of Composting"; Prevention magazine; New Farm magazine; "The Basic Book of Organic Gardening"; "Pay Dirt" | 43 |
| Wendell Berry | "The Unsettling of America"; "The Gift of Good Land"; "Bringing It to the Table"; "Our Only World"; "What Are People For?"; fiction and poetry | 37 |
| Acres USA | Acres U.S.A. magazine | 24 |
| Masanobu Fukuoka | "The One-Straw Revolution" | 21 |
| Joel Salatin | "You Can Farm"; "Folks, This Ain't Normal"; "Salad Bar Beef"; "Pastured Poultry Profit$" | 20 |
| Michael Pollan | "The Omnivore's Dilemma"; "Food Rules"; "Cooked"; "In Defense of Food"; "The Botany of Desire" | 18 |
| Wes Jackson | "Becoming Native to This Place"; "New Roots for Agriculture"; "Nature as Measure"; "Meeting the Expectations of the Land" | 14 |
| Bill Mollison | "Permaculture One"; "Permaculture Two"; "Permaculture: A Designers' Manual"; "Introduction to Permaculture" | 13 |
| Mark Shepard | "Restoration Agriculture" | 12 |
| Helen and Scott Nearing | "Living the Good Life"; "Continuing the Good Life" | 11 |
| Mother Earth News | Mother Earth News magazine | 11 |
| Sir Albert Howard | "An Agricultural Testament"; 'The Soil and Health"; "War in the Soil" | 11 |
| Gabe Brown | "Dirt to Soil" | 10 |
| Jean Martin Fortier | "The Market Gardener" | 10 |
Fig. 2. Most influential authors in farming communities in the Northeast and Midwest, according to this survey. Titles by author are ordered by most mentioned, when possible. Courtesy of Anneliese Abbott
Almost as many people — 72% — mentioned an affiliation with at least one of 221 organic or sustainable agriculture organizations. MOFGA came in near the top, with 25 mentions. Only Marbleseed in Wisconsin (formerly MOSES) was mentioned more frequently. Other leading organizations were the Vermont and New York chapters of the Northeast Organic Farming Association (NOFA) and Pasa Sustainable Agriculture.
"Many talks at MOFGA's Common Ground Fair influenced my practices," one respondent wrote. "Countless homesteaders and small farmers have presented there. Lastly, MOFGA's Farmer to Farmer Conference has been probably the biggest influence on how I operate my farm." Other farmers were strongly influenced by the MOFGA apprenticeship program.
Organizational involvement varied widely between demographic groups. Ninety-two percent of certified organic growers reported being affiliated with organizations, compared to only 57% of uncertified growers. Similarly, 79% of farmers but only 42% of gardeners mentioned an organization. Growers who began farming before USDA certification were also more likely to be affiliated with organizations than those who began after 2002.
These survey results confirm that Maine organic farmers and MOFGA have played an important role in the development and dissemination of organic farming methods. This research on the history of organic farming in the Northeast and Midwest is ongoing, and I'm looking for historic organic farming stories to add human interest to these statistics. I'm especially interested in hearing from organic growers who knew Helen and Scott Nearing or were trained by Eliot Coleman. Email your stories to [email protected] or mail to Anneliese Abbott, 1386 108th Ave., Otsego, MI 49078.Anneliese Abbott has a master's degree in agroecology and environmental studies from the University of Wisconsin-Madison and a bachelor's degree in plant and soil science from The Ohio State University. She is currently running a small organic CSA in southwest Michigan and conducting research for a future book on the history of organic farming. Her first book, "Malabar Farm: Louis Bromfield, Friends of the Land, and the Rise of Sustainable Agriculture," is available from Kent State University Press.
This article was originally published in the winter 2022-23 issue of The Maine Organic Farmer & Gardener.