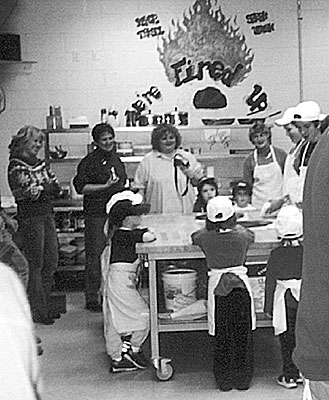 The kitchen at Fort Fairfield High School would be the envy of many bakers. Here, visitors watch while students knead and shape dough to make hundreds of loaves of certified organic bread each week. Photo courtesy of Students Baking a Living.
By Marada Cook
A calm, composed voice answers the phone.
"Students Baking a Living, how may I help you?" asks Beckie Nersessian, high school junior.
I ask to speak to Sarah Ulman, director of the Fort Fairfield High School baking program in Fort Fairfield, Maine. After a brief conversation, Ulman leaves to take roll call and hands the phone back to Nersessian. Ulman later explains that Students Baking a Living emphasizes student involvement with every aspect of the program – including public relations.
Nersessian confidently explains how the program, which makes certified organic breads, strives to integrate academics and hands-on experience, offering classes such as 'Bakery Production,' 'Marketing Course,' and 'Intense Bakery Production.'
"Working for the bakery," she says, "involves all of the subjects we use in school, but it makes them real."
Enthusiastic Students
As she speaks, a local radio station blares in the background. Banging trays and casual shouts announce the arrival of fellow bakers. Of the 250 students at Fort Fairfield High School, 51 are involved with Students Baking a Living. "The bakery draws students right in," says Ulman.
Brandon Saucier, 16, has been at school since 5 or 6 a.m., but doesn't mind the length of his day. "I started out taking [baking] classes, and liked them, so I started coming in earlier."
Amy McLaughlin began volunteering with a friend during study hall and just "kept coming back." She's now taking an accounting class and puts her coursework to the test in the bakery. "I pay bills, balance the checkbook and reconcile bills and receipts," she states proudly.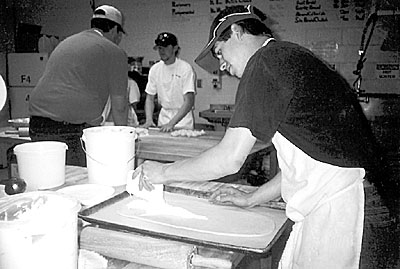 Baking instructor Ross Hayes makes a raspberry cream cheese braid. Photo courtesy of Students Baking a Living.
The teenagers involved with the program do more than just handle dough. Ulman elaborates: "They write grants, design product labeling and packaging, deliver the products and go to the grocery stores to do demos. They even perform maintenance on the delivery van."
"We try to get students to do things that play to their strengths," says Steve Golden, the alternative education teacher at Fort Fairfield. "We give them appropriate jobs and steer them towards their interests."
Nineteen-year-old Cory Nash just received his GED and worked as head baker last year. "This is one of the best projects I've ever seen," Nash says. "Once you learn something hands-on, you never forget it." Nersessian adds, "This is the type of class students want to get into."
Starting Ingredients
Such enthusiasm is the product of good leavening. Students Baking A Living was founded in 2000 by alternative education teacher Myer Taksel and a group of determined students. The project was funded through grants from the Kellogg Foundation, the Maine Community Foundation, The Libra Foundation and a Juvenile Justice Grant. The local Rotary and Lions Clubs chipped in, and the program received equipment from Loring Air Force Base. With support of the administration and community, and with student efforts, Students Baking a Living created a kitchen set-up that, Ulman says, "would make commercial bakers jealous."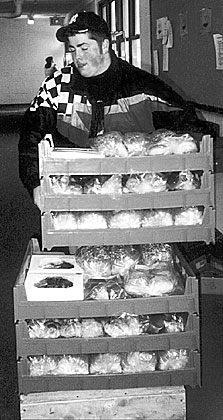 Eddie Spense makes a bread delivery. Photo courtesy of Students Baking a Living.
When the wind chill factor bottoms out at 50 below, the students are grateful to escape the cold and join the positive social scene that the bakery provides. As one student, Charlie Maskell, says, "In the mornings, we come in, turn on the radio, start to mix dough and have fun."
Mixing work and play seems to be the specialty of 21-year-old Ross Hayes, production manager. As Maskell heads out the door, Hayes shouts over his shoulder, "Thanks Charlie, see ya later!" Hayes tosses both keys and instructions to another student, Josh, who responds good naturedly and gets to work.
"I try to be relaxed," Hayes says, "and give students some freedom. They give me respect, although they definitely don't call me Mr. Hayes!" As Josh returns with the keys, Hayes jokes with him, saying, "I'm gonna call it a day; you take over, eh?" Clearly the warmth in the bakery comes not just from the ovens.
Mentoring Beyond the Bakery
Good mentoring relationships keep participants of Students Baking a Living at the top of their game. Hayes admits that he finished school because "Myer Taksel heard I was considering dropping out and offered me a deal. He said, 'Pass your history class and you can work with me in the bakery all morning.'" Hayes now uses a similar strategy to prevent bakers from neglecting their other schoolwork. "I tell them that they've got to be passing all their other classes if they want to spend any extra time in the bakery."
Likewise, Nersessian's academic interests were kindled in the bakery. "I probably wouldn't be in school right now if it weren't for this program," she says. Nersessian handles some of the accounting and adds, "You wouldn't believe how much math is involved in baking, and how much writing is involved on the marketing end of things!"
Students Baking a Living packs 200 to 600 loaves of bread weekly, makes pizza for school events, and bakes special order coffee cakes during the holidays. The program sells to five major grocery stores in its area, bakes sub rolls for the school cafeteria, and delivers as far away as Hampden. In September, a few students travel to Unity and set up a Students Baking a Living booth in the Youth Enterprise Zone at the Common Ground Country Fair.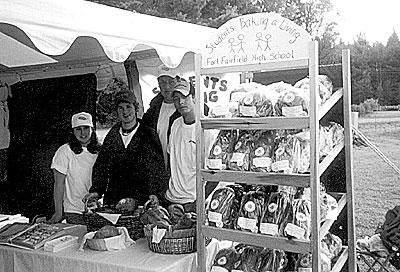 Visitors to the Common Ground Country Fair can buy bread from Students Baking a Living at the Youth Enterprise Zone tent on Friday. Shown here, left to right, are Stephanie Dorsey, Charlie Maskell, Dennis Rogeski and Jay Donovan. Photo courtesy of Students Baking a Living.
Jim Amaral, owner of Borealis Breads, has served as a mentor since the beginning of the program. Amaral travels to Aroostook County five to six times per year and stops in Fort Fairfield to share what he knows about baking and starting a business. He uses the student bakery to test batches of Maine grown wheat.
"The students do a fabulous job," he says, "and receive a tremendous amount of positive feedback." This feedback builds self confidence, which in turn opens doors for new learning (and teaching) opportunities. During his next trip, Amaral plans to talk about local food and how everyday consumer choices make a difference in the economy of rural areas.
Amaral's message, which he folds into his own artisan loaves, is one that the students are well on their way to understanding. Students Baking a Living offers eight or nine types of organic breads and uses locally grown organic potatoes for its Potato Bread. To source more local ingredients – a challenge in Aroostook County – the class plans to visit nearby wheat farmer and mill operator, Matt Williams.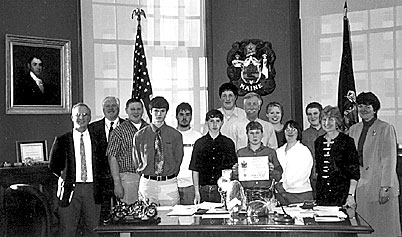 In 2002, Students Baking a Living received the Maine Governor's Points of Light Award for Exemplary Maine Youth. Shown, left to right in front are: Steve Golden, Eric Lunquist, Shaun Dufour, Aaron Dufour, Lindsay Giles and Sarah Ulman; in back are Josh Spittle, Jason Hersey, Jay Donovan, former Governor Angus King and Beckie Nersessian. Photo courtesy of Students Baking a Living.
Besides fostering good will in the community (Students Baking a Living regularly donates to soup kitchens and food banks), the program gives rise to goals that go beyond high school. Rose Montee wants to use her creative abilities to decorate cakes; Jay Donovan plans to go to culinary school. Nersessian plans to start her own business as a beautician. "I think this program has given me the skills to pursue that," she notes. Steve Golden says, "I sent students to a local supermarket manager to land their latest account. They came back, and their faces said, 'WOW!' It had taken them 10 minutes."
When students at Fort Fairfield High School come to their kitchen, they're clearly baking more than a living. They're baking a future.
About the author: Marada Cook is a student at Hampshire College in Amherst, Massachusetts, and a food vendor at the Common Ground Country Fair.