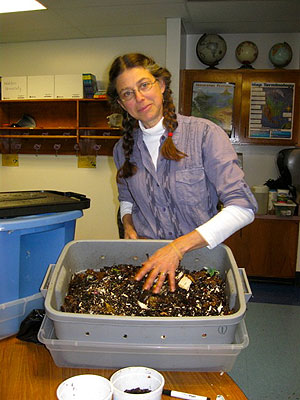 As part of the Downeast Farm to School Project, Regina Grabrovac and Taylor Weiss (not shown) taught a vermiculture workshop for eight Rose M Gaffney teachers. Photos courtesy of Regina Grabrovac.

By Sharon Kiley Mack
In rural Washington County, more and more farmers are connecting with schools through Regina Grabrovac and the highly successful Downeast Farm to School program that serves Washington and Hancock Counties.
"I believe Washington County is just on the tipping point," says Grabrovac. "We have such potential here. And we have proof. In the late 1800s, we were exporting vegetables and apples out of Washington County to the Boston markets. At that time, there were 10,000 more people in Washington County than are living here now. They were all eating what they or their neighbors grew themselves, and still they had enough to export. So that tells me something about our potential."
How successful have Grabrovac's connections been between farmers and school lunch programs? Five years ago, only one or two farmers were providing produce to schools. In comparison, since 2010, retired teacher Ted Carter's After The Rain Farm has sold produce to the Alexander School for six to 10 weeks each fall; Roo Berry Farm in Jonesport now sells blueberries and vegetables to Washington Academy in East Machias and to the Jonesport School; Roger Riquier, a retired gardener in Dennysville, sells produce to schools in Charlotte, Pembroke and Perry; and for the 2013 growing season, Salty Dog Farm, a MOFGA certified organic farm in Milbridge, is entering into an agreement to supply 500 pounds of carrots to MSAD 37, serving four elementary schools and one high school. Based on limited sampling of school data collected by Grabrovac in the fall of 2012, schools spent more than $15,200 on Maine foods, most of it on produce, with a smaller amount on Maine meat and shellfish.
"There is a strong earning potential here for local farmers," Grabrovac explains. Eleven Washington County schools participated in a small volume of Washington County buying in 2012, but Grabrovac says that if all 38 county schools purchased local foods, sales – and profits to the farmer – could exceed $100,000 a year based on the above sampling of Maine foods purchased. Carrots alone could account for a $10,000 market.
"We have seven to eight farmers actively interested in serving schools through School Supported Agriculture in Washington County – an advance purchasing model based on the CSA concept," Grabrovac says. "My biggest challenge is finding more farmers, because the volume that most of the current farmers supply is quite small."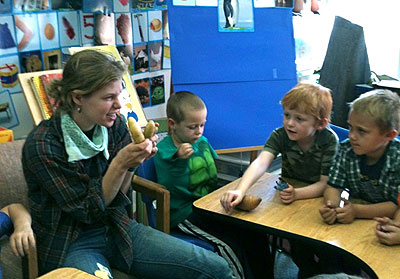 Taylor Weiss, a FoodCorps service member, talks about potatoes with enthusiastic students.
Some farmers may not be comfortable doing wholesale accounts, and others do not produce a volume of any one crop that works for the school closest to the farm. In addition, occasional crop failures must be considered.
"But most schools here are incredibly flexible when it comes to what they will use and what volume they will purchase. Unfortunately, schools are often considered a last resort market, when we could be viewing them as a priority market that can extend sales later into the fall and frequently require far less travel," Grabrovac notes.
Downeast Farm to School is a program of Healthy Acadia, in partnership with Washington County: One Community. Downeast Farm to School works across Washington and Hancock Counties to link producers with schools and increase access to local, healthy food. Farm to School coordinators in both counties support school cooks with professional development and connections to local farmers. They provide teachers with food system curricula, educational workshops and school garden assistance. Grabrovac is employed by Healthy Acadia, working in partnership with Washington County: One Community. A full-time AmeriCorps Food Corps volunteer augments her work. "This support allows additional resources to be leveraged and delivered effectively," Grabrovac says.
Downeast Farm to School is made possible with funding from The Bingham Program, C.F. Adams Charitable Trust, The Centers for Disease Control and Prevention, Maine Community Foundation, Polly and John Guth, USDA SARE, and community members.
With a farming background and a strong interest in nutrition, Grabrovac has been able to court farmers, augment a local greenhouse program, conduct school nutrition conferences, and advocate for local food purchases – in three years.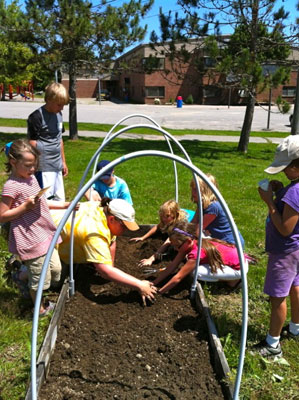 Planting cucumbers with Mrs. Micklus of the Rose M Gaffney 2012 Summer Garden Camp program, led by FoodCorps service member Dana Stevens and Rose M Gaffney's Jobs for Maine Graduates teacher Shannon Micklus.
"Having a knowledge about the source of our food is considered by some to be a radical act," she says. "We all eat; how radical is that?"
A school greenhouse project that began in 2010 at the Perry Elementary School is a prime example of the growing impact of the Downeast Farm to School program on Washington County communities. Not only did staff members grab the concept and use it in classroom lessons, a local parents' group and 4-H chapter jumped on board and helped write grants with the students. School cook Roland Botelho said he has been able to halve his lettuce purchases for the 100 students he feeds daily, due to the student-grown lettuce harvested in their 16- x 16-foot greenhouse. With the help of the local Quoddy Kids 4-H chapter, a midsummer planting of beets and other vegetables has greeted students in the fall when they return to school. "They just got into growing beets, and the kids are loving them," Grabrovac says.
Grabrovac adds that teachers who have embraced farm-to-school connections through school gardens and greenhouses have found that it has not necessarily created more work for them. Instead, "it enlivens, deepens and strengthens their work, and they are observing eager, energized students."
"I never thought I would like turmeric," and "All hail kale!" were overhead at Beals Island Elementary School during a pupils' vegetable tasting event, where children made applesauce, omelets and kale smoothies with Taylor Weiss, Washington County's FoodCorps Service Member. This Americorps FoodCorps position in Washington County is made possible with support from Healthy Acadia in partnership with Washington County: One Community. Weiss' consistent on-the-ground efforts in five of the region's schools have made a huge difference.
"I could not accomplish what Taylor is doing – she is in the classroom all week long connecting the kids with garden-based lessons," says Grabrovac.
FoodCorps is a nonprofit organization with an AmeriCorps service program that aims to combat childhood obesity through hands-on food education, school garden programs and farm to school efforts. Maine's 10 FoodCorps Service Members and their programming were made available by a University of Maine Cooperative Extension grant and the excellent work of Ellie Libby, Knox-Lincoln County's Extension educator.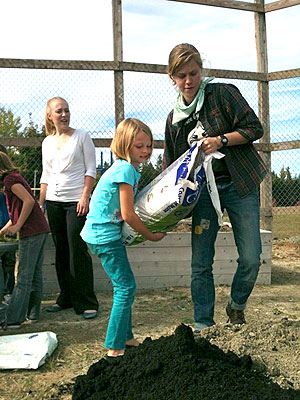 Taylor Weiss and a student prepare garden soil.
FoodCorps' work is vital in Washington County, where more than 50 percent of children live in food-insecure households, and farming can provide a stable, sustainable living.
At one school that has been receiving weekly FoodCorps service member curricular support, the principal complained that teachers were having difficulty getting students out to recess on time. Why? They were actually enjoying and eating lunch servings, augmented with local foods, thanks to the hiring of a new food service director.
Other initiatives under way include creating a directory of producers and a farmers' guide to schools interested in local purchasing; taste testing events, Maine Harvest lunches for more than 1,600 students; UMaine Extension School Garden 101 courses; creating new school gardens serving 600 students at four area schools; developing a summer garden program with support from the FoodCorps Service Member; coordinating the Apple Project, a hands-on program that teaches students about a local food resource by pressing apple cider; and developing a Washington County Community Food Council.
"The people of Washington County are saying they want to see more garden-based activities, school gardens, greenhouses and local purchasing," Grabrovac says. "There are still barriers. Many school meal coordinators say they are very interested but there is no money in their food budget for local purchasing. They say they can't afford it, but is it more a matter of perception, and could funds be redirected that prioritize some local purchasing?"
School boards and superintendents may need to prioritize improved meals at their schools. Students would be eating better food, and meal counts could also increase, which would benefit a school's budget. Imagine parents and grandparents regularly visiting their children's school to share a locally prepared meal. And imagine the potential reduction in diet-related disease and health care costs. That has to be worth the investment.
Grabrovac focuses on promoting vegetables and beans, the sturdiest of harvested crops. "The school cooks can be resistant to trying what were once standard fare at any New Englander's table, but beans, for example, are a source of inexpensive protein and fiber. Carrots, cabbage, kale, winter squash … sometimes the children haven't ever had these vegetables, but they are great school food options. Even with limited farm numbers, there are limitless possibilities."
Currently supply, even for a curtailed demand, often falls short. However, farms could meet current and increased demand from local schools. Grabrovac says, for example, that schools' current fresh carrot purchasing amounts to roughly an ounce of carrot per student per week. Many schools purchase most of their carrots from out of state. In order for local farms to provide a school-year supply of carrots for the county's 4,000 students, less than 1 acre of total production would be needed.
"I would like to see acres of carrots being produced here,'' says Grabrovac.
She recognizes the needs and challenges of farmers and school meal coordinators.
"It is a huge challenge for understaffed and sometimes poorly equipped kitchens to feed 350 kids a home-cooked meal. And farmers cannot be expected to sell their products at below-production costs. But the farm to school connection would be even more successful if there were more farmers who participated. I am convinced that there must be a happy medium if a farmer is able to sell to a school that is only a few miles down the road versus selling to a market – whether wholesale or retail – that is 50 to 100 miles away. This is especially true given the rising cost of fuel. Our communities may need to begin considering the value of supporting our local producers and allocate a larger percentage of the school budget toward healthy, local food purchases."
Grabrovac is encouraged by an influx of young farmers into the county who are mostly concentrating on vegetable farming for small markets.
"They are starting to see beyond a farm stand alongside Route 1 and the local farmers' market, to a permanent, profitable connection with their local schools.
"Achieving lasting change with community systems takes time, talent and resources," Grabrovac says. "We are committed to leveraging resources until the changes we seek become new community norms."
For more information about Farm to School in Washington County, contact Regina Grabrovac at 263-4396. For more information about the Downeast Farm to School program as a whole, including the initiatives underway in Hancock County, contact Katie Freedman, Healthy Acadia's Food, Farm and Nutrition program manager, at 667-7171.