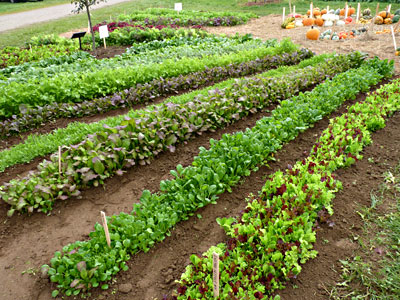 Cold-hardy greens sown in August, such as these planted by Johnny's Selected Seeds at MOFGA's Common Ground Education Center, can be protected and feed us for an extended season. English photo.
By Roberta Bailey
In A Midwife's Tale, Laurel Thatcher Ulrich tells of walking across the frozen Kennebec River in Hallowell at Thanksgiving time. The river is tidal there, well past Augusta. In winter, the ice heaves and jams and builds up, often causing troublesome backup floods in March.
These days, we don't get winters cold enough to freeze the rivers that solid until January or later. Last winter barely dipped below zero in central Maine. Sections of the Kennebec in Hallowell never froze.
I dam a shallow pond each fall just for hockey skating. Some winters I skate on it by Thanksgiving, always by the first week of December. In 2012, puck drop was the second week of December; this year it was closer to Christmas. Throughout the winter, the ice surface was often too soft for skating.
Weather patterns are shifting. They are easier on our bodies, young or old; and on the woodpile and heating bills. I suppose the roads are icier as we get more "wintry mixes."
I think the weather is harder on plants. This winter we had many days in the 40s and 50s that plunged below zero overnight. I blame the March 2012 80-degree days followed by a couple of nights in the teens for the demise of most of my raspberry patch. (A bigger, better patch in a newly cover-cropped field is near the top of the spring to-do list.) The timing and duration of maple sugaring season is anyone's guess.
Milder winters are shifting my gardening and eating cycles as well. We used to eat the last of the kale and Brussels sprouts in late October or early November, then hunkered down around plates of cole slaw and sauerkraut, apple carrot raisin salad, and vegetables from the freezer until those first, much anticipated salads of April or May. Now the fall garden season extends into November and December, and I plant early greens in outside gardens in March.
High and low poly-tunnels have changed the cycles too. We used to spend January next to the wood stove perusing seed catalogs. We still do, but on warmer days we are sowing a new crop of spinach in the high tunnel. The Maine winter table is much greener from gardeners' backyards and from mesclun and other winter-harvested vegetables found in local markets. Though not the sole reason for this trend, milder winters are helping us produce more local food year round.
We adapt to change. Out of climatic warming comes easier production of some local foods. We can eat food that has traveled fewer miles and has consumed less energy in getting to our tables. Maybe we can think about what got us all to this place, and find ways to burn less fossil fuel.
Here are recipes to help empty the root cellar and celebrate the greens of winter.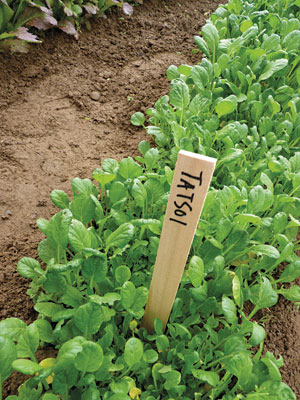 Tatsoi. English photo.
Citrus Marinated Carrots
1 pound carrots
1 onion, halved then sliced into thin crescents
3 c. vinegar
juice of 1 orange, 1 lemon and 1 lime
1 Tbsp. tamari or soy sauce
2 tsp. toasted sesame oil
1/4 tsp. freshly ground black pepper
1 tsp. grated fresh ginger root
Cut the carrots into 3-inch sticks. Steam on a rack over boiling water until just crisp tender. Drain and transfer to a glass jar. Add onions. Mix remaining ingredients in a bowl or jar. Stir or shake well. Pour over carrots to cover. Chill 4 or more hours. To serve, drain off liquid. Serves 6 to 8.
Cidered Parsnips with Tatsoi
1 to 2 pounds parsnips
1 c. apple cider
1/2 pound tatsoi leaves
Steam parsnips until tender, 5 to 10 minutes. In a large frying pan, boil the cider until reduced to 1/3 c. or one-third its original volume if you decide to use more cider. Add parsnips and tatsoi leaves and toss to coat. Cover the pan for a minute or so until the tatsoi wilts. Serves 5.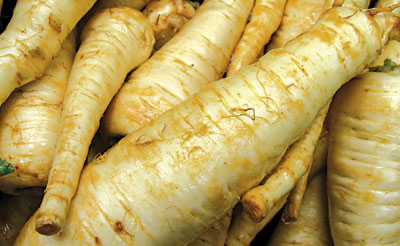 Parsnips. Susan Leiter photo.
Indian-Style Wilted Greens
2 c. shredded endive
2 c. shredded mustard greens
2 c. shredded red chard
OR any combination of greens available, especially brassicas
1 to 2 Tbsp. olive oil

1 tsp. ground cumin
1 Tbsp. grated fresh ginger root
1 green chili pepper, chopped, with or without seeds
1 tsp. ground coriander
1/2 tsp. ground cinnamon
1/8 tsp. ground cloves
1/8 tsp. ground black pepper
1 bunch of scallions, chopped to 1-inch pieces
Rinse and set aside the shredded greens. In a heavy frying pan over low heat, heat and stir the oil and cumin until fragrant, about 1 minute. Add the other spices and sauté for another 3 minutes. Add the scallions and sauté for 3 minutes. Add greens, one large handful at a time, and stir while sautéing. You may need to increase the heat for this step, but be careful not to burn the spices. Keep adding until all the greens are wilted. Serves 3 to 4.
Asian Noodle Soup with Greens
8 c. chicken or rich vegetable broth
1/4 c. tamari or soy sauce
1 Tbsp. rice wine or sherry
8 to 12 mushrooms (wood ear mushrooms are good)
2 Tbsp. fresh grated ginger root
4 cloves garlic, slivered
4 scallions, finely chopped
8 to 12 ounces Udon or LoMein noodles
1 Tbsp. toasted sesame oil
2 c. cooked chicken OR 1 pound extra firm tofu, cubed
1 c. julienned carrot slivers
5 to 6 c. chopped greens (e.g., Chinese cabbage, tatsoi, any Asian greens or green cabbage)
chili paste with garlic (or Sri racha)
chopped fresh cilantro (optional)
Combine the broth, tamari, rice wine, mushrooms, ginger, garlic and scallions in a small pot. Simmer 20 minutes. Meanwhile, cook the noodles in boiling water until just tender. Drain and rinse with hot water. Return to the pot and toss with sesame oil. Add the chicken or tofu, carrots and greens to the broth. Simmer 10 minutes or until carrots are just tender. Hold back any quick-cooking greens until 3 to 4 minutes from completion for vibrant greens.
To serve, place a nest of noodles in each bowl, ladle broth and greens over the noodles. Pass chili paste around for all to add as they please, or add it to the broth if everyone loves heat. Pass cilantro as well. Serves 4 to 6.
Beets on Greens
4 to 5 medium-size beets with green tops
1/3 c. rice vinegar
3 Tbsp. chopped chives
2 Tbsp. chopped fresh mint
2 Tbsp. fresh orange juice
1/4 c. olive oil
salt and pepper to taste
Mustard or arugula or spicy mesclun mix
4 ounces goat cheese or feta, crumbled
1/4 to 1/2 c. minced parsley
Separate the beet greens from the roots. Clean. Chop the stems into 1/4-inch pieces and the leaves into 1/4-inch ribbons. Peel and grate the roots or chop in a food processor. Combine all and steam for 5 minutes, until tender. Plunge into ice water to chill. Drain well.
Whisk together the vinegar, chives, mint and orange juice. Add oil, whisking until fully incorporated. Season with salt and pepper. Add beets and greens. Toss to mix. Adjust salt and pepper. Toss in cheese. Serve over a bed of spicy greens. Garnish with minced parsley and more cheese if desired. Serves 6.