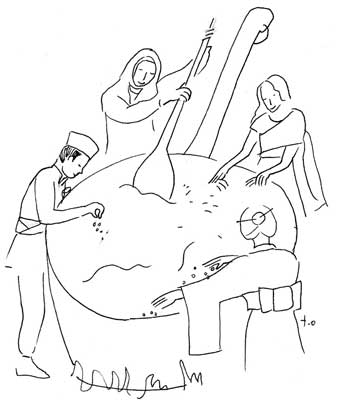 Toki Oshima illustration
By Roberta Bailey
When I was a child, my family went out to eat at a restaurant once a year, on Mother's Day. We went to Howard Johnson's. I always got fried clams. I know it was due to socioeconomics, but I also think people went out to eat less in the early 1960s – but my view of the world was pretty small back then. I didn't eat pizza until I was a teenager. I have never lived any place that was close enough to have a box of pizza delivered to my door.
As an adult, I think going out to dinner is an exciting treat. As a cook and gardener who has grown my own food for over 40 years, I am almost always disappointed. I know what very fresh food tastes like. And that flavor is often all one needs.
These days I seek restaurants that expand my world and excite me into trying to create the dishes at home. I am learning about the umami in Japanese ramen broth, the spice blend in a lemony Moroccan beef dish, the touch of clove and star anise in Pho (Vietnamese noodle soup), the oily spice dispersion in a Pakistani curry, the perfect texture of Thai noodles, the fiery dance between wilted cucumber, fish sauce and thinly sliced serrano peppers, and the elusive perfection of an authentic Mexican salsa verde.
We are a country of diversity. Each of us has family recipes from our heritage – from Cornish pasties to boiled dinner to perfect hummus to green papaya salad. Our restaurants are an odd mix of excellent food from many cultures and mediocre mainstream blandness.
The farm-to-table movement is thriving. Vibrant fresh flavors are meeting with cuisine from around the world. In some ways we have come full circle. Until recent history, people have been cooking with what they grew, and the dishes evolved around that freshness.
Summer is a time of such bounty, and often, if you farm or garden, of little extra time. Carve out some time. Make room for diversity.
Cantonese Greens
1/4 c. water
1 1/2 to 2 lb. mixed greens, Pac choi, mustard greens, gailaan, Chinese cabbage and/or chard, chopped coarsely
1/4 tsp. salt
3 scallions, thinly sliced on an angle
1 Tbsp. finely grated fresh ginger root
1 serrano pepper, thinly sliced
2 Tbsp. grapeseed or vegetable oil
1 Tbsp. toasted sesame oil
1 Tbsp. rice vinegar
1 Tbsp. tamari or soy sauce
2 tsp. toasted sesame seeds (optional)
If using, toast the sesame seeds by heating a cast iron frying pan, then adding the sesame seeds. Stir constantly. Toast until they start to pop and brown. Pour into a bowl.
In a large frying pan or wok over high heat, add the water and salt. Bring to a boil and add the chopped greens. Cover. Stir after a few minutes. Toss until all greens are wilted but still bright green. Water should be evaporated. Place greens in a serving bowl. Wipe out pan/wok. Sprinkle the scallions, ginger and chili pepper over the greens.
Add the oils to the skillet and return to medium high heat until very hot. Pour the oils over the greens. Toss to distribute. Drizzle with tamari and vinegar and toss again. Sprinkle with sesame seeds if using.
Indian Fried Onion, Pepper and Raisin Chutney
Good with grilled meat, rice, curry or an omelet
1/4 c. vegetable oil
1/2 lb. yellow or white onion, diced
1/2 tsp. sea salt or kosher salt
1/2 tsp. ground turmeric
1 tsp. ground cumin
1/2 tsp. ground cinnamon
1/2 tsp. ground fenugreek
1/4 tsp. ground cardamom
1/2 tsp. chili powder
8 ounces green bell pepper (and a hot pepper, if desired), diced
1/3 c. raisins or dried currants
Prepare all ingredients. If using hot pepper, remove seeds and ribs for less heat.
Heat oil in a skillet over medium-high heat. Add onion and salt. Cook until well browned, about 10 minutes. If using the hot pepper, add just before the onion is done. Stir constantly. Add all the spices and stir them into the onion. Add bell pepper and raisins. Cook for one minute, stirring constantly. Turn off heat and let sit, covered, for three minutes. Serve immediately. Will keep in fridge up to one week. Makes almost 2 cups.
Moroccan Chermoula
Excellent with fish, tofu or grilled meats
1-1/2 c. cilantro leaves (smaller, tender stems are fine to use)
1-1/2 c. flat or curly leaf parsley, thick stems removed
3 to 4 cloves garlic
1/2 tsp. sea salt
2 tsp. cumin
1 tsp. sweet or smoked paprika (or some of each)
1/2 jalapeno pepper (seeds and membrane removed)
Large pinch of dried saffron
1/3 c. extra-virgin olive oil
1/4 c. lemon juice (1 to 2 lemons)
Place all ingredients in a food processor and pulse until blended into a puree. Makes about 1 cup. Can be stored in a glass container in fridge for up to three weeks. To freeze, place in small containers or freeze in an ice cube tray. Once frozen, remove and store in a freezer container or freezer bag.
Thai Cucumber and Shrimp Salad
Serves 4 to 5
Dressing
1/3 c. lime juice (about 3 limes)
2 Tbsp. honey
3 Tbsp. fish sauce
2 Tbsp. water
1 serrano pepper, very finely sliced or minced
Salad
2-1/2 lb. pickling or European cucumbers
1 carrot, grated
1 small onion, thinly sliced (about 1/4 to 1/3 c.)
2 tsp. sea salt
1/2 to 1 lb. shrimp, pre-cooked and peeled
1 c. cilantro leaves, coarsely chopped
1/3 c. roasted peanuts, chopped (optional)
1 Tbsp. toasted sesame seeds (optional)
Mix all dressing ingredients together. Stir to dissolve the honey. Set aside.
Choose cucumbers that have not developed seeds yet, or remove the seeds from them. Peel if desired, then slice very thinly. Mix with grated carrot and sliced onion. Toss in the salt. Place in colander and set aside for 30 minutes.
Rinse thoroughly and place in a non-terry kitchen towel. Wring the cucumbers by twisting both ends of the towel three or four times. Place vegetables in an open salad bowl and fluff them a bit. Add shrimp and cilantro leaves. Toss lightly. Pour in dressing and toss again. Sprinkle with peanut and sesame seeds if desired.