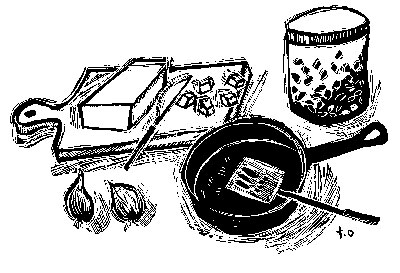 Toki Oshima drawing
Read the review: Estrogen the Natural Way
By Roberta Bailey
Of the three primary forms of estrogen, plant estrogen (lignans), appear to protect against breast cancer, while the other two stronger forms of estrogen promote cancer. Soy and flax are excellent sources of plant estrogen for menopausal women. Relief from meno­pausal symptoms can be attained with a few risk-free changes to the diet.
Flax seed is a flat, sesame seed-sized shiny brown seed with a deliciously nutty flavor. It can be used whole or ground fresh into a meal. Flax meal can be added to breads, cereals, baked goods or just about anything. I often just chew up a teaspoon or two of the whole seed. One tablespoon of flax seed per day can reduce the risk of breast cancer, while 2 to 3 tablespoons will reduce menopausal symptoms. Three to 8 tablespoons will approximate a bone-protective dose of pharmaceutical estrogen. Flax oil has many health benefits but does not retain the estrogen rich lignans. These remain in the pulp. (Six tablespoons of a high lignan flax oil contains the same level of lignans as 1 tablespoon of the flax seed.) Flax powder is a laxative that is not for food use.
Soy is available in many forms: soy milk, flour, tempeh, miso, soy nuts, soybeans, tofu and the many meat mimicking products on store shelves. One to two portions of soy per day can reduce breast cancer risk and menopausal symptoms. Three to eight portions will approximate the level of pharmaceutical estrogen. A portion of soy equals 1 cup soy milk, 1/4 c. TVP (textured vegetable protein), 1/4 cake tofu, 1/3 c. soy flour, 1 soy burger, 2 soy hot dogs, 1/3 c. soybeans, or 1/3 c soy nuts.
The book Estrogen The Natural Way, by Nina Shandler (see book review), offers easy ways to incorporate estrogen into your diet without becoming a slave to the kitchen. Here are a few recipes to inspire you.
---
Asparagus with Lemon-Garlic Sauce
3 cloves garlic
1/2 cake silken tofu
3 T. lemon juice
1/4 c. chopped scallion
salt to taste
1 pound fresh asparagus
Mince the garlic. Blend the tofu, lemon juice, scallion and garlic in a food processor until smooth. Salt to taste. Add more lemon if needed. Steam the asparagus for 3 minutes until bright green, then place it on a serving plate and cover it with the sauce. Serves 4. (One half portion soy per serving.)
---
Bow Ties, Baby Peas and Salmon
8 oz. bow tie pasta
4 garlic cloves, quartered
9-1/2-oz silken tofu (1 cake)
3/4 c. soy milk
2 T. fresh snipped dill
2/3 c. fresh or frozen peas
8 oz. skinless salmon, sliced into 1×3-inch strips
2 t. Dijon mustard
salt and pepper
Cook pasta. While pasta is cooking, prepare the sauce: Place garlic in a food processor with the s-blade inserted. Mince. Add the tofu. Process until smooth.
Turn the tofu mixture into a saucepan. Add the soy milk, dill, peas and salmon. Cook over medium heat, without boiling until the peas and salmon are cooked. Remove from heat. Stir in the mustard. Add salt and pepper to taste. Drain and rinse the pasta. Serve the sauce and pasta in separate bowls, pouring the sauce over individual servings at the table. 4 servings (3/4 portion per serving)
---
Mushroom Risotto
3/4 c. short grain brown rice
Spray oil
1 onion, chopped
3 cloves garlic, sliced
10 oz. mushroom sliced
2 T. brown miso
1 t. ground cumin
1/2 cake silken tofu (9-1/2 oz)
1/4 c flax seed
Bring 1-1/2 c. water to a boil in a heavy bottomed pot. Add the rice. Reduce heat to a simmer. Cover and cook for 50 minutes. Spray (or wipe) a heavy frying pan with oil. Heat over medium-high heat. Saute the onion, garlic and mushroom until browned. Reduce the heat to low, add the cooked rice and stir.
Place the miso, cumin and tofu in a food processor with the s-blade inserted. Puree. Add to the rice and mushroom mix. Stir. Add the flaxseed. Cook uncovered for 5 minutes without boiling. 4 servings. (1-1/2 portions estrogen per serving)
---
Quick Rhubarb Crumble
TOPPING
3/4 c. flax seed
1/4 c. chopped walnuts
1/4 c. maple syrup
1 t. vanilla extract
FILLING
1 c. frozen apple juice concentrate
6 c. sliced rhubarb
1/4 c. cornstarch
1/4 c. maple syrup
Preheat the oven to 300 degrees. To prepare topping, grind flaxseed in a manual grinder or electric coffee grinder. Place it in a mixing bowl. Add the nuts, maple syrup and vanilla and mix thoroughly. Spread the mixture on a cookie sheet and bake for 5 minutes, until toasted.
To prepare the filling, place a juice concentrate in a heavy bottomed saucepan. Add the rhubarb. Cook over medium heat until the rhubarb is soft (10 to 15 minutes). Dissolve the cornstarch in the maple syrup. Stir this into the rhubarb and stir continuously until the mixture thickens. Remove from heat. Pour into a 9-inch pie plate. Spoon the crumble over the fruit. Serve warm or cold. Serves 6. (2 portions per serving)
Estrogen the Natural Way
Over 250 Easy and Delicious Recipes for Menopause
by Nina Shandler
Villard, New York
300 pp. $14.95 paperback
Menopausal women face a frightening estrogen dilemma. They need estrogen as estrogen levels diminish with age. Confronted with the short term symptoms of hot flashes and discomfort, and the long term effects of placing hearts, bones and brains at risk, many choose relief with pharmaceutical estrogen sources. But conventional hormone therapy, with its potentially distressing side effect and increased risk of breast cancer, is not a reassuring solution.
Estrogen takes many forms. As well as being produced in the body, it is found in the environment, in animal foods, and in plants. Nina Shandler, discovering that some plants contain estrogen, headed to the kitchen and starting cooking some easy-to-swallow alternatives to conventional estrogen therapy. Based on absolutely solid science, Estrogen the Natural Way shows women a gentle yet potent version of hormone replacement therapy.
In the body, estrogen takes three primary forms, two of which promote cancer, one of which appears to protect against cancer. When women take conventional pharmaceutical estrogen replacement therapy, they ingest the two high-potency, cancer-causing estrogens. When they eat plant estrogens, they may actually be guarding against breast cancer.
Soy and flax are two excellent sources of plant estrogen. Nina Shandler has created 150 easy to follow, delicious, and quick recipes with soy and flax seed as ingredients. They are simple, and quick. You don't have to change your life and become a slave to your diet to get the plant estrogen you need to reduce menopausal symptoms. Shandler gives the daily soy and flax equivalents needed to decrease the risk of breast cancer, reduce menopausal symptoms, lower cholesterol, and to approximate a bone-protective dose of pharmaceutical estrogen. They are fairly easily attained.
With an introduction by three M.D.s (Barry Nelson, Joyce Nelson and Samuel Gladstone), the book builds a solid foundation of information on the estrogen-diet connection. Recipes that follow include munchables, breakfast, spreads, breads, soup, condiments, salads and side dishes, pasta and rice, main dishes, and desserts. I found the recipes simple to use and quite delicious, inspirational and, honestly, a relief: Getting enough estrogen won't be very hard. Many recipes do rely on a food processor or some type of grinder, coffee or grain, but many do not. With a bit of creativity, most can be made without electrical appliances.
Estrogen the Natural Way is a delicious gift that every menopausal woman should give to herself.
– Roberta Bailey
(Editor's note: Be sure to use organic soy, since so much nonorganic soy is genetically engineered.)