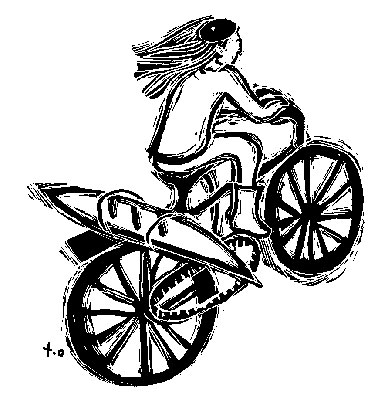 Drawing by Toki Oshima
By Roberta Bailey
I stopped baking bread this summer. I was taking a writing class in Portland, and after the class I would go to the open market or the health food store. At first, I was drawn by the number, shape and variety of breads on display, everything from olive and dried tomato bread to organic, Maine-grown whole wheat. It was so easy to pick up a loaf of bread, especially with this summer's heat. The bread was sour and chewy and delicious. But something was missing.
Once the weather finally cooled, I started making bread again. What I missed was the feel of the dough against my palms, warm and elastic, coming alive as I kneaded it, and the timing of the rise, dashing in from the garden to punch down the dough, shaping the loaves after supper, then pulling the loaves, hot from the oven, the scent of baked bread filling the house. Did you brush your teeth yet? Let's have a slice of bread before we go to bed. Ill get the butter.
I've been striving for that chewy fleshed, crusty French style bread. The basic procedure below uses all white flour. The same procedure can be used with other flours. The amount of water is critical to perfect texture. I encourage you to try the basic recipe, learn the texture and then experiment with other flours. Measurements are given in weight for accuracy, followed by conventional cup measurements. The only real requirement is an oven that will heat to 475 degrees and stay there for 20 minutes.

French Bread
Knead together:
2 lb. unbleached white flour (6-1/2 c. unsifted)
1 tsp. instant yeast (1-1/2 tsp. dry yeast dissolved in water below)
3-1/2 tsp. salt
2 c. and 2 T. water, between 98 and 120 degrees F. ,
The dough will be tough. Do not add more water. Let it rise at room temperature for 12 hours. (I mix it at night and bake it in the morning, or vice versa.) The dough will be shiny on the surface and full of bubbles and sinkholes; when stretched it will be elastic, like a stringy spider web. Punch down the dough and mold it into whatever shape you desire. The recipe should make two 1-1/2 lb. loaves or two 24″-long loaves. Use cornmeal to line a sheet pan, then place the loaves on the pan to rise. Let them rise until doubled in diameter, as long as 3 hours. Ideal rising conditions are moist and warm. If you cover the sheet of bread with a moist roasting pan, the loaves will be tacky, shiny and moist, ideal for a pretty, crusty bread. With a sharp knife, make diagonal cuts in the loaves in order to avoid side bulges. Preheat the oven to 475 degrees. (For smaller ovens, heat to 500 degrees, then lower to 450 degrees when placing loaves in oven.) Place loaves in oven. For a resilient, crackly crust, now is the time for steam. Toss a couple of tablespoons of water onto the hot oven surface. The steam will adhere to the tacky dough surface. (If your bread is dry, it won't work.) Bake for 15 to 20 minutes, depending on the size of your loaves. French bread is done when you have a light brown, crispy bottom.

Poppy or Sesame Bread
(makes 2 loaves)
2 lb. unbleached white flour (6-1/2 c.)
4 oz. whole wheat flour (3/4 c.)
4 oz. of course rye flour, a mixture of fine and cracked or unbolted rye (3/4 c)
1/2 c. poppy seeds or toasted sesame seeds
2-2/3 c. water, 100 to 120 degrees
1-1/2 Tbsp. salt
1 Tbsp. instant or fine yeast
Extra poppy seeds for topping
Knead all ingredients together until they form a smooth, elastic ball. Let the dough rise for 12 hours at 68 degrees. Shape it into round loaves. Dip the top in water, then into poppy or sesame seeds. Place the loaves on a cornmeal sprinkled pan, seed side up. Let them rise until doubled in volume, one to three hours. Preheat the oven to 450 degrees, then reduce it to 350 degrees and bake for 30 minutes. To toast sesame seeds, bake them on a sheet pan until they are lightly browned.