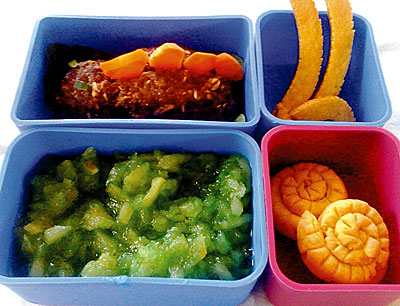 A bento box lunch containing dead dinos, primordial sludge, and fossils, by Laurel McFarland. Laurel McFarland photo.
By Cheryl Wixson
My elder daughter, Laurel, who works as a nanny and home schools two delightful children, is always sharing with me photographs of the colorful and fun lunches she prepares for her charges. Using bright purple, green, red and yellow plastic compartments that fit neatly into a box known as a laptop lunch (www.laptop lunches.com), she fills them with artistically decorated palm trees, bunnies, even "green eggs and ham." When plans include air travel, the family is the envy of other passengers, as Laurel is sure to pack each an exquisitely prepared Japanese or bento (also called obento) lunch box.
A graduate of Japanese studies, Laurel says that the presentation of food in Japan is very important. "You need to understand that Japanese mothers take great pride in their obentos and spend hours creating them. It is a sign of love, and each mother hopes her lunch outshines all the others. Obento making is a kind of a cult.
"Personally," she continues, "I find the kids eat more fruits and veggies when I make a bento lunch. They are also more apt to try new things."
Laurel likes to pick a theme, such as dinosaurs, or a cuisine, such as Thai, when creating lunches. She often uses rice to mold animals, and cookie cutters to make shapes with raw vegetables and whole-grain breads.
"Little decorations are the key." She uses raisins, nori (dried seaweed), soy paper and fruit leather. So much of our eating is with the eye; certainly crisp turnip and carrot "fish" dipped in herb-green "pond water" must taste better!
I have adapted Laurel's ideas to the lunches I prepare for days we aren't able to eat at home. I have simply incorporated this into the supper cleanup routine, boxing leftovers, or encores, as we like to call them. Instead of plastic containers, I use canning jars. A typical lunch might be a wide-mouthed, 1-cup canning jar filled with whole wheat pasta, smothered with canned summer veggie tomato sauce; a half-cup canning jar topped with pink applesauce; and a half-cup canning jar layered with dried cucumber and zucchini chips.
This system also allows for portion control. Indeed, a number of people have used bento portion control as part of a lifestyle change, resulting in weight loss and better health. Sites such as www.aibento.net, www.Flickr.com and www.veganlunchbox.com allow folks to share their experience and learn from each other.
I find myself making extra dinner portions to pack for lunch. Last night's roast chicken becomes tomorrow's chicken salad, tossed with apples and yogurt. Pot roast is sliced and packed with a side of gravy and oatmeal bread for a hot meat sandwich. The fixings for our supper dessert salad become the noontime chef's salad when topped with sliced boiled eggs and Aroostook County cheddar. Extra grilled vegetables make satisfying wraps, and cooked grains such as rice and wheat berries become crunchy side salads. The next morning, we each pack the components of our lunch and run.
Like the Japanese, who make each meal a combination of five colors, our meals usually include something red, purple, green and orange or yellow. I love to play with combinations of colors in winter salads and slaws: bright purple cabbage tossed with orange carrot gratings and slivered makrut lime leaves. (Makrut limes are often used in Thai cuisine and can be grown in the home. The leaves are often found in frozen food sections of health or specialty food stores.) Or ruby sliced beets topped with crumbled white goat cheese and toast-brown walnuts. It's a pleasure to open the white lid of my "lunch-jar" and be greeted with a beautiful, delicious and nutritious salad.
Bento lunches also generate less trash. A trash stream from sandwiches and fruit and veggie pieces in plastic bags, a beverage or yogurt in a single use container, plastic cutlery, paper napkins and lunch bags generates over 100 pounds of garbage per person per year. Investing in the lunch box system, or canning jars, is more economical and environmental.
Another strategy is to cook once, freeze, and eat twice. I will make a large batch of soup, such as Carrot Chowder (below), and freeze some in individual portions in glass Mason jars. A jar of frozen soup acts like an ice pack in a cooler and can be microwaved and eaten from the jar at the office. Muffins and things like Pumpkin Snack Cakes (below) are easy to prepare and travel well right from the freezer.
For the creative, bento lunches are a wonderful opportunity to play in the paint box. For someone with an inside or office job, this is most appealing. After a long day of staring at the computer, there is something relaxing about the creative use of turning local, seasonal, organic food into a dazzling and satisfying lunch. Rich lobster stew, a toasted biscuit half spread with raspberry jam and half spread with orange goat cheese, sliced cabbage with 'Wealthy' apples, blueberries sprinkled with cinnamon and sugar. Black bean, broccoli and corn salad topped with grated cheddar, accompanied by tortilla chips, peach salsa, a strawberry smoothie. Although our midday eating doesn't always include stars, dinosaurs and fish, the bento lunch box system has certainly put more fun in our food!
Carrot Chowder
Carrot Chowder is adaptable to lots of different vegetables. Wheat berries or bulgur can be substituted for ground beef for a vegetarian version. For a vegan version, substitute pureed tofu for heavy cream. This recipe makes a large batch, so plan on freezing some for another meal. Serve with crusty bread and applesauce.
1 lb. ground beef
4 c. tomato sauce
2-1/2 c. shredded carrots
2 c. scrubbed and cubed potatoes
1/2 c. chopped turnip, celery or celeriac
1/2 c. chopped onion
1/2 c. chopped green peppers
3 cloves garlic, minced (or more to taste)
1-1/2 c. water
Sea salt and fresh pepper
Celery salt
1-1/2 c. heavy cream or 10 oz. soft tofu, pureed in blender with a bit of olive oil
In a heavy soup pot, brown the meat in oil over a medium flame. Drain off the excess fat. Add the garlic and onion and cook until they just start to soften. Add the remaining vegetables, tomato sauce and water and cook until the potatoes are fork tender. Slowly stir in the cream. Season to taste with salt, pepper and celery salt. The soup may be garnished with grated cheese and a crouton. Makes 12 servings.
Nutritional analysis per serving (cream version): 253 calories, 10 g protein, 15 g carbohydrates, 18 g fat (0 g trans fat), 486 mg sodium, 3 g fiber

Nutritional analysis per serving (tofu version): 162 calories, 10 g protein, 15 g carbohydrates, 7 g fat (0 g trans fat), 486 mg sodium, 3 g fiber

Pumpkin Snack Cakes
My teenagers are always rummaging through the cupboards for a snack. I make Pumpkin Snack Cakes and store them in the freezer. Better than cookies, one little cake has over a gram of fiber and provides 20 percent of the RDA of vitamin A. Dry milk powder and chopped apricots replace the sugar to add extra calcium and vitamin C.
Beat with electric mixer in large bowl:
1 15-oz. can pumpkin (1-3/4 c. cooked pumpkin)
1/2 c. sugar
3 eggs
1 c. canola oil
1-1/2 c. skim milk
1/2 c. fat-free dry milk powder
Mix together in medium bowl:
2 c. all purpose flour
1/2 c. wheat germ
2 c. whole wheat flour
1 Tbsp. cinnamon
1-1/2 tsp. grated nutmeg
2 Tbsp. baking powder
Stir the dry ingredients into the pumpkin mixture. Stir in 1 cup chocolate chips and 1/2 cup finely chopped dried apricots.
Preheat the oven to 350 F. Spray mini-muffin pans with cooking spray. Spoon batter into pans and bake until a toothpick comes out clean, about 15 minutes. Let cool on a rack. Store in tins, plastic bags or plastic containers. Makes 72 cakes.
Nutritional analysis per cake: 83 calories, 2 g protein, 10 g carbohydrates, 4 g fat, 1 g fiber, 29 mg sodium

Cheryl Wixson does organic marketing and is MOFGA's resident chef. When not playing in the Common Kitchen at Unity, she is at home in Stonington, Maine. She may be reached at 367-5003, or [email protected].