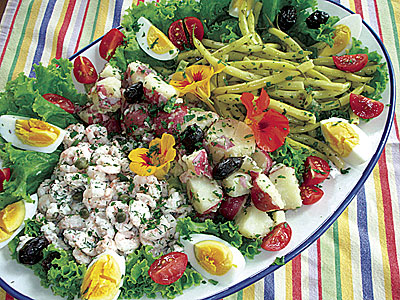 New potatoes are featured in a Maine Nicoise Salad, which includes other CSA fare: fresh lettuce, marinated yellow beans, cherry tomatoes, eggs and tiny boiled Maine shrimp – all decorated with a few nasturtium flowers. Cheryl Wixson photo.
by Cheryl Wixson
As cool spring nights give way to longer, warmer days, my taste buds anticipate a new season of eating. Bright shades of green burst forth, literally urging me to connect with the land. Dandelion greens sautéed with bacon, fiddlehead ferns baked into quiche, ruby red stalks of rhubarb stewed into sauce – these fleeting, seasonal delights herald the beginning of easy summer eating from my Community Supported Agriculture (CSA) basket.
Our family has enjoyed eating from a CSA basket for four years. In February, we pay King Hill Farm "up front" for a share of the season's harvest. Starting the last week in June, we receive our share of the weekly harvest, every Tuesday for 16 weeks, until mid-October. (To find a CSA farm near you, see our CSA Directory.)
Thus begins an exciting and luscious pattern of eating, as I fill my basket weekly with local, delicious vegetables picked at the peak of freshness. After a long winter of slaws, the seemingly endless varieties of lettuce are a luxury: 'Black Seeded Simpson,' lofty 'Red Sails,' 'Freckles,' 'Buttercrunch' and more.
Strawberry – Rhubarb Crisp
Crisp topping:
6 tablespoons butter, cut into 1/2 inch chunks
3/4 cup packed brown sugar
2/3 cup whole wheat flour
1/2 cup rolled oats or oatmeal (not the quick cooking oatmeal)
1/2 teaspoon grated nutmeg
1 teaspoon cinnamon
In a medium sized bowl, combine the butter with the rest of the ingredients until you have a coarse, crumbly mixture.
Fruit filling:
4 cups rhubarb, sliced into 1 inch pieces
3 – 4 cups strawberries, hulled and sliced
1 cup sugar (may also use honey or maple syrup)
1/4 cup flour
1 teaspoon cinnamon
pinch cloves
Preheat the oven to 375 degrees. Make the topping and set aside. Spray a 2 quart baking dish.
Mix the flour, sugar and spices in a large bowl. Add the fruit and stir to coat well.
Arrange the fruit in the baking dish and cover with the topping mixture. Set the baking dish on a cookie sheet to catch any drips. Bake the mixture until bubbly and the topping is brown, about one hour.
Serve topped with whipped cream or ice cream.
Makes eight generous servings.
Nightly salads become the norm, sometimes simply tossed with freshly chopped parsley and basil, olive oil and chive vinegar. Often they become the entire meal, combined with scallions, summer squash, cucumbers, grated 'Kinko' carrots, baby beets, 'D'Avignon' radishes, 'Sun Gold' cherry tomatoes, chopped boiled eggs from free-range hens, and Appleton Creamery feta.
The beginning of the season brings spinach, kale, Swiss chard, beet greens, green onions and early cabbage, fixings for a Maine-style kimchee. First chop the cabbage and sprinkle it with sea salt. After draining the water, combine the cabbage with an interesting selection of chopped greens, green onions and garlic. Season the mixture with a generous amount of chopped ginger and hot chili powder, and dress it with equal parts of rice vinegar and light soy sauce, a little honey or maple syrup and sesame oil. Once the flavors have married, this spicy Korean condiment is a perfect accompaniment to burgers or chicken on the grill, served with tender shoots of asparagus and boiled new potatoes.
In what seems like perfect timing, the dried, pungent garlic in my root cellar is depleted when tender garlic scapes appear in my basket. Garlic shoots, or scapes, are a delicacy in southern French and Italian cuisines. They can be used in much the same way as chives or green onions, and in stir-fry. We like to coat them with olive oil and toss them on the grill or simply puree them with chopped basil and olive oil and use the mixture as the base for salad dressings, a seasoning for grilled vegetables or a sauce for pasta. The paste freezes well.
July heralds sweet peas, meaty fava beans, tender green beans, slender, yellow snap beans, snowy-white cauliflower heads and a seemingly endless supply of cucumbers. I put aside some of this bounty for winter, preserving pints of Bread and Butter pickles and quarts of Marinated Bean Salad. We enjoy sweet, fresh strawberries, sliced and marinated with maple syrup, or combined with tart slices of rhubarb and baked into strawberry-rhubarb crisp, both sinfully delicious when topped with whipped cream – the cream from local Jersey cows.
New potatoes are a cause for celebration and a Maine Nicoise Salad. This elegant and tasty salad, hailing from France, is perfect for summer entertaining. Line a platter with fresh lettuce leaves. In the center, mound boiled new potatoes that have been tossed with sea salt, vinegar, pepper and olive oil. Arrange marinated yellow beans, cherry tomatoes, chopped olives and capers, and sliced boiled eggs around the potatoes. Tiny boiled Maine shrimp are a tasty addition. Decorate the platter with nasturtiums and serve with a crusty bread and white wine.
Come August, tomatoes and zucchini are in full production, as are all the herbs. U-pick herbs are one of the luxuries of my CSA, and I enjoy them every week, finely chopping bunches of fragrant basil, cilantro, parsley, dill and summer savory, and storing them in jars in the refrigerator. A simple salad of sliced heirloom tomatoes on a bed of lettuce, with feta cheese, olive oil and vinegar, fresh pepper and sprinkled with chopped parsley and basil is a soul-satisfying lunch. Fresh dill adorns baby buttered carrots, cilantro is tossed with chopped tomatoes and onion for a quick salsa, summer savory elevates stir-fry beans, chopped parsley and olive oil coat grilled eggplant and patty pans, basil mayonnaise is a sauce for fish … the variations are endless.
Sweet corn, anise-flavored fennel, hot peppers, luscious melons, mouthwatering plums, long stalks of leeks, tender 'Delicata' squash and baby pumpkins signal the end of the CSA share. Time to make jars of pesto and freeze them, can tomato sauce, scrape and freeze corn from the cobs, pick apples, harden off squashes and get ready for winter.
With over 120 farms and 5,500 shares, Maine's CSA community is transforming relationships with food and farms. Each CSA is unique, as is the community supporting it, but the bottom line is the same: People commit to farms, and in return farmers commit to produce for their members the freshest, most flavorful, best food possible. Summer eating is wicked easy from the Maine CSA basket!
About the author: Cheryl Wixson is MOFGA's resident chef and organic marketing consultant. She welcomes questions, comments and observations about local, seasonal, organic eating at [email protected] or 207-367-5003.