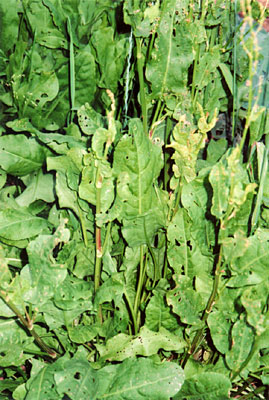 Sorrel can grow large and ragged over the summer, and goes to seed. Cut it back in August to produce succulent, young growth again the fall. Protect the plants with a cold frame or other cover and you'll be able to harvest these tangy leaves well into the fall. English photo.
By Jean Ann Pollard
Two kinds of perennial garden sorrel – Rumex acetosa and R. scutatus – pop through cold, springtime soil to stand crisp and green, and they continue to thrive all summer. In fact, by cutting them back, letting tender new shoots grow, and adding some protective cover, you can enjoy sorrel's piquancy long into the fall. As Alice Waters remarks in Chez Panisse Vegetables, "the time of year has little effect on cooking quality."
Perfect for making soup, sorrel also adds a quick, acidic taste to salads when cut into small bits. Sprinkling it on salad greens with chopped chives presents a real taste treat. Scrambled eggs or egg custards are also inspired by it, and bagel lovers find that adding it to cream cheese is – well, fine!
A member of the buckwheat (Polygonaceae) family, the many species of world-traveling sorrels have a long history of kitchen use.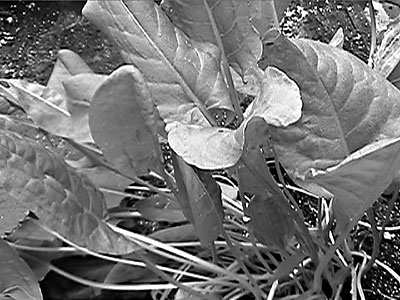 Sorrel grows well in a pot; in fact, one or two 6- or 8-inch pots of sorrel will provide as many leaves as most families need. English photo.
R. acetosa, which grows tall with long narrow leaves, and R. scutatus, or French sorrel, considered choice because its leaves are broad and fleshier, are fine additions to present day cuisine. As in spinach, Swiss chard, beet greens and rhubarb, however, sorrel contains oxalic acid that binds with calcium and iron, making those nutrients unavailable for absorption through the digestive tract. The addition of milk reputedly offsets the binding, as in the following soup.
Sorrel Soup
Rinse thoroughly, then strip from the midribs and chop:
3 cups sorrel leaves
In a porcelain or stainless steel pan, heat:
2 tablespoons extra-virgin olive oil
Add the leaves and sauté them until wilted. They'll turn a drab olive color. Pay no attention. You should have about 4 tablespoons of wilted leaves.
Add:
4 cups stock, either chicken or vegetable
Simmer for a minute or two.
In a small bowl beat slightly:
3 egg yolks
Remove hot stock from heat.
In a small bowl or measuring cup, mix together:
1/2 cup heavy cream
your slightly beaten egg yolks
Pour a little hot stock into your cream/yolk mixture. Then pour it all into the stock.
Heat again until the soup thickens slightly. Do not boil.
Garnish with finely chopped chives or chervil and serve hot. This soup is also good cold.
Sorrel/Potato Gratin
Inspired by Alice Waters
Pick:
24 large sorrel leaves
Strip the leaves from the stems. Rinse them in cold water. Drain thoroughly and chop coarsely.
Preheat your oven to 375 degrees F.
Butter a large gratin dish.
In a frying pan heat:
2 tablespoons olive oil
Add and cook until completely wilted:
the chopped sorrel
Set aside.
Peel and slice thinly:
3 pounds of potatoes
In your gratin dish, layer:
half of the potatoes
Season well with:
freshly ground sea salt
freshly ground multicolored pepper
some freshly grated nutmeg
Over the potatoes, evenly spread:
the cooked sorrel
Over the sorrel, layer:
the rest of the potatoes
Add to almost cover them:
2 cups milk or cream
Season again with:
more salt, pepper and a little nutmeg
Sprinkle the surface with
1 tablespoon olive oil
1/4 cup grated Gruyere cheese
2 tablespoons grated Parmesan cheese
Bake about 1 hour, or until the surface is nicely browned and the liquid is almost completely absorbed.
About the author: Jean Ann Pollard and her husband Peter Garrett have a CSA farm, Simply Grande Garden, in Winslow, Maine. Jean Ann wrote and illustrated The Simply Grande Gardening Cookbook (Burford Books), and Peter contributed gardening notes to the book.