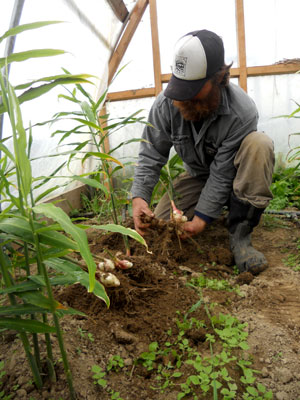 Daniel Price of Freedom Farm in Freedom, Maine, digs ginger. Photo by Polly Shyka.
By Polly Shyka
As Maine's farmers' markets proliferate and more farmers are selling at those markets, consumers seeking local foods have more shopping choices. Markets feature more value-added products and longer availability of produce, thanks to season extension structures. And sometimes, even new crops appear. Sometimes baby ginger appears.
Baby ginger is the swelled rhizome of root ginger. Baby ginger will mature into golden-skinned root ginger if cured. Shaped like root ginger, its thin skins are bright white with pink blush points on the tops of the roots. It is really beautiful. A show-stopper. Perfect for a farmers' market stand.
Root ginger, baby ginger's mother, is a significant crop globally, grown mainly in the southern hemisphere. In 2008, the top 10 ginger producing countries sent to market 2.8 billion pounds of root ginger. A portion of this was ground into ginger powder, used in this country to flavor those breads, snaps and beers we all love. The rest remained whole and was sold as a key ingredient in many Asian cuisines.
In the summer of 2011, several Maine growers produced baby ginger roots, called "hands," which they took to farmers' markets and sold to chefs. Some sourced the root pieces that grew the baby ginger hands through Susan Anderson, an enterprising young grower and the owner of East Branch Ginger.
East Branch Ginger
East Branch Ginger began in the fall of 2010 when Susan Anderson, then a Johnny's Selected Seeds researcher, saw a golden opportunity. Johnny's had trialed baby ginger production in 2010 and had shared 150 pounds of seed (small sections of cured ginger root) with 35 U.S. customers. Johnny's later decided not to carry ginger seed, as it was not adding any more perishables to its offerings then.
Susan saw the potential of the crop, and the feedback from the 35 growers was positive. She and her family were moving to North Carolina, and in that transition, a ginger seed distribution and growers' support company seemed like a portable and interesting job option for her. Thus, East Branch Ginger (www.eastbranchginger.com) was formed to distribute ginger seed purchased from Puna Organic Ginger in Hawaii. East Branch supplied 155 growers "on the mainland" with seed in the 2011 growing season.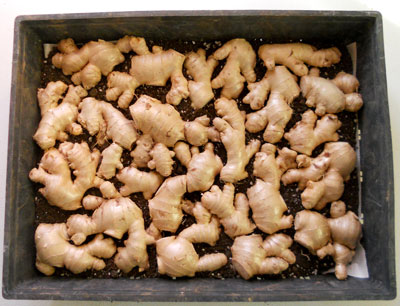 Ginger seed pieces from East Branch Ginger. Photo by Polly Shyka.
Daniel and Ginger's Ginger
When Freedom Farm's owners Ginger Dermott and Daniel Price read about growing baby ginger in a hoophouse in 2008 in Growing for Market, they stashed the idea away. They knew Susan Anderson through their association with Johnny's and were convinced by her enthusiasm to order 60 pounds of seed pieces in 2011.
Presprouting
The 'Big Kahuna' variey of ginger arrived at Freedom Farm on a cold, snowy day in mid-March. Handled as a persihable, shipping services kept the packages, postmarked "Biker Dude, Pahoa, Hawaii," above freezing.
Price was ready for the tender roots, which, when grown in temperate climates, greatly benefit from pre-sprouting. Price had already repurposed a wooden shelving unit into a baby ginger presprouting chamber by enclosing the shelves with foam insulation board and caulking the gaps with foam sealant. He knew he could spare some heated greenhouse space for a few weeks, so he removed a seedling bench and moved the ginger warming chamber into the greenhouse. Since the nightime temperature in the greenhouse was normally 50 F, Price plugged an electric heater into a thermostat and put the heater in the bottom of the warming chamber to keep the ginger seedstock at 75 F. Price filled plastic seedling trays that had small drainage holes with his normal compost-based potting mix from Living Acres and then, leaving little space between root pieces, laid ginger pieces horizontally in a single layer and covered them with more potting mix. (East Branch Ginger recommends a cocopeat or other soilless mix for presprouting.) The ginger stayed toasty in the incubator for four weeks. When other seedlings needed the real estate, a bench larger than the presprout box was moved back into the greenhouse, and the ginger finished presprouting on the bench until it was planted into a 17- by 44-foot hoophouse in early June.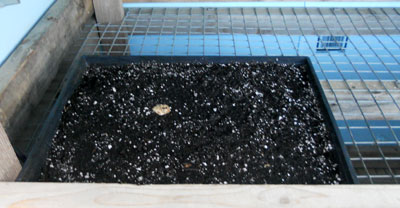 Ginger is kept at 75 F to sprout. Photo by Polly Shyka.
Planting
East Branch Ginger's website says that soil temperatures must be 50 F for ginger. Price and Dermott prepared the hoophouse by incorporating compost and, using the trenching attachment on a rototiller, made six 6-inch-deep furrows, 30 inches apart, down the length of the house, exactly like those for potatoes. At this point, 20 percent of the ginger had verdant, bamboo-like sprouts growing straight up from the seed pieces. Price said, "The rest of the seed was swelled and ready to send up sprouts." The farmers followed East Branch Ginger's recommendation to space plants 5 inches apart. Alison and Paul Weideger, owners of Au Naturel Farm of Smith's Grove, Kentucky, said in a phone interview that they planted seed pieces 12 inches apart down the bottom of a trench and saw excellent yields. A few inches of soil over the seed pieces finishes the job.
Hilling, Weeding and Feeding
Just as potaotes need to be weeded and hilled, so does ginger. East Branch Ginger recommends hilling with 4 inches of soil when the rhizomes swell and the ginger's pink shoulders can be seen breaking the soil surface. Applying a granular organic 3-4-3 fertilizer at a rate of 6 ounces per plant at each hilling is strongly recommended, as ginger is a heavy feeder. A second and third hilling and fertilization in the same manner as the first will enhance yields.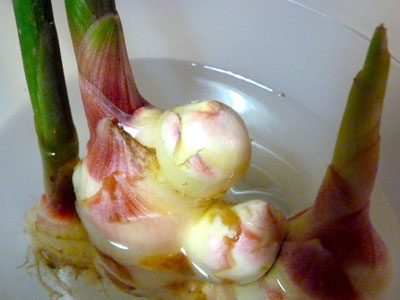 Freedom Farm's ginger won a blue ribbon at the Common Ground Fair. English photo.
Soil Temperature and Watering
In 2011, some new ginger growers in the southeastern United States learned a hard lesson. When temperatures soared for a long period and the crop was watered inadequately, plants wither. Shadecloth and additional watering revived the crop. Once soil temperatures were below 90, the ginger rebounded and produced a good crop.
Drip tape delivered water as needed to Freedom Farm's ginger. East Branch Ginger's website says, "Ginger does not like wet feet but does like to be well watered." And, "Do not overwater." The Weidegers in Kentucky watered three times per week for most of the summer; growers need to determine the correct watering schedule for their location and soil type.
Patience
Ginger is not quick out of the gates. Chas Gill of Kennebec Flower Farm in Bowdoinham, Maine, planted 30 pounds of seed ginger in a small "junker" hoophouse in 2011. He was sure his crop was not going to amount to anything as it was so slow to establish. "It just puts on all of its growth so late in the season. It needed weeding but was pest-free, so I was willing to have patience." He was glad he did, as his ginger yielded 4 pounds per row foot and he was still digging it in late October.
Digging, Trimming, Washing
Freedom Farm's ginger house was nearly empty in late September. Price and Dermott had brought 100 pounds to sell at their Common Ground Fair farmers' market stand and quickly sold out each day. They brought a large basket to the Portland Market once as well.
Price dug the hands of baby ginger with a pitchfork, getting down as deep as possible before prying the strongly rooted plants and their luscious new hands out of the earth. With sturdy pruning shears, he trimmed off the feeder roots and green tops. The mother root or seed piece, still firm, golden and beautiful, snapped off the baby ginger and was still usable as root ginger. Price and Dermott have been freezing them for home consumption.
The farmers washed the hands for market with a gentle spray of water, always bringing a whole plant, roots to greens, to show to customers.
Price estimates that they got a yield of 3:1 – much lower than the 8:1 mean in East Branch Ginger's literature. Price realizes that the crop needs more fertility than he provided and perhaps more water for optimal growth. He and Dermott plan to grow it again in 2012, intrigued by the new crop and excited by the marketing possibilities.
Marketing and Economics
Baby ginger sells itself. It is plump, pink and seems to glow. Customers are drawn to a farmstand by the roots and will likely buy other products. Freedom Farm sold its ginger in half-pound bags for $7.50. Au Naturel Farm, marketing in rural Kentucky, asked $9 per pound and had some customers buying little nubs and others buying huge, whole hands.
East Branch Ginger sells seed for $6.50 per pound, and 1 pound of seed plants 3 row feet. With yields between 4 and 12 pounds for that $6.50 seed investment, and cultural needs and inputs similar to those of potaotes (except the hoophouse capital cost), ginger looks like a very profitable crop. Anderson plans to have an enterprise budget for the crop on her website by April 2012.
Anderson is "so excited" by baby ginger's opportunities for market growers. "From the first step to the last, we are here to serve growers," she says. With its excellent website and growing cadre of ginger growing entrepreneurs, the company is poised for great things. In 2012, East Branch Ginger will sell an additional, faster sprouting variety called 'Ruhi,' as well as yellow ginger, which is a Japanese staple spice; a Thai ginger called galangal; and turmeric root.
Ginger and its relatives are up and coming crops for continental U.S. growers. Baby ginger is beautiful, flavorful, medicinal and novel. Growers need to consider all the labor and inputs involved in growing the new crop, but given good technical support from East Branch and excited consumers, market growers will continue to experiment with ginger.