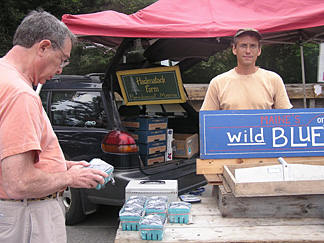 Farmers' markets are a key way to develop local farms and strong communities in Maine. Here Nicolas Lindholm sells his organic blueberries at a farmers' market. Photo by Jo Anne Bander.
by Jo Anne Bander
On any July or August morning, rain or shine, at a parking lot, town square or field somewhere in Maine, trucks disgorge boxes, coolers and baskets of seasonal produce, artisan cheeses, smoked meats and fish and freshly baked breads and pastries. It is farmers' market season, and for local farmers, residents and tourists, it is time to savor the best of Maine's local food.
Supported by consumers who want to touch what they taste and talk to the person who gathered their free-range eggs, who want their food fresh, seasonal and local, who seek organic products, Maine's 60-plus markets are major sales outlets for local farmers and artisan food makers. Their stability, increasing strength and diversity parallels the growing importance of farmers' markets around the country: The USDA reported in December of 2006 that preliminary results of a survey it commissioned indicates the number of farmers' markets increased more than 7% between 2005 and 2006 alone. Its directory of 4,385 U.S. farmers' markets indicates total sales volume of about $1 billion for 2005, with average annual sales totaling $7,108 per vendor
Maine's Farmers' Markets
Maine's markets follow the same state law, Statute 415, but their distinct regulations, customs, cultures, vendor mix and locations make each unique.  The law defines a farmers' market as a building, structure or place used by two or more farmers for direct sale of farm and food products to consumers; gives a broad list of farm and food products that may be sold; and says that at least 75% of the products that a vendor carries must be the person's own.
The Camden Farmers' Market, at 33 years old Maine's longest running continuous market, blossoms Saturdays from early May to late October on a lot loaned by Tibbett's Industries on Colcord Street. It moves indoors for the winter (most recently to the Garden Institute on Mechanic Street, where it stayed open until January). Weekly events – a free plant day in late May, a Taste of the Market in July and August, free carriage rides in September, an October Harvest Festival – promote the market as a family destination and community gathering spot.  Its almost 25 vendors feature seasonal produce, baked goods, meat, preserves and prepared foods and is a "must stop" for many tourists, seasonal residents and year-rounders.
Belgrade Lakes Farmers' Market sprouts summer Sunday mornings on a pristine lakefront empty lot in front of the Village Inn in downtown Belgrade Lakes, the response to a 2004 program that retired librarian Loyce Hayslett conducted on organic farming. The program ended, but participants wanted and formed a farmers' market.  Because the lot was available only on Sundays, that became the market date. Shoppers include locals after church, parents visiting their children at a nearby summer camp, tourists and summer residents.  Limited by its small lot, it features organic vegetables, fresh baked goods, local cheeses, cut flowers and local crafts, but its growing reputation is already generating new vendor interest.
The Downtown Waterville Farmers' Market was launched in 2006 through the efforts of Waterville Main Street. According to its executive director, Shannon Haines, "We felt that a downtown farmers' market could connect people in urban areas with people in rural areas and bring people downtown." This Thursday market opened with 22 active members; a broad mix of vendors; a customer base that Haines estimates is 75% year-round residents; and is already planning a winter market. It is "bringing people downtown on a weekly basis, adding vibrancy and reinforcing the idea that downtown is our community center," says Haines.
Markets Mean Business
Tom Roberts, organizer of the Maine Federation of Farmers' Markets and keeper of its Web site (www.mffm.org), recognized the importance of farmers' markets when he started farming in 1980 at Peacemeal Farm in Dixmont in 1980 and needed a venue for direct sales of summer vegetables.
Roberts, who now farms his Snakeroot Organic Farm in Pittsfield, went on to help found the Orono, Unity, Pittsfield and Waterville farmers' markets. Each market, he found, has its own demand patterns, so he is constantly refining his products and product mix to match a market's particular culture and demand.  He'll sell a bushel of beet greens in Pittsfield, while kale sales boom in Orono. The markets matter: They provide 98% of his farm income.
Jan Goranson and Rob Johanson, who own Goranson Farm in Dresden, a widely diversified vegetable farm, have participated in the Damariscotta Farmers' Market since 1986, and are also at Bath and Boothbay. Once they decided to make their produce business completely retail, they needed farmers' markets, because "you need to know your customers in retail, have a face to face relationship," says Goranson. Their seasonal vegetables and year-round meat production have replaced what was her parents' potato business. About 45% of produce sales are from the markets and their CSA; relationships built at market have increased their market stand sales.
Jessika Zanoni is dedicated to saving the Tamworth heritage pig and believes in "conservation through consumption."  With a fan base already developing in Midcoast Maine following a "coming out" at Camden's Maine Fare 2006 food festival, and articles about her Olde Sow Farm in Lubec, she sees the farmers' markets as "an opportunity to make money on a frequent basis, meet people, talk about the product, talk about the farm and raise recognition so that when people see Olde Sow products in a store, they will know who we are."
More Than Money
John Barnstein of Maine-ly Poultry, Dan Heydon of Oyster Creek Mushroom Company and  Caitlin Hunter, co-founder and immediate past president of the Maine Cheese Guild and principal of Appleton Creamery, are farmers' market champions, and not just for the money.
Barnstein raises about 20,000 chickens and 3,000 turkeys annually on his farm on Route 1 in Warren; counts upscale restaurants such as Portland's Fore Street and Camden's Francine Bistro and a dozen natural food markets as customers; and yet is present in rain, mud and sun at 10 farmers' markets this year.  A market regular for some 18 years, his markets include Camden, Unity, Rockland, Orono and Bath, and in 2007 Belgrade Lakes and Bar Harbor.
Heydon, who participates in the Camden, Boothbay and Damariscotta markets, sells fresh mushrooms that include the shiitake that Oyster Creek has cultivated since 1989 and oyster mushrooms; seasonal wild mushrooms that include morels, chanterelles, black trumpets and chicken of the woods; dried mushrooms and powder; flavored mushroom oils; and fresh mushroom dips.
Hunter, who sells award-winning fresh and aged goat cheese from her herd of registered Alpines, and fresh and aged sheep's milk cheeses and yogurt from local Ells Farm milk, got her farmers' market launch in 1980 when she started one on Matinicus Island. She is now at six markets, including Orono, Camden and Damariscotta.
For these market regulars, sales matter: about 60% of annualized sales for Barnstein; 20% of fresh sales for Heydon; and 70% for Hunter.  But more than sales keep them on the market trail.  Heydon does markets because he likes to meet the people and know who is eating his food.  For Barnstein, the markets are the "cheapest store front.  The people who come are loyal and they are more than customers, they become your friends."  Hunter loves "going to market – not only can I get the best price for my cheese, I love the customer interaction and feedback on my products. It's my social time, my community and my network."
Reaching Everyone
Through USDA programs such as the Women, Infants and Children (WIC) Farmers' Market Nutrition Program and the Senior Farmers' Market Nutrition Program, farmers' markets provide low-income people with increased access to fresh foods – but only when dedicated farmers get involved.  Carly DelSignore of Tide Mill Organic Farm in Washington County, along the edge of Maine's easternmost coast, serves seniors at the Pleasant Point Market on the Passamaquoddy Reservation in Perry, Maine, working with 30 to 40 families through the Senior Farm Share Program.
"Farm Share opens up a different market, although it is a lot of work.  There are not much cash dollars, so this is more community service."  DelSignore works with the nutritionist on the reservation who recruits and gets contracts signed.  When the value of a share dropped from $100 to $50, the nutritional mix that seniors could buy also changed, according to DelSignore, who found it "easier to sell greens when they had $100, but now they are more apt to take only potatoes, squash, carrots, beets and berries" – produce with which they are more familiar.
Adding Value and Variety
Jams, preserves, dilly beans and pickles are classic value-added products that use both the producer's own vegetables and fruits and those of other vendors and nearby farmers.  Ruth and Rob Maxfield's Aunt Polly's Pantry took shape as a retirement plan.
With encouragement from John Barnstein of Maine-ly Poultry, and bushels of home-grown cucumbers, tomatoes, peppers, raspberries and wild blackberries, Ruth started with baked goods and pickles at the Camden Market 15 years ago and switched completely to old-fashioned pickles, relishes, berry jams and gourmet jellies when illness forced out the owner of Blue Ribbon Preserves.  The Maxfields now carry 32 products, including her best-selling Maine wild blueberry jam, ginger rhubarb preserves, strawberry preserves and bread and butter pickles.  Sales at the Camden and Rockland markets represent 80% of business income.
Sandy and John Spinney of Half Moon Farm in Montville are known for their eight varieties of homemade chutney, preserves and home-baked flax crackers, oat cakes and spelt flatbreads (as well as John's hand-carved wooden spoons, bowls and other goods).  At Belfast since 1989 and then Camden and Boothbay, she introduced her rhubarb/ginger chutney 16 years ago when she had "an abundance of rhubarb and saw a recipe that looked good and remembered how my grandmother had always made chutney."  Sandy expanded with tomato chutney, blueberry and strawberry jam and peach preserves.  Today farmers' markets create 90% of their sales.
Lines form Friday mornings at Eric Rector's stand at the Belfast Farmers' Market, his prime outlet for his cheese, yogurt, and sourdough bread made with certified organic ingredients.  Rector, who started selling cheese in 2005, makes only cows' milk cheeses.  Starting with Camembert and Brie, he then began developing cellar-aged cheeses, such as Gouda and Blue.  Rector sells 90% of his cheese and yogurt and all of his bread at market.
Diana Prizio, owner of Angelina's bakery, and just retired Camden market manager, has a product line that includes organic pies that sell out, and ethnic and whole-grain breads and savories.  She has been in the Camden market for 10 years.  Sales at farmers' markets have been so strong that she gave up her wholesale route five years ago.
Democracy in Action  
In early spring farmers' market members gather to plan their season.  As member/vendor-driven, self-governing entities that operate under bylaws and rules, they need to elect officers, select vendors, publicize markets, consider rule changes and deal with insurance, rent, fees and product control – financed in most cases by membership dues and vendor fees.
The Belfast Farmers' Market bylaws and guidelines are typical—although stricter than required under Maine's 75% rule.  Members must make, grow or catch all the products they sell at the Belfast market; craft items offered for sale must be made by the vendor or a family member; and all agricultural products must have been grown or produced by the vendor or a family member; items purchased for resale are strictly forbidden.
The Bethel Farmers' Market, active for over 20 years, requires that all products be grown or produced within 50 miles of Bethel; and crafts have to be approved by other members and include something from Maine, such as wool or wood.  Cynthia Flores, a Bethel-based vegetable farmer and the market manager for five years, believes their rules support the goal of the market "to encourage farmers, those who are using the land and trying to provide food locally."   The  Rockland Farmers' Market changed its rules last year, according to Beth Schiller, who was market manager for three years, to require that non-vendor produced items must be labeled with their origins.
The biggest spring decisions often involve the vendor mix. Vendors apply to the Market Committee, usually must interview, and then the individual market decides who it will accept for the year. "Usually if you have been in a market you get to go back," says Schiller, but "some markets allocate numbers of vendors by type of food to get the right mix."  Rockland has diversified in recent years, but the process was slow. Some people saw the need for more people offering new products, so that brought more vendors.  The meetings themselves, notes Schiller, "are in many ways like a town meeting – very democratic, but emotional, and change happens slowly."
Into the Future

Some market activists believe that Maine's already strong farmers' market system can grow with simple strategies—and lacks only resources.  Jim Amaral of Borealis Breads, a prominent brand of artisan, organic breads sold in natural food markets and other retail stores, participates in eight farmers' markets for "the sense of being part of the local food community."  He sees the markets as essential business incubators and believes that year-round farmers' markets with indoor or protected spaces are critical to retain seasonal customers who otherwise are lost back to the supermarkets over the winter.
Diana Prizio believes the Camden Market could get more year-round customers, but the lack of a visible presence from Route 1 keeps people away unless they know the market is there.  Improved signage and outreach, relatively low-cost items, could address this situation.
DelSignore sees year-round products such as meat, cheese and jam as offering the potential to increase vendors' income with a year-round market. Permanent stands that simplify set-up would also help.
Heydon jokingly wishes that Maine had "California seasons so we could grow all year." Funds to finance greenhouses could help generate more year-round fresh produce.
Hunter sees the need for support so that "every town would create a permanent venue for farmers' markets, and help support them in terms of location, parking and promotion, a location with some kind of weather protection – not necessarily indoors – as well as permanent signage."
Maine's farmers' markets are many things: quintessential direct marketing, a means for developing closer links between farmers and urban dwellers, a major source of income for small farmers and food producers, a way to help revitalize downtowns.  Deanne Herman, Marketing Manager of Maine's Department of Agriculture, sees them as a key way the state can support and develop local farmers and products.  "Whether we help start new farmers' markets, highlight local food through the Get Real, Get Maine campaign, or put information about farmers' markets on our Web site, it is all about furthering the farm agenda: the viability of farms in Maine."
With small dollar investments, whether from the state, local governments, business improvement districts or foundations or corporations, Maine's farmers' markets can become even stronger vehicles for ensuring the economic health of Maine's small farmers and artisan producers.  After all, one never knows when a product incubated at a summer market might seed another Stonewall Kitchen.
About the author: Jo Anne Bander is a writer and consultant who lives in Coral Gables, Florida, and Spruce Head, Maine, and is involved in the sustainable agriculture movement.