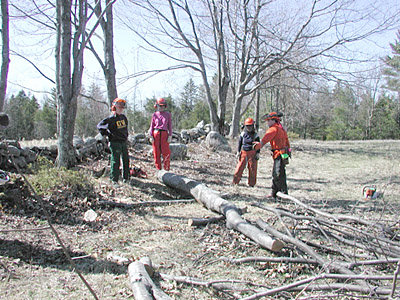 Under the instruction of Mike Maines, participants in the chainsaw safety workshop held last March get hands-on experience.
by Ellen S. Gibson
This is the story of how 25 women showed up at the barn on Stearns Hill Farm in West Paris on a chilly Saturday morning in March last year to attend a workshop on chainsaw safety. It's the story of leadership, of an educational model that embraces women in non-traditional fields, of partnerships, passion and professionalism.
Vivianne Holmes is the Cooperative Extension educator for Androscoggin County, and is director of the Women's Agricultural Network. WAgN is a statewide organization to provide education and networking for women in agriculture. Through Holmes' leadership, WAgN grew and thrived. Now celebrating its tenth year, WAgN is modeled on similar programs in Vermont, New York and Pennsylvania.
Women and the Woods is a forestry program developed by the Maine Forest Service to address the needs of women woodland owners. Two years ago, Kevin Doran of the Maine Forest Service approached Holmes. Would she consider partnering with the Maine Forest Service to deliver the Women and the Woods program using the WAgN model?
"It was a natural extension for WAgN from the beginning," says Holmes. Historically, woodlots have been important to farmers as an additional source of income. Women are often left with woodlots to manage when their husbands die. Addressing forestry management issues filled an educational need for many who were already members of WAgN.
"We used the same model and the same mailing list to deliver the Women and the Woods program," said Holmes. Kitchen table discussions are held on various issues in homes around the state. The idea is to provide opportunities for women to learn about non-traditional fields with other women, in an atmosphere where they won't feel intimidated.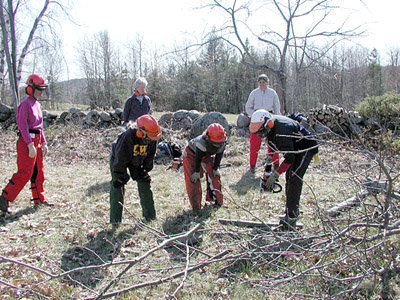 Instructor Tish Carr demonstrates good sawing technique.
As a woodlot owner who was stymied by my fear of chainsaws, and a volunteer with Women and the Woods, I proposed doing a chainsaw safety workshop on my farm. Aided by Merle Ring and Patty Cormier, district foresters with the Maine Forest Service, we found two instructors who were key to the workshop's success: Mike Maines and Tish Carr.
Maines is licensed as both an arborist and a forester and holds an M.S. in forestry from the University of Maine. He owns Maines Tree Works in Gray and has been an instructor with the Certified Logging Professionals (CLP) program in Jackman since 1994. Carr is also licensed as a forester and an arborist and holds dual degrees in forestry and wildlife biology. She co-owns Skyline Tree Services in Belgrade with her husband, Dale Gilmour.
It was Maines' first time teaching a course exclusively for women. Students in the CLP course usually have several years' experience handling chainsaws and working in the woods. As we went around the class making introductions, it was clear that many of us had never used a chainsaw before. Maines was quick to adjust his approach to the audience.
Carr brought a woman's perspective to the instruction. She has sustained injuries, struggled to find boots small enough to fit her, and encountered a measure of prejudice in her chosen profession. "There are some subtle nuances because of body dynamics that not only play a part in learning styles but in how a chainsaw is handled," said Carr.
One participant said, "I came because I had an interest and a need and because all of the participants and one of the instructors were women. I felt comfortable bringing questions and fears to the group."
On that first day, we covered many aspects of operating a chainsaw safely – information we could use whether we were doing the work ourselves or hiring someone to do it. Much of the time was spent going over personal protection equipment (see sidebar). We talked about chainsaw safety features and what to consider when buying a chainsaw. We compared the heft and feel of various models the instructors had brought.
Despite a persistent, chilling northwest wind, three hours sped by. We hadn't talked about caring for a chainsaw, or sharpening it, and we hadn't ventured near a tree to learn about felling. Clearly, we would have to schedule another workshop.
In fact, we scheduled two more to thoroughly cover the topic. At each workshop, we reviewed the safety information. We became increasingly familiar with saws. Between sessions, we bought equipment, and each time we got together we compared information on prices and sources.
By the third session, we were itching to start our saws. We watched several trees being felled and learned the five steps to planning a tree fall. We practiced starting our chainsaws and we all got to do some bucking, working individually with the instructors, who showed us how to hold the saw and use our bodies efficiently.
One participant summed up her experience this way: "It was a great workshop. They didn't say it's going to be easy. Mike and Tish were very knowledgeable. They brought a great sense of humor to a serious subject."
Another participant said, "The hands-on experience brought everything together. I came away with all my questions answered. The whole experience was very empowering. As a matter of fact, I was just using my chainsaw yesterday."
Carr said, "I'm not sure it's a gender thing as much as it is important for homeowners to have adequate training with a chainsaw. The fact that we offer [chainsaw safety] for women is great. It provides an arena where women may not feel as intimidated as if surrounded by men. There is a need and clearly a demand based on the high turnout we had last year."
Carr has organized another round of chainsaw safety workshops for 2007. The workshops are open to everyone, but the focus is on issues that women face and on their learning styles. Thanks to sponsorships from WAgN, the Maine Forest Service, and Chad Little Power Equipment, the workshops will be free. (Personal protective equipment is required for the second workshop, and the expense can be substantial.) The first series will be held in Falmouth from 9 a.m. to 12 noon on three consecutive Saturdays: March 24, 31 and April 7. For more information, contact Tish Carr at [email protected] or 1-800-611-5118.
For more information on WAgN and Women and the Woods programs, contact Vivianne Holmes at [email protected] or 207-353-5557.
---

Be Safe With Your Saw: Notes from the First Workshop
Don't work alone with a chainsaw. When you're going into the woods, leave a note. Let someone know where you're going and what time you expect to be back. Take a cell phone. Have a good first aid kit.
Take care of your body. Stretch before you start to use a saw. Using a chainsaw is strenuous exercise, and it's important to get your muscles warmed up ahead of time. Eat well and stay hydrated. Take a banana or an apple for a pick-me-up, and water to drink. Protect your skin with sunscreen. Be smart about doing physical work outdoors.
When working with a chainsaw, personal protective equipment is critical for safety. The basics include protection for your skull, eyes, ears, hands, legs and feet.
A good hardhat can take care of protecting your head, eyes and ears. A hardhat should have at least four internal straps that fit over your head and leave space between your skull and the top of the hat. This provides a shock absorber if something heavy falls on your head. The hardhat should have a visor to protect your eyes from sawdust and wood chips moving at high velocity.
Ear protection is very important. Hearing loss is cumulative. Your hearing can be damaged in five minutes of sawing time. Earmuffs are normally attached to the hardhat and can be flipped up and back when they're not needed.
Some hardhats come with holes to provide air circulation. If the hat wasn't manufactured with holes, don't add them yourself. This can destroy the structural integrity of the hard hat and make it useless.
Hardhats are made of plastic, which breaks down over time. Sunlight hastens this process, so store hardhats away from direct sunlight when not in use. If your hardhat is faded or cracked, replace it.
Sneakers or leather boots will not protect your feet from a moving chainsaw. The best kind of boot is one with Kevlar, a special fibrous material that will entangle a moving chain and stop it before serious injury occurs. Boots for chainsaw work should have a steel toe – to protect the foot if anything heavy drops on it – and steel shanks. You can combine steel-toed boots with Kevlar "booties," which are liners that fit inside the boot.
Women may have to be creative to get a good fit – it can be challenging to find smaller sizes.
Anyone using a chainsaw should wear protective pants. They will buy you precious seconds in the event of an accident. Many people wear chaps. The chaps should cover your leg from the hip to the instep of your foot. Don't leave a gap between the end of the chaps and the beginning of your boot. Apron chaps, which fit over the front of the leg and buckle in the back, aren't recommended. The moving chain on the chainsaw will grab the material it contacts and leave the back of your leg unprotected. Buy chaps that wrap all the way around the leg. Better yet, buy special pants that have Kevlar sewn in bands down the leg. As an added benefit, these pants have no clips to catch on branches and cause you to trip or lose your balance.
Ellen S. Gibson is a freelance writer who compiled the "Save the Barn on Stearns Hill Farm" 2007 calendar to create a memoir of her family farm. She is selling the calendar to raise matching funds for the $10,000 grant received from the Maine Historic Preservation Commission. The calendar can be viewed and ordered through the farm's Web site: www.stearnshillfarm.com. Ellen can be reached at 207-674-3887 and welcomes your inquiries.