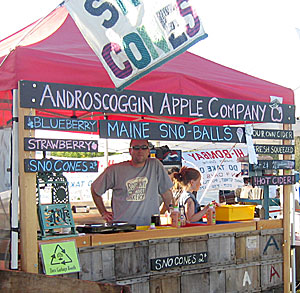 Allen Smith and daughter Isabel selling apple products at the 2007 Common Ground Fair. Photo courtesy Allen Smith.
by Craig Idlebrook
When I first met Allen Smith at the end of the 2007 Common Ground Country Fair, he had the tired look of someone who had dished out hundreds of apple cider-sweetened snow-cones for three days; but Isabel, Smith's 11-year old daughter, was still energetic despite a three-day stint as the booth's banker.
Earlier in the month, my wife and I had answered Smith's ad in The Maine Organic Farmer & Gardener for apple pickers at his Androscoggin Apple Company (aisforapples.com). Over the phone, he welcomed our two-year-old daughter and us to his farm in Greene. "We're hoping to hire a group of Jamaican pickers from the farm next door for a couple of days," he added.
Smith's farm lies in hilly country, just far enough from Augusta's traffic snarls to be cozy. As we pulled into the driveway, two large dogs noisily announced our arrival, and Jenn Weiner-Smith, Allen's wife, invited us to stay in their basement during our visit. Instead, we set up a tent in the orchard near a fenced flock of 18 Katahdin sheep.
Bonus Orchard
The Smiths weren't looking for an orchard when they bought the farm; it just came with the house. Still, the possibility of farming was in the back of their minds. Jenn had no farming background, but Allen has a master's degree in evolutionary studies with a focus on tomato plants. While on a Ph.D. track at Washington University in St. Louis, he found that a "lifetime of laboratory research was not what I want to be doing."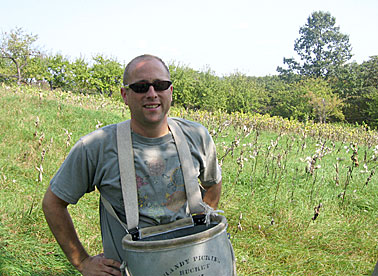 Allen Smith raises apples at his Androscoggin Apple Company farm in Greene, Maine, with help from his wife, Jenn Weiner-Smith, and their children. Smith photo.
When they found a home with an orchard on the market, they couldn't pass it up, so Smith became a full-time farmer and stay-at-home dad. The farm had been in disuse for years, and the orchard was full of overgrown 'McIntosh' trees – an infamously high-maintenance variety. Smith rehabilitated as many as possible, but others fell to the ax and now heat their home. He planted some 150 new trees, including many popular varieties that customers demand, such as 'Northern Spy.' So old standards such as 'Cortland' grow alongside heirlooms such as 'Black Oxford' and disease-resistant varieties such as 'Baldwin.' Of the original 25-acre orchard, 4 acres are back in production and the rest have been converted to pasture.
Jenn, a physician, downplays her involvement with the farm: "I'm emotional support," she says—although she also helps with the apple harvest and with caring for 20 egg-laying and 40 meat chickens; and provides medical expertise and labor for sheep vaccinations and lambing.
Katahdin Sheep: Integral to the Farm
The sheep, a hardy meat breed that sheds its coat, are part of a complex, integrated farm system in which both the orchard and the sheep benefit from each other. For a limited time they serve as lawnmowers in the 4 acres of orchard, but they're moved out in late spring due to the 90-day period that organic growers must observe between manure application and apple harvest. After harvest, they clean up the vast majority of the drops, reducing disease inoculum for the following year. They are brought back into the orchard in late winter to browse on prunings, a favorite snack. When sheep do graze the orchard, Smith rotates the flock daily around paddocks of 1/4 acre or less.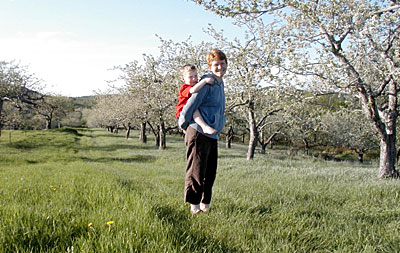 Jenn Weiner-Smith and Eli. Smith photo.
The flock swells to 50 in the spring and provides much of the family's meat. A few were lost in recent years—one lamb simply disappeared; two died after eating cherry leaves. Still the Smiths raise enough that they can sell some meat at the farmers' market.
The Picking Begins

We helped Smith store equipment and supplies brought home from the Common Ground Fair, and then picked a couple of bushels of dropped apples that Smith will use for a quality organic cider vinegar made by the traditional "Orleans Process" involving "wild" slow fermentation, followed by oak barrel aging. Only sound drops that don't appear to have pests go into the vinegar pressings.
At dusk, the Smiths' boys, Eli and Zeke, invited us to dinner, which included a wonderful squash soup with ingredients from the family garden.
The next morning, I picked up drops until I heard the kids head to school. Then I wandered into the house, where Smith was on the phone ordering bottles for apple cider. The next call was to the IRS, which incorrectly claimed that he neglected to file paperwork for a non-existent employee.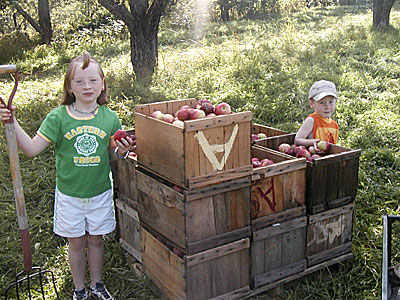 Isabel and Zeke with harvested apples. Smith photo.
Between calls, I asked if he usually has so much red tape to deal with during the harvest season. The "unbelievable hoop-jumping" never ends, he answered. In 2006, an FDA inspector tied him up for three days during the harvest season going over his records. The FDA has strict mandatory inspections for apple cider producers, but Smith wishes they were better scheduled and that rules were more amenable to mid-sized farms. Smaller cider producers avoid some regulations by selling directly at farmers' markets, while much larger producers have employees specifically for keeping records. Smith is too big to sell all his cider directly, but too small to hire anyone else.
Federal requirements result in high initial costs for starting cider production. The UV light that Smith uses for pasteurization cost thousands. Selling to large chain supermarkets would require even steeper upfront costs, with many markets requiring third-party safety certification. Instead, Smith sells his cider (and applesauce, apple butter and cider vinegar) to locally-owned natural food stores, the regional Crown O' Maine Organic Cooperative, wholesalers, and customers at the Brunswick farmers' market.
Before we went out, Smith sneaked in one more call to order a bow for hunting season. Deer provides much of the rest of the family's meat.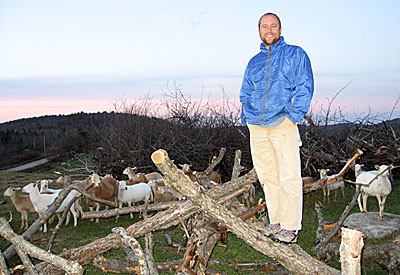 Sheep are integral to the farm, helping clean the orchard after harvest, which limits apple pest populations. Here they graze in a new pasture. Smith photo.
Once in the orchard, Smith picked quickly and precisely, scampering up ladders and twisting off apples. I felt all thumbs.
Smith showed me how to spot a good apple. Many were perfect for eating, but cosmetically blemished by apple scab disease, the scourge of Northeastern apple growers. These will become cider, most of them juiced on an antique rack and cloth press. (Only fruits picked from trees, not drops, go into cider.) Others had telltale pest holes from plum curculio weevils and apple maggots.
Smith uses sulfur for disease control, although he worries that it may kill some beneficial organisms. He controls insect pests with Surround (a kaolin clay product that coats the trees and fruits and makes them unappealing to insects) and Pyganic (a pyrethrum-containing botanical insecticide). Timing is critical: He applies the two at different stages of apple blossom development.
Sanitation also reduces pest populations. Smith aggressively picks up drops to remove pest organisms from the orchard; this, combined with cleaning up leaf litter, also breaks the cycle of the apple scab disease.
Jenn Smith joined our picking in the evening and talked of the picking prowess of the Jamaicans who came to harvest the previous year. Allen hired the crew from a neighboring farm; he doesn't have a big enough orchard to justify contracting foreign workers himself.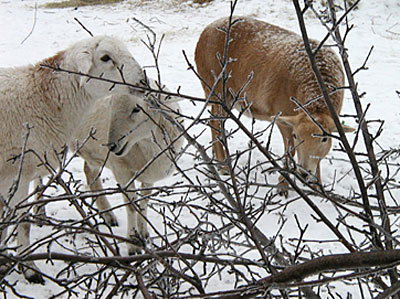 Sheep love to browse on apple prunings. Smith photo.
Each worker in the crew averaged 10 bushels an hour, 100 bushels a day, because they are fearless of heights, Jenn said. I averaged about 12 bushels a day.
The next day I picked from before dawn until dusk. My picking speed was up, but I felt like I was trying to drain the ocean with a spoon.
A few weeks later, I called to see how the rest of the harvest went. The Jamaican workers never materialized, and Smith, with help from family and friends, was able to get only 450 bushels off the trees. "I'm always hoping for 2000," he says.
Neither Allen nor Jenn sounded discouraged. Jenn said she has no regrets about the farm; it's a great place for the kids to grow up. Allen talked excitedly about the next harvest and the new products he hoped to make.
He was already preparing for next year's worker shortage, too. "I started making lists of people we could call," he says. "I'm a little bit of a quixotic kind of person," he admits.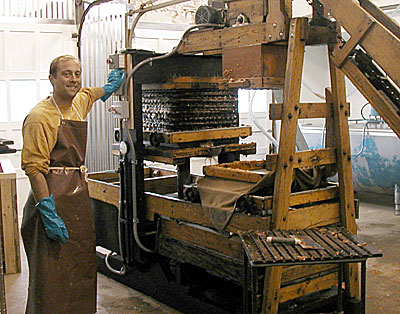 Cider pressing. Smith photo.
You can find Androscoggin Apple Company's apples, apple butters, apple cider, apple cider vinegar and applesauce at O'Naturals in Portland and Falmouth, Royal River Natural Foods in Yarmouth, Rosemont Market and Bakery in Portland, Whole Foods Supermarket in Portland, and at the Brunswick farmers' market. Smith also has a Pick-Your-Own operation. For more information, contact Allen Smith at Androscoggin Apple Co., 151 Saunders Rd., Greene, ME 04236; 207-240-0503; [email protected].