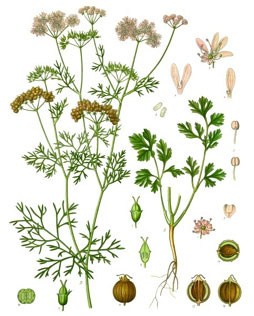 Cilantro and coriander, from Koehler's Medicinal-Plants, 1887.

by Roberta Bailey
Cilantro is an herb that arouses extreme passions. People either love it or hate it. It has a pungent, parsley-citrus flavor and aroma that makes people salivate with anticipation or completely avoid the dish that contains it.
Cilantro is the leaf and coriander is the seed of the coriander plant – which may have been the first herb used by early man, as it dates back to 5000 BC. The word coriander derives from the Greek koris, which means bedbug, as the plant smells similar to a bedbug – perhaps explaining some people's revulsion.
Cilantro and coriander are used in Middle Eastern, Mexican and Asian cuisine. It is easy to add to salads, sauces, salsas, bean dips, stir fries or in the final minute of many recipes.
I love cilantro and am relieved that my family loves cilantro. I plant a few feet of seed every few weeks from April through September to ensure a steady supply all season. The herb thrives in my sunroom all winter.
Here are some recipes for those who indulge.
Peruvian Cilantro Rice
2 4-ounce skinless, boneless chicken breast halves
1 bunch fresh cilantro, stems removed
1/2 c. water
1 Tbsp. vegetable oil
1 Tbsp. minced garlic
1/4 c. chopped carrots
1/4 c. frozen or fresh peas (optional)
1 Tbsp. cumin
Salt and freshly ground black pepper to taste
1 c. uncooked brown rice
Place the chicken in a large saucepan and fill with enough water to cover (about 3 c.). Bring to a boil and cook for about 15 minutes, or until chicken is done. Dice chicken, and reserve cooking liquid.
Cook the rice in 2 c. of the chicken cooking liquid.
In a food processor or blender, puree cilantro with 1/2 cup water.
Heat oil in a saucepan and cook garlic until lightly browned. Add the carrots and cumin and sauté until just tender. Stir in the cilantro puree, diced chicken, peas and rice. Sauté and stir for a few minutes to blend flavors and to cook peas. Season with salt and pepper to taste. Serves 4 to 5.
Penne with Mango Chile Sauce
1 16-ounce package dry penne pasta
3 Tbsp. vegetable oil
1 mango – peeled, seeded and diced
2 red onions, cut into strips
1 small, fresh, red chili pepper, diced
2 c. whole peeled tomatoes
1/2 c. red wine
1 bay leaf
2 whole cloves
1/2 cinnamon stick
Salt to taste
2 Tbsp. honey
1 1/2 Tbsp. red wine vinegar
1 c. chopped, fresh cilantro
1 4-ounce can pitted black olives
Bring a large pot of lightly salted water to a boil. Add penne pasta, and cook for 9 to 13 minutes or until al dente; drain. You can dip fresh tomatoes in the pasta water and then skin them, or use a 14- to 16-oz. can of stewed tomatoes.
Heat oil in a medium saucepan over medium heat and stir in mango, red onions and chili pepper. Cook for about 5 minutes, until onions are tender. Mix in tomatoes and wine. Stir in the bay leaf, cloves and cinnamon stick. Cook, stirring occasionally, for about 10 minutes.
Remove bay leaf, cloves and cinnamon stick from the mango mixture. Season with salt. Mix in honey and red wine vinegar. Serve over cooked pasta with cilantro and olives.
Cilantro Puree (for freezing )
In a food processor, puree 2 c. chopped cilantro and 1 to 2 cloves garlic with 1/2 c. olive oil and 1/2 tsp. salt. Freeze in small amounts for use in recipes in winter.
Lemon and Cilantro Shrimp
20 jumbo shrimp, peeled and deveined
2 to 3 lemons, zested
2 c. chopped fresh cilantro
1/4 c. extra virgin olive oil
Salt to taste
1 lemon, juiced
Ground black pepper to taste
In a bowl, toss shrimp with lemon zest and cilantro to coat.
Heat the oil in a skillet over medium heat. Sprinkle oil with salt, then stir in the shrimp, lemon zest and cilantro. Cook, stirring, for 5 minutes, or until shrimp are opaque.
Transfer to a serving bowl, drizzle with remaining oil, lemon zest and olive oil from the skillet. Squeeze lemon juice over shrimp, season with pepper, and serve immediately.
Cilantro Pesto
2 c. packed, fresh cilantro
3 to 5 cloves garlic, minced
1 Tbsp. fresh lime juice
1/4 c. grated Parmesan cheese
1/2 tsp. cayenne pepper
1/2 c. walnuts or pecans or pine nuts
Salt to taste
1/2 c. olive oil
In an electric food processor or blender, blend cilantro, garlic, lime juice, Parmesan cheese, cayenne pepper, nuts and salt. Add 1/4 c. of the olive oil, and blend the pesto. Add more olive oil until the pesto reaches your desired consistency. Serve over pasta. Can be frozen, in which case it is best to add the cheese when you thaw the pesto for use.
Fresca Salsa
8 to 12 Roma (plum) tomatoes, diced
1/4 to 1/2 c. sweet onion, diced
1 to 2 cloves garlic, minced
1 medium red bell pepper, diced
1 medium yellow bell pepper, diced
1 bunch cilantro, finely minced
1 lime, juiced
1 tsp. salt, or to taste
In a bowl, mix the tomatoes, onion, red bell pepper, yellow bell pepper, cilantro, lime juice and salt. Cover and refrigerate until ready to serve.

Want more seasonal recipe inspiration? Sign up for our monthly local and organic kitchen emails. Sign me up!