Young Farmers, Creative Beginnings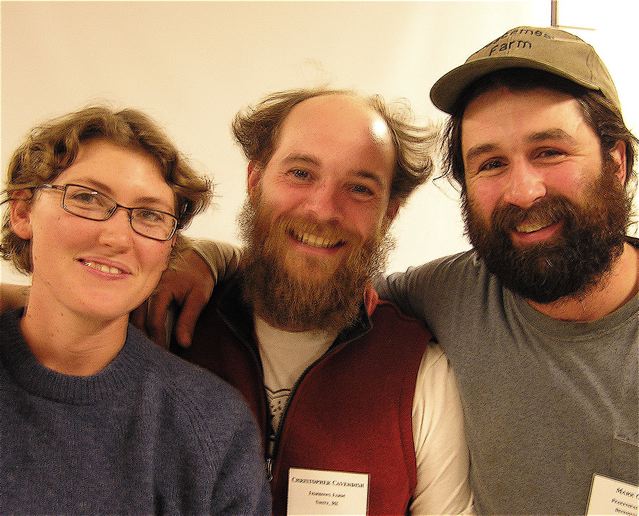 Young Maine farmers Laura Millay, Chris Cavendish and Mark Guzzi entered farming through three distinctly different ways. They shared their successes and a few mistakes at the Farmer to Farmer Conference last November. English photo.

Farmland is often too expensive for young farmers to afford. Land that is affordable is often too far from markets. Three young farmers spoke at the 2005 Farmer to Farmer Conference in Bar Harbor, Maine, about how they managed to get into farming.
College, Family and Former Farmers Help
Mark Guzzi is a former MOFGA apprentice and a 2000 graduate of the University of Maine (UM) Sustainable Agriculture program. While at UM, he took a sustainable agriculture course from Vern Grubinger and attended Farmer to Farmer Conferences. Both experiences made him realize that "growing mixed vegetables was probably the most economically viable way of having my own farm."
Guzzi, along with a few other UM students, "sort of inherited" the university's Black Bear Food Guild, from which he sold produce at the Orono Farmers' Market and through a university CSA market. This enabled Guzzi to manage an operation without having to invest his own capital. It was also a good way to get into the Orono Farmers' Market—which enabled these young student/farmers to pay their own wages.
For the first two to three months, Guzzi was lucky to make $30 at Orono. "Wow," he told himself. "This is not going to work." Nine years later, however, after building a clientele, he depends on bringing $1400 home from each market.
After college, he rented Peacemeal Farm, a developed farm and business in Dixmont, Maine, for three years with two other UM graduates. The young growers first spent a few days making a business plan, a "useful process" that defined their purpose. "I should be doing a lot more business planning now," says Guzzi, "but I haven't." They grew about 5 acres of vegetables at first.
In 2003, Guzzi borrowed money from his family to buy the farm from Ariel Wilcox. "If I got a bank loan and was paying interest, I couldn't grow enough vegetables to make it work." He now cultivates about 9 acres of herbs and "every vegetable you can imagine. It's probably a little too much, but it's hard to stop planting, especially in spring, and scale it back once you reach a certain level," he explained.
He sells at farmers' markets seven days a week in the summer, in Orono, Belfast, Camden and Northeast Harbor, and he sells to natural food stores, restaurants and at the Common Ground Fair. He is reducing his wholesale markets.
Some seven people work on his farm 80 hours per week, and another three to five people work there hourly. Guzzi says he "could count on one hand the number of days off" since he bought the farm.
Learning continues. Last year Guzzi learned how to grow good lettuce on bottom land. Former owner Ben Wilcox told Guzzi that he'd planted the crop through black plastic. "I did that this year," said Guzzi. "It worked great. It cut [bottom] rot and speeded up growth."
He also learned the importance of shoveling snow from greenhouses after a 30 x 48-foot house leaned and couldn't be straightened after a storm. This year Guzzi built a 26 x 96 house with a potting shed and root cellar, and with a generator wired in, in case the power goes out while seedlings are growing.
From Taiwan Travels to Farm Partner
Laura Millay grew up in Surry, Maine, went to Thailand after high school, then to Brown University's medical school program, which she left because she didn't enjoy it. She returned to Thailand, then came back to Maine, where she started a nonprofit organization called Food AND Medicine. "I wanted to do something to make the world a better place. This led to doing work on sustainable agriculture in Thailand. I did a speaking tour with Thai farmers in the United States. I took them to King Hill Farm because Jo Barrett [of King Hill] was the best teacher I had in school." Millay admired Barrett's connection with the land and the way she passed that feeling on to her students.
Millay apprenticed at King Hill in 2003, was a journeyperson in 2004, and is now a farm partner there. King Hill started around 1976, when Dennis King and his brother Ron came from Michigan and bought the then rundown farm. The brothers eked out a living on the 160-acre farm, with 40 cleared acres. They trucked in lime and chicken manure, started raising animals, homesteaded, and later sold their excess food. About 15 years ago, Barrett joined Dennis King, and the couple raised 5 acres of mixed vegetables at the height of their production, as well as beef cattle, pigs, chickens, turkeys, ducks and sheep. "Dennis and Jo have a philosophy of closing loops," said Millay; "of keeping things on the farm. They also try to do as much on their own as possible. Dennis grows grain and hay and raises only as many animals as they can feed. They put a lot of energy into keeping soil fertility up."
They call customers when meat is ready for sale. They wholesale winter vegetables (parsnips, carrots, beets, rutabaga and turnips) to co-ops along the coast.
Summer vegetables are Millay's niche at King Hill. She started with ½ acre; increased to ¾ acre the following year; and, in 2005, raised over 1 acre of produce. She did three CSA programs, including a Union Supported Agriculture (USA) program that she started with Paul and Karen Volckhausen of Happytown Farm in Orland. The 26-member USA targets "regular working people, through labor unions." Millay also has her own CSA program, as well as a Senior Farmshare program.
Regarding USA, Millay said that "labor unions are starting to recognize that their fate is tied to what's happening with Wal-Mart, for example." Her USA tries to target people who are price conscious and might otherwise buy their food at Wal-Mart. More women than men have signed up. "They're aware of healthy food but didn't know where to get it locally. There's been a lot of good support from union leadership. Unions paid for shares for laid-off workers."
Becoming a partner at King Hill required some legal work. (Barrett and King had put the land into a trust so that it would be used for farming.) A $25,000 grant from Farms for the Future helped Millay develop a business plan and buy new equipment, greenhouses and an irrigation system.
Starting farming on land still occupied by another generation of farmers is "relationship-intensive," noted Millay. "You need good relationships," which she is fortunate to have. Also, working alongside experienced farmers can frustrate new growers who are trying to find their place. Millay found that she could learn a lot by taking charge of her own plantings and making her own mistakes—such as holding back some of her broccoli transplants in case her first transplanting didn't survive poor spring weather last year. She ended up with broccoli planted in different spots, which then took much longer to harvest than a single area would have. "It's nice to have mentors, but learning on your own and having ownership over the growing process is also valuable," she said. Being a farm partner is not something she originally envisioned. Not owning her own farm "was a big shift for me," said Millay, but a successful shift.
Learning on the Job
While studying architecture at Ball State University, Chris Cavendish was inspired to seek an intentional community by a teacher who had lived on a kibbutz. Cavendish found a 25-year-old "hippie" community that ran a spiritual retreat center on 360 acres. He moved there and worked in the organic garden, raising some of the produce used in the kitchen. Later he helped on a family farm in a neighboring town, where he learned about the work ethic needed to farm. After graduation he moved to Maine and got a job with an architecture firm that values sustainability.
After 2½ years with the firm, he began to question his choice of career, took a sabbatical and helped friends build their house. He was living near Russ Libby then and experienced a lot of Maine's organic agriculture thanks to MOFGA's executive director. He sheared his first sheep, for example, and went to the Farmer to Farmer Conference. When MOFGA's previous Farmer in Residence finished his time on the farm at MOFGA's Unity grounds, Cavendish applied for and got that live-in position.
"I was going to do it all" as a farmer, Cavendish recalled: "raise chickens and pigs, have a market garden, do the farmers' markets, chop wood, make beer… I learned pretty quickly the true value of 'Kiss,' or 'Keep it simple, stupid.'"
The first year he had pigs and chickens, raised about ¾ of an acre of vegetables, and went to a farmers' market in Hallowell—and he had trouble keeping up with everything. He also worked for Mark Guzzi for a handful of days, and for Peter Curra. This work provided tremendous learning opportunities but took valuable time away from his own farming. He ended up making $225 on his best market day, ended his market season too soon, ran low on money to buy grain for his pigs, and was exhausted by the Monday after the Common Ground Fair, "but I still wanted to do it again, twice as much."
He returned to the architecture firm for the winter, then farmed 2 acres the following growing season—including ¼ acre of soybeans for Fedco Seeds. He hired his first employees and sold produce at the Portland Farmers' Market.
Now finished as Farmer in Residence, Cavendish is leasing 4 acres of beautiful soil in Bowdoinham from George Christopher, who envisions developing a program similar to that of the Intervale in Burlington, Vermont—i.e., a nonprofit organization that enables farmers to develop their businesses. Intervale's goal is to provide more than 10% of the food for Burlington residents.
Cohousing/Farming and Other Models
During a discussion after this session, grower Roberta Snell said that she and her husband "are members of the aristocracy. Our parents had farms. We could use the infrastructure that was there." However, such a situation could have resulted in having her husband always be "the boy" on the farm, so the couple bought half of the farm from John Snell's father—creating "kind of a retirement piece for John's dad." They lease the rest of the land they farm. "Older people looking to take on younger people need to let them take on their own management and projects," said Roberta. "Make sure they're not an apprentice forever."
John Bliss farms 30 leased acres in Cape Elizabeth, Maine, where most individuals cannot afford to buy and farm land. He said that a good relationship is necessary with the landlord if the farmer wants to achieve long-term sustainability in a lease. Leasing land from the board of a nonprofit might be one way to achieve such a good relationship.
He also proposed the idea of a CSA buying land as a collective, mini-land trust, building houses on the marginal land and having a farmer cultivate the rest. Ten families, for example, could each put up $100,000 to buy land and could each build a $100,000 house. The community would be established as a cohousing group. This alternative could help circumvent published figures suggesting that some 130 shares at $400 per share are required for a CSA farm to break even—a scale that Bliss believes would interfere with the face-to-face relationship that the farmer has with customers.
Bliss suggested going to a developer with the cohousing idea if you're too busy growing food to organize this yourself. "I am often discouraged when the farmer is expected to do the heavy lifting organizing on top of his or her other jobs," he noted later, adding that some places in Falmouth and Freeport were including CSAs as part of their development plans. These CSAs are not initiated by farmers but by communities.
Regarding CSAs, one participant suggested starting share prices high—around $540 for a June-through-October share for vegetables and flowers; then you won't have to raise your prices for a while. Another noted that having five CSA members join for 10 years at the outset can provide the down payment for a piece of equipment. Yet another suggested starting a CSA with four or five winter storage crops as a way to start farming. Bliss recommended partnering with schools or other institutions.
One Farmer to Farmer participant noted that Washington County still has affordable land—but it's far from markets. Guzzi added, "There's tons of land available, short- or long-term, so if you have the initiative, you can at least get started." He rented an acre of land before farming at Peacemeal. "It gives you more leeway to mess up. It also helps build your track record, and that helps get CSA members later."
Holly Taylor-Lash said, "It's nice if you can find someone who wants to sell land a small piece at a time so that you can buy it over time. This provides income for them, and fewer tax problems."
–JE
Copyright 2006
Resources
Maine Farms for the Future is a business assistance program that helps Maine farmers plan for the future of their agricultural enterprise. It is a program of the Maine Department of Agriculture, Food and Rural Resources and is administered by Coastal Enterprises Inc. Farmers are eligible if they own and operate 5 or more acres of productive farmland and have an idea for change that will increase the long-term economic viability of their farms. For more information, see www.ceimaine.org.
Food AND Medicine gives a voice to laid-off workers and working people, strengthens our community and local economy, buys from local farms and businesses, and builds community alliances. Union Supported Agriculture is a program of Food AND Medicine. For more information, see www.foodandmedicine.org.
John Bliss, Turkey Hill Farm, 122 Old Ocean House Rd., Cape Elizabeth ME 04107; 207-799-7225; [email protected].
Christopher Cavendish, Fishbowl Farm, 496 Browns Point Rd., Bowdoinham ME 04008; 207-666-8006.
Mark Guzzi, Peacemeal Farm, 25 Peacemeal Lane, Dixmont ME 04932; 207-257-4103.
Laura Millay, King Hill Farm, 731 N. Penobscot Rd., Penobscot ME 04476; 207-266-8064.