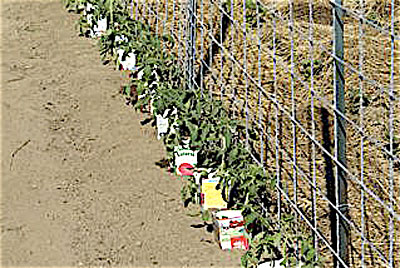 Welded wire "cattle panels" make great tomato trellises. They stand up well; clean easily; and the openings are big enough that tomatoes don't get stuck growing into them. Tomash photos.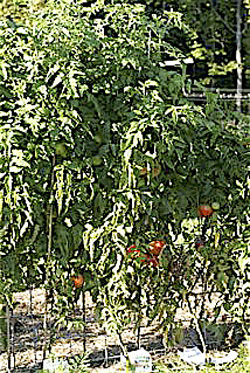 © 2008 Adam Tomash

In my 35 years of serious gardening, I have tried most of the common trellising techniques for tomatoes, including stakes and cloth strips (very time consuming); multiple stakes and sisal twine (messy, time consuming and always failed just as the crop was coming); and bamboo tripods (which worked until the weight of the crop snapped one leg and the tripod came down).

Next we tried a 50-foot-long roll of welded, 12-gauge wire fence with 2- x 4-inch holes. That sort of worked when held up with two braced cedar poles at both ends and heavy-duty steel posts in between at 8-foot intervals, but it had two drawbacks. First, we lost the ability to plant shorter rows (we didn't always want 50 tomato plants) unless we cut the fence, which I was reluctant to do. Second, tomato fruits would grow inside the 2 x 4 squares and get trapped. The only way to harvest such fruit was to cut it. We abandoned that style of trellis for tomatoes but found that it was perfect for peas, even without cedar poles at the ends. We plant a limited amount of peas every year and expect the fence will last our lifetime.

One day at the local Agway, I saw a pile of welded wire panels that were 50 inches high, 16 feet long and made from galvanized, heavy duty, 8-gauge wire (about as big around as a pencil!). The vertical and horizontal wires are welded to make 6 1/4- by 8-inch rectangles. I didn't think a tomato would get trapped inside those holes. I was told that this was called "cattle panel" and was used to make temporary stalls for pigs, calves and other small livestock. In 2007, it cost about $26 a section. It was awkward to handle, and I had to have a neighbor truck it to my place, since it wouldn't fit in my car. But once the panels were home, I could handle them alone relatively easily.

Using string line, I marked the row where I wanted to plant tomatoes, put a heavy-duty steel post in every 8 feet and wired three panels in a row to make a 48-foot-long trellis. Installation works best if you do one panel at a time and overlap a little. Level ground is best, but the trellis can be "staircased" on sloped ground.

I fertilized, laid out irrigation tape and stuck in tomato plants about a foot apart. I didn't know if the trellis could resist the wind but felt confident that the rigid panels could handle any weight. It turns out that the steel posts alone were enough to resist wind, and the trellis went through the season with flying colors and no trapped tomatoes.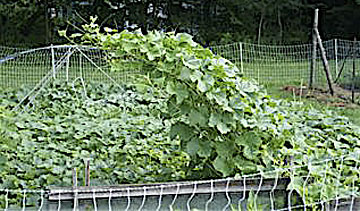 Making an arch from a 4- x 16-foot panel creates the ideal cucumber trellis. The cukes hang down, growing straight, and are easy to pick from below. Tomash photos.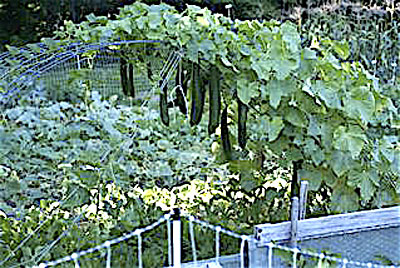 We use a hand-held machine to staple a small piece of vinyl tape around the stem of the tomato and the wire of the panel. Johnny's sells these as Ty-M-Up, and A.M. Leonard sells them as Max Tapeners, but they are identical and cost around $55 – well worth it if you have a lot of plants. We prune and tie up 48 plants in about 15 to 20 minutes. The machine is also good for grape vines, climbing cucumbers and peppers.

Cattle panel also made a wonderful trellis for my favorite cucumber (a climber called 'Shintokiwa' from Turtle Tree Seeds). By putting four short wood or metal stakes in the ground at the corners of a square and arching a 4- x 16-foot panel over the space defined by the stakes, so that the ends of the panel were trapped by the stakes, I made a Quonset hut-style trellis. This is a good job for two people, but I did it alone. I laid the panel flat on the ground so that one end was against two stakes and then lifted the other end, pushed the panel into an arch and set the other end down to trap it by the other two stakes. A few pieces of rope stretched from side to side minimized the racking that is inherent in this trellis. The top of the arch is about 5 feet above ground, which makes it easy to pick the cucumbers as they grow down through the trellis, nice and straight with no curling. The space under the trellis is a good place to grow lettuce and other shade loving crops during the hottest part of summer.

At the end of the season, strip the trellis panels of dead plant material and plant ties and stand them against a building or in the woods to overwinter. For disease control, bleach and rinse the trellis before using it another season.

About the author: Adam Tomash and June Zellers garden in West Gardiner, Maine, where their 1.25-acre lot has about 1/4 acre in vegetable production plus nursery crops (trees, grapes, berries, daylilies) and a small orchard (cherries, peach, pear, apple and plum). During the Common Ground Country Fair, Tomash lives in the Exhibition Hall, where he answers gardeners' questions.