By Ivonne Vazquez
Living in a cold climate requires ways to extend the growing season. One method, a cold frame, does not require too much space and can be tailored to your gardening needs, space requirements and availability of materials.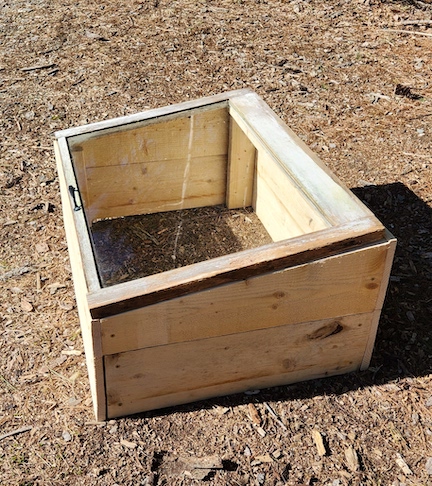 What is a Cold Frame?
It is a bottomless box, usually made with a glass or a plastic cover, which uses no artificial heat and provides protection from the elements to seedlings, tender annuals and heat-loving plants.
Using leftover lumber and an old window, or a sheet of greenhouse-grade polycarbonate, making a cold frame can be an inexpensive project. Here are instructions to construct a simple cold frame measuring 24 inches long by 34 inches wide by 15 inches tall. The size was determined by an old window I had on hand. This provides almost 6 square feet of growing area, or enough for eight one-gallon-sized plant pots or 15 seedling sixpacks. To build a cold frame of a different size, measure the long and short sides of the window you have on hand.
If you do not have a large vehicle for moving long boards and/or the tools necessary to cut lumber, Lowe's and Home Depot will cut your boards at time of purchase. (Your local lumber dealer may as well.)
Materials
Two 1-inch-by-8-inch-by-8-foot ledger/utility boards cut to following measurements:

Four 34-inch-long pieces (three left as is).

One of the 34-inch boards is cut in half lengthwise (ripped), to make two 4-inch-wide by 34-inch-long pieces.

Three 24-inch-long pieces (two left as is).

The third 24-inch-long piece is cut at a diagonal lengthwise (these are the two top side pieces; the shallow angle faces the front of the box).

One 2-inch-by-3-inch-by-8-foot piece of stud-grade lumber (only 4 feet is needed, if you have scrap lumber available) cut to these measurements:
Approximately thirty 2-inch wood or construction screws.
Two utility hinges (3-4 inches, plus screws).
One door handle (and screws).
One old window.
Tools
Saw — circular saw or manual hand saw.
Drill with screw bit or manual screwdriver (pilot holes for the manual option).
Measuring tape.
Pencil.
Square or ruler (to make straight lines).
Protective eyewear.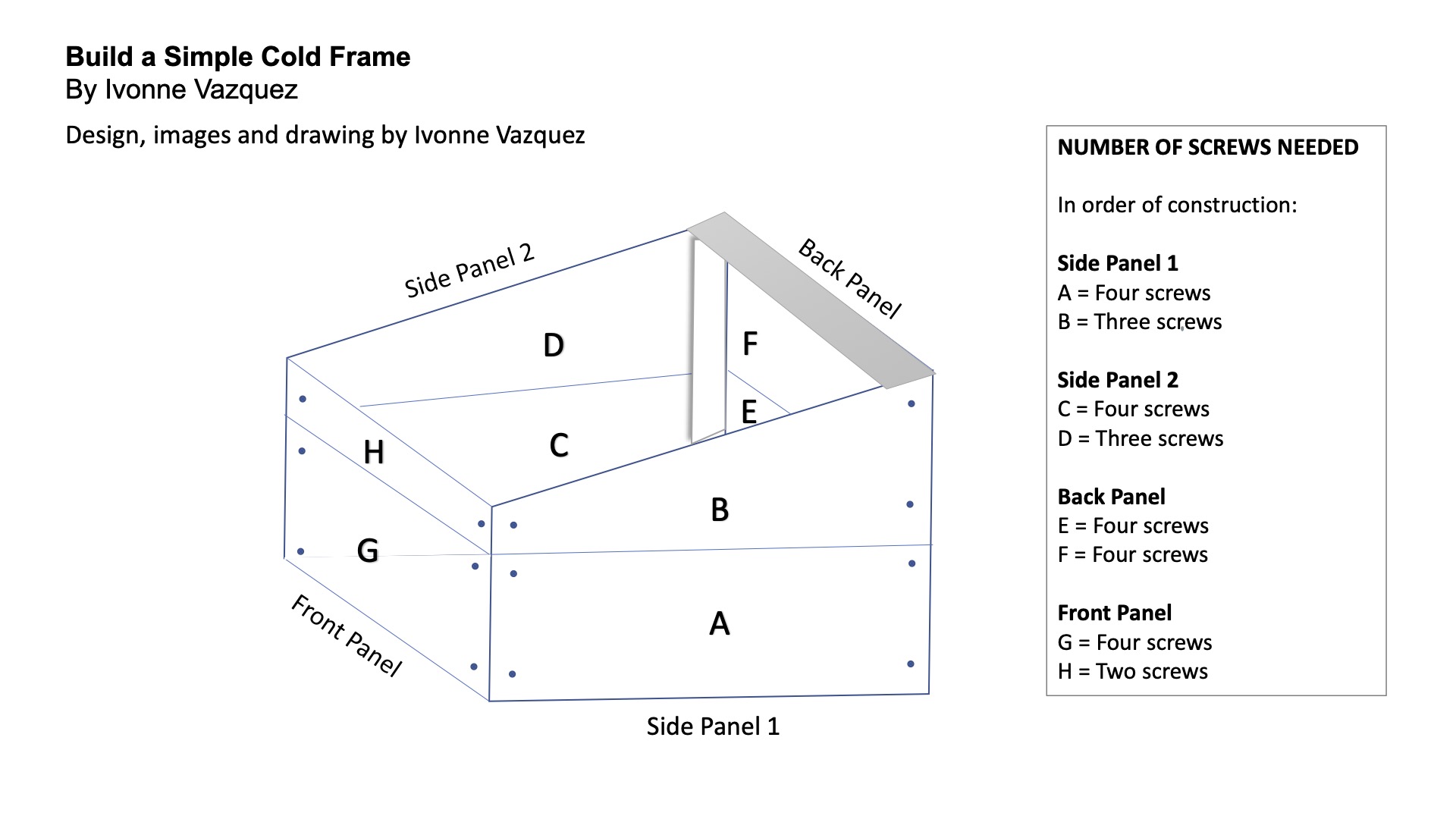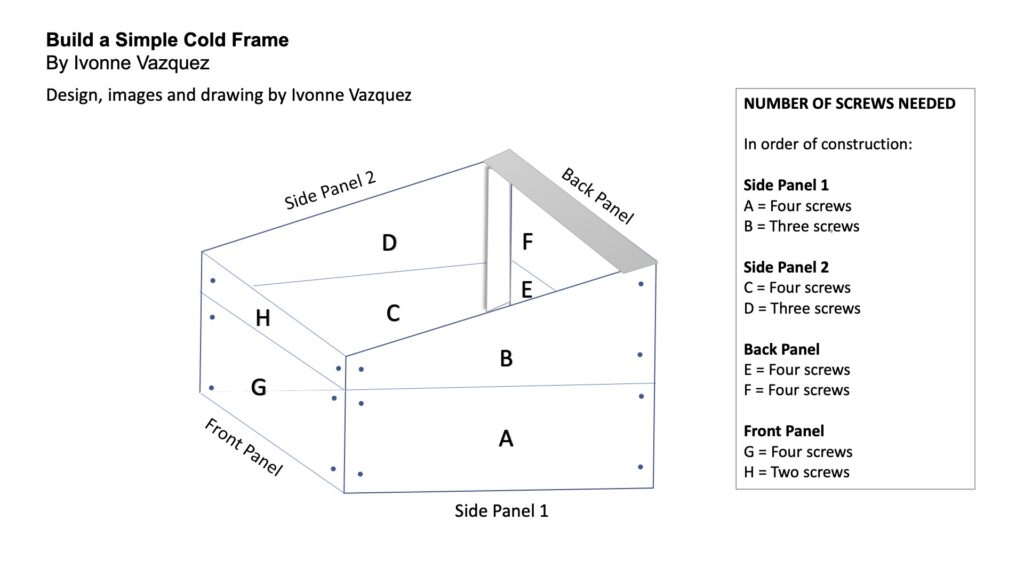 Step 1: Build the side panels using one 24-inch board and two stud pieces, one each 10 ½ inches and 13 ½ inches. Determine front and back, and bring each stud piece to the edge (make it flush with bottom and outside short edge of the board). Affix with two screws from the outside (studs will be inside the box). Place one diagonal-cut board on top of the bottom board (shallow angle facing forward). Affix using one screw in the supports at the narrow front and two screws for the back. Follow the same instructions for the second panel.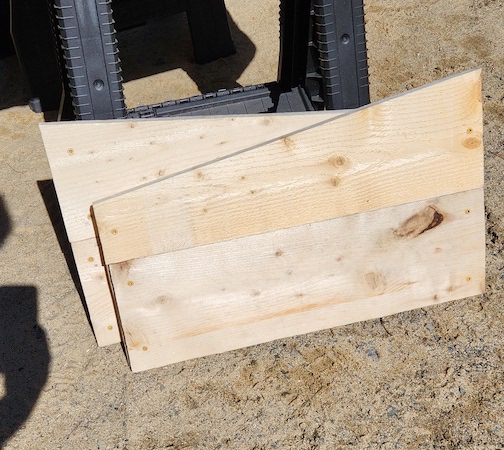 Step 2: Using one 34-inch board and one side panel, make an "L" with corners flush. Use two screws to affix the longer board into the support stud. Place the second side panel against the other end and repeat. A second 34-inch board screwed in flush to the back will make a "U"-shaped box.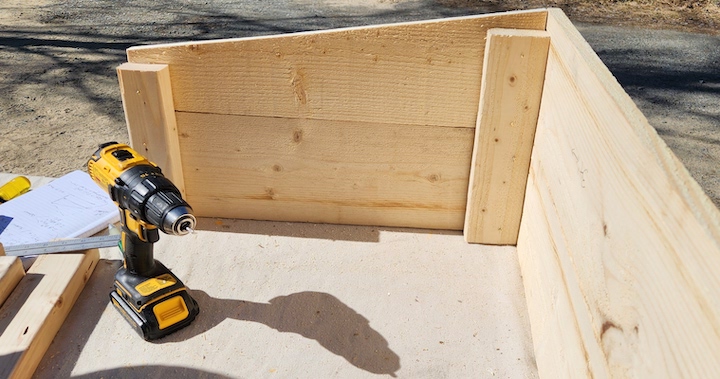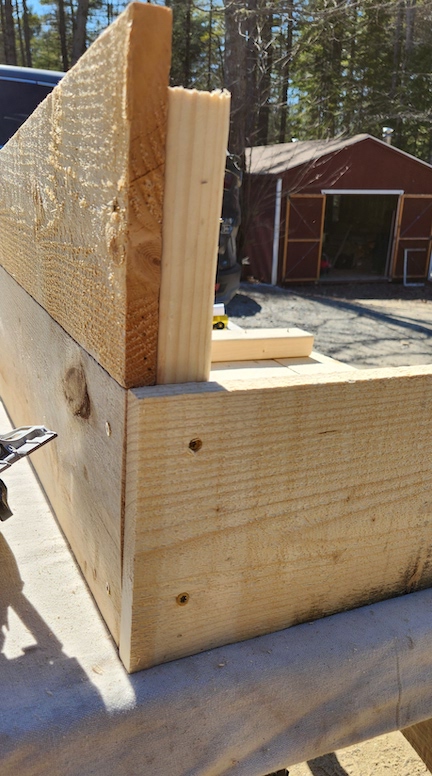 Step 3: Close the "U" by screwing a 34-inch board into the support studs at the front. One of the 4-inch-by-34-inch pieces will be the final front piece to close the box.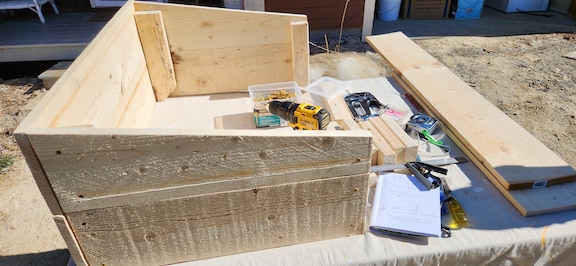 Step 4: Place your window (or frame) onto the box for hinge placement. Make sure the hinges are placed in the expected open position; make a pencil mark on either side of the hinge; screw it in. Attach the handle to the top front of the window frame.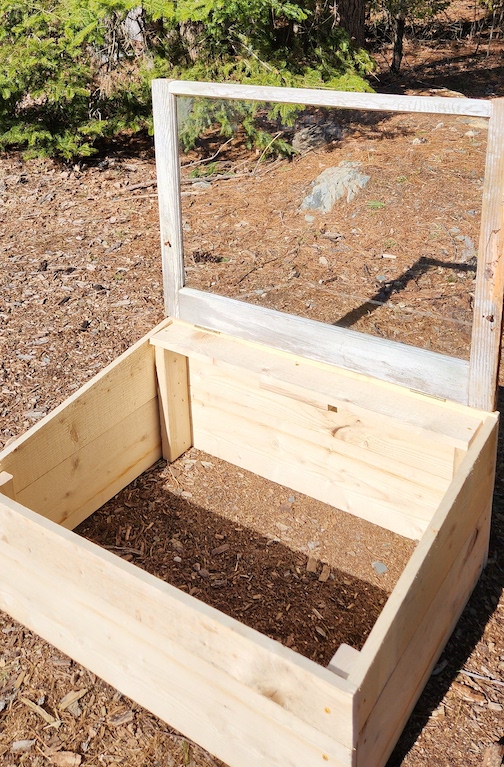 Your cold frame is ready.
Ivonne Vazquez (she/her/ella) is passionate about native plants, herbs, pollinators, DIY, sustainability, the environment and the outdoors. She is a Master Gardener, Licensed Registered Maine Guide/Recreation, basic gardening instructor at Bangor Adult Education, farmer and owner of a native plant nursery. Vazquez is a writer and avid photographer. She has a certificate in Sustainable Landscape & Garden Management and Permaculture Design. She co-owns Bas Rouge Farm & Forge in Orono, Maine, and is a first-year participant in the 2023 MOFGA Journeyperson program. For more information visit basrougefarm.com or @basrougefarmforge on Instagram.
This article was published in the summer 2023 issue of The Maine Organic Farmer & Gardener, MOFGA's quarterly publication.