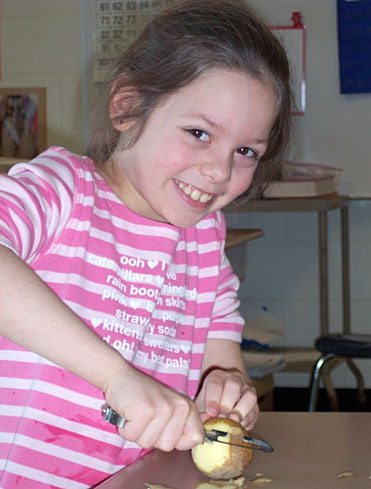 Elementary schools in Union 74 in Lincoln County are integrating foods into the curriculum. Through FARMS (Focus on Agriculture in Rural Schools), children taste-test freshly harvested foods and meet the farmers who grow them. School cafeterias are beginning to order directly from farmers in a pilot program that began in the fall of 2007.
Food for the Mouths of Schoolchildren
By Ellen S. Gibson
The Lincoln County Economic Development Office is housed at Coastal Enterprises, Inc., in Wiscasset. As director, Amy Winston has brought parents, teachers, students, health practitioners, school board members, school officials, farmers, businesses and other community members together around the concept that supporting local agriculture through farm-to-school programs is a viable economic development policy that brings innumerable benefits to the community.
Winston became interested in community economics while working on her doctorate in cultural anthropology in southeastern Kentucky. There, everyone grows and cans, many still have subsistence farms, and CSAs and other local agricultural strategies are considered sustainable economic development. Winston found similarities in Lincoln County's peninsulas, natural resource areas where farming and fishing are closely allied in a vibrant local economy.
Winston's brand of economics is place-based and people-centered. She told me, "It's a real mistake, especially in rural areas, not considering place." She views economics as being about people and meeting their needs.
Amy Winston is not your average economic developer, and that's a plus for communities in Lincoln County. For one thing, she doesn't believe that agriculture and economic development are mutually exclusive. She also thinks that effective economic development must be linked to schools, and she's set to prove it. Working with personnel from Union 74 elementary schools, Winston developed FARMS (Focus on Agriculture in Rural Maine Schools), a local economic development model that connects kids, food, farms and health.
In 2005, Winston was approached by Karen Kleinkopf, a parent who was concerned about rising obesity rates in children. Kleinkopf thought that processed foods available at schools sent the wrong message and wanted to do something about it. The two women enlisted the support of local pediatrician Heather Wolfe and school health coordinator Michelle York, and they researched programs such as the Edible Schoolyard in Berkeley, California, Vermont FEED (Food Education Every Day), and Wisconsin Homegrown Lunch. Inspired by a Vermont FEED conference at Shelburne Farms in Vermont, by a statewide meeting in Ellsworth organized by Healthy Acadia (a Healthy Maine Partnership), and by Maine's Harvest Lunch in Gorham, they decided on a combined harvest lunch/taste test as their model to get to their ultimate goal of direct purchasing.
Vermont FEED sees the cafeteria as an important center where children can learn to eat well and appreciate healthy foods. FEED believes that a healthy agricultural system will support healthy children living in healthy communities and that school-aged children can improve their diets when good choices from local farms are available. Vermont FEED is a partnership of Food Works (promoting ecoliteracy), the Northeast Organic Farming Association of Vermont, and Shelburne Farms, a working, educational farm.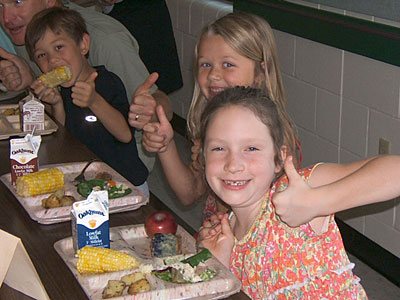 These students at Great Salt Bay Community School in Damariscotta give a thumbs up to lunch trays filled with locally harvested apples, potatoes, corn and salad.
The Lincoln County women started with taste tests to generate interest and cultivate a taste for fresh local foods. "We approached teachers with the idea of using food to teach subjects as a way to get kids excited to learn about the environmental, economic and health benefits of eating local food," says Winston.
Teachers integrated food into their existing Maine Studies curricula – Africa (Social Studies unit), Health (Disease Prevention Through Food unit) and Science (Earthways Education, a horticulture unit). Farmers came into classrooms to meet students and talk about their work. FARMS and foodservice developed recipes using fresh produce. A class would "test" the recipe and give feedback, and foodservice would incorporate their suggestions when making a bigger batch for the whole school to try the following week.
"We wanted to make school lunch another classroom that reinforces everything else they are learning," says Winston. FARMS supports professional development for food service staff, stressing the importance of team building, and training to prepare new foods, develop local distribution chains, and work with volunteers, if needed, to offset additional labor demands.
The first fall harvest lunch, in 2005, was received so enthusiastically that it was repeated in 2006 and 2007.
School health coordinator Michelle York has watched the harvest lunch evolve. She notes that a coordinated effort was required to bring all elements together. Parents volunteered to help. The school board approved a school wellness policy written to increase access to and consumption of local produce. Food service staff embraced the idea and felt valued for their role. FARMS linked classrooms, cafeteria and community. "[This year] the week of the harvest lunch, Ellie Libby, the education coordinator from the Cooperative Extension office, visited classrooms to connect what was happening in the cafeteria to the curriculum," says York. "She looked at it from a lot of different angles, from composting to the amount of gas it takes to ship something here from California."
In November 2006, after the second harvest lunch, a FARMS Forum at Great Salt Bay Community School in Damariscotta brought together a wide socio-economic spectrum of more than 175 community members. First Lady Karen Baldacci, the keynote speaker, was joined by guest speakers Seth Bradstreet (Maine Agriculture Commissioner) and Ron Adams (President of the Maine School Nutrition Network at that time). With a panel of local experts, the community looked systematically at the benefits and challenges of local purchasing, starting with the premise that food has to be available, affordable and kid friendly. How much more expensive would it be? Would parents be willing to pay more for local foods to support healthy meals and local farmers? Could food service personnel work with more buyers? Would fresh foods be more labor intensive?
A second FARMS roundtable, held at Nobleboro Central School in January 2007, continued the discussion. These forums clearly mandated that the benefits of buying local far outweigh the challenges. The school board gave formal support for schools to purchase directly from farms. Last fall, all four Union 74 schools participated in a 15-week pilot serving local apples, corn, potatoes, cucumbers, tomatoes, carrots, broccoli and winter squash daily in school lunches.
"The program wasn't perfect," says York. "There were communication gaps we are working on and some billing issues, but we made connections with farmers. They would call and say, 'We've got extra broccoli today, do you need any?' and the food service staff had the authority to say, 'Yes, we can use it.' We established a reciprocal sense of ownership."
The organizers are now evaluating the impact of the pilot, sending a survey to parents to compare with one done last year. As for costs, locally grown food didn't cost as much as anticipated. Over the long term, the organizers hope to link changes in lunch to overall health, student behavior and grades.
As the farm-to-school movement grows, will demand outstrip production? "As demand for local food soars in premium markets, such as farmers' markets and Whole Foods stores, schools will be competing for the same food," says Winston. "We need careful land-use planning to ensure we have the land we need to produce the food we need. Working with land trusts is important. By determining how much food we need, we should be able to coordinate production and distribution.
"If the vision is for schools to eat local food, we'll need to look at the larger, regional system. The focus so far has been on direct delivery, but maybe we need to look beyond that, to connect the farmers with larger distributors so they can deepen the market they have. Another solution might be developing cooperative systems to allow small farmers to share the distribution burden in order to access school and institutional markets," says Winston.
Winston is taking her successes on the road. Through Coastal Enterprises, Inc., she and Dana Hudson of Vermont FEED applied to the National Farm to School Program and became the Regional Lead Agency for New England and New York State. They will use FARMS and FEED as replicable models for communities that want to begin their own farm-to-school programs. As project manager, Winston will apply her local work on a much larger scale and will spread her message that "food is basic to everything we do – to family and community and sustenance."
About the author: Ellen Gibson enjoys writing about the agricultural renaissance of small farms in Maine. She lives on a farm in West Paris where she is restoring her barn and raising dairy goats.
---
Serve Only What You Would Eat
Lisa Mondor is the kitchen manager and team leader at Great Salt Bay School, an elementary school in Union 74 with around 400 students. She works with three others, and they have "always considered themselves a team," she says. They serve 75 to 80 breakfasts daily and about 280 lunches–over 300 on Fridays, when they have pizza. She makes her own whole wheat crust. Parents at the school have been very vocal about keeping the lunches healthy.
Mondor started the push to use more locally grown produce about four years ago, with taste testing and a harvest farm lunch. The lunch was well received but took a lot of prep. In Mondor's words:
We couldn't have done it without the volunteers. The kids help, too. The food coming from farms is clean, but needs to be washed, peeled, cut up, etc. Kids enjoy it when their parents are helping out in the lunchroom, especially when they are serving.

We make everything here. I've worked very hard to turn the program around. I've worked in food service all my life, in restaurants, as a waitress. I cooked as a little girl. My grandmother was a chef. She told me, 'If you wouldn't eat it, don't serve it to someone else.' Food has to have eye appeal, texture. If it doesn't look good to begin with, forget it.

For 15 weeks this fall, we served two or more fresh vegetables [or fruits] every day: potatoes, carrots, cucumbers, tomatoes, broccoli, apples, corn and winter squash. Next year I'd like to try even more, but the farmers need to know a year in advance how many pounds a week we use so they know what to plant.

We made small changes. We'd never bought potatoes out of a bag before. They were always processed, things like Tater Tots, French fries. We started cutting them into wedges—we didn't peel them—and baking them with lots of seasoning. We call them 'oven browned potatoes,' and the kids love them.

I buy carrots in 25-pound bags. I always have a big bowl of carrots available for the kids, but they used to be the so-called "baby carrots." Now I buy them locally. We served broccoli every Wednesday and gave kids a choice of steamed or raw. A lot of kids who won't eat it steamed will eat it raw.

The kids have been wonderful. They were excited about the harvest lunches. They don't balk at change and are willing to try new things.