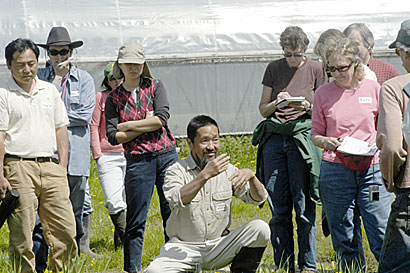 Takeshi Akaogi and his wife, Linda, are experimenting with rice cultivation in Vermont.
by Cheryl Bruce
For the past two years, Linda and Takeshi Akaogi have been experimenting with growing rice on their small farm in Putney, Vermont. In March 2008, they received a SARE Farmer Grant to evaluate the viability of rice production in the Northeast; to create a supply of seed for interested farmers; and to introduce rice as a commercial crop to this region.
People are often surprised to hear that rice – generally known as a tropical plant – can be grown in our part of the country. Cultivated rice, Oryza sativa, first domesticated 6,000 years ago, is now divided into two subspecies: O. sativa 'indica,' the long grain type (such as jasmine or basmati) grown in tropical southern regions; and O. sativa 'japonica,' a shorter, rounder, more cold-tolerant grain. Japonica rice has been grown in such temperate climates as northern Japan, the Ukraine, Uzbekistan and Romania.
When the Akaogis first tried to grow rice in 2006, the plants did not produce any viable seed. In 2007, in a 25' x 25' paddy, they grew and evaluated 21 varieties and identified six that produced seed. This year they are evaluating 31 varieties for seed production.
Among criteria used for variety selection, the date to maturity/harvest is the most important; others include resistance to both disease and lodging. Takeshi says once they find varieties that meet these criteria, they will select for yield and taste. They have connected with rice breeders Susan McCouch and Gen Fumio Onishi of Cornell University.
To grow rice, the Akaogis constructed a 6- to 8-inch-deep paddy that allows for controlled flooding. Cold water comes into a nearby constructed reservoir from a brook and is naturally heated before entering the paddy.
In April, seeds are soaked for 10 days at 50 degrees and then planted in plug flats in a greenhouse. They are transplanted to the paddy by mid-May, about a month after seeding. Transplants have only one shoot, so the paddy must hold warm water for the tender plants. The Akaogis routinely monitor water and soil temperatures in the paddy to ensure optimal growing conditions. The water level in the paddy should be half the height of the small rice plant. Although rice can be transplanted up to four weeks before the last frost, the Akaogis increase the water level to three-fourths the height of the plant for added protection when low temperatures are predicted.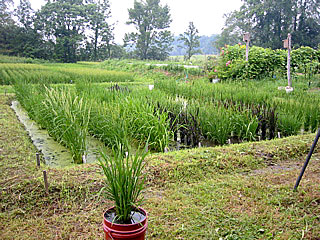 Rice can be grown in paddies or even in a bucket.
By June, the number of stems per plant increases significantly and plants are much taller. In July, some varieties begin to head out and start producing grain. Harvest occurs in September (Sept. 13 to 26 last year). Given their small scale of production, the Akaogis harvested by hand and then bundled, dried, threshed and later dehulled the rice.
The constructed paddy created a habitat for wildlife, including five species of frogs and three of dragonflies. The abundance of wildlife could result in a separate study with biologists to document this benefit of rice paddies.
To grow rice, the soil must be able to hold water; and because of its need for water, rice must be grown in an area with a good watershed and abundant water. The crop also needs a certain accumulation of heat throughout the growing season, so the Akaogis are collecting weather information this year.
The Akaogis' farm is in southeast Vermont at 900 feet above sea level – possibly the coldest climate for rice production. The Akaogis believe that rice grown in the lower lying Champlain Valley region of Vermont, and similar climates with longer growing seasons, may do well. Trials at other locations would be useful, and this year, several individuals grew rice in buckets at various Vermont locations. (To grow rice in a bucket, fill a 5-gallon bucket with soil, leaving 2 inches of space at the top. Water the soil in and then plant a small plug of rice. Add an inch or so of water to cover half the height of the plant. As the plant grows, add water to the top of the bucket. Keep the bucket in full sun.)
Rice might be grown on marginal land with poor drainage – but poor drainage does not mean wetlands. The Akaogis stress that wetlands need to be protected and are not suitable for rice production anyhow, because water flow cannot be controlled. Plenty of agricultural land in the Northeast is considered marginal and is already used for inferior hay crops, for example. The marginal fields in Vermont's Lake Champlain region that are already in agricultural use might grow up to 60,000 acres of rice and produce an estimated 2 tons of rice per acre; and rice cultivation might be part of the solution to runoff of agricultural chemicals into Lake Champlain.
The Akaogis see a lot of potential for rice production in the Northeast – for food, for wildlife and to recycle and purify wastewater from farms (from washing vegetables, or, possibly, water running off dairy barnyards). They are also interested in the System of Rice Intensification (SRI) in which rice is grown in soils that are moist but not anaerobic, producing fewer greenhouse gases and possibly increasing yields. Their project is in the early introduction stage, and they may be interested in looking at other methods of production later.
Rice production would also increase the diversity of agricultural products grown in the Northeast, would create a niche market for farmers and would increase our self-sufficiency. Vermont farmers already grow soybeans, wheat and other grains for these purposes and have established a Northern Grain Growers Association. (Contact: Dr. Heather Darby, 802-524-6501 x 206, [email protected].)
In contrast to organic California rice, Northeast rice would be local and organic. Because our rice would be grown on a smaller scale, it would not be a monoculture, but diverse stands that attract wildlife and utilize water efficiently while producing grain sustainably for local consumption.
For more information, contact Northeast SARE (802-656-0471) for a copy of the Akaogis' grant proposal. The Akaogis will hope to have a basic crop manual to share with other farmers by the end of this year.
Resources
International Rice Research Institute, www.irri.org.
Lundberg Family Farms (the leading American organic rice grower), www.lundberg.com
McCouch Rice Lab, Dept. of Plant Breeding Genetics, Cornell University, https://ricelab.plbr.cornell.edu/new/
National Small Grain Collection, https://www.ars.usda.gov/main/docs.htm?docid=2884

System of Rice Intensification, https://ciifad.cornell.edu/sri/news/2008.html

Universtiy of California, Davis, www.plantsciences.ucdavis.edu/uccerice/main.htm

Cheryl Bruce works for Vermont Organic Farmers, LLC, the certification branch of the Northeast Organic Farming Association of Vermont. NOFA-VT (nofavt.org) is a nonprofit organization of farmers, gardeners and consumers working to promote an economically viable and ecologically sound Vermont food system.