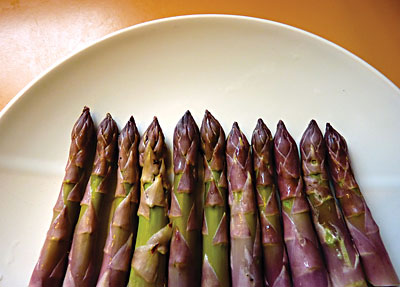 Fresh asparagus – a top reason for mucking about in the garden.
English photo
By Roberta Bailey
Last summer my husband and I spent seven days a week building a post-and-beam house. Our old house had burned the February before, and we were under a tight timeline with the insurance company. It all worked out well and we are living comfortably and very happily in a very pretty new house.
I have never been so glad to say goodbye to an old year as I was this January – the turning of the calendar page, a new leaf, a new start, hopes of fewer weeds in the garden and a promise to have a lot more fun and adventure. With these aspirations came a returned enthusiasm for cooking. All last summer, eating had been just one more thing to be done, calories to fuel the working body. Dinner was whatever took the least effort. I fantasized about a raspberry pie all summer long. Once, while shopping for a healthy frozen dinner, I noticed that the store sold organic pre-made pie crusts. Maybe I could make a pie after all. Even though I was managing to freeze and can some garden harvests, I worried that I would never want to cook again.
But with the January snows came a desire to make soup. And with the cooking came an increased love of my own homegrown vegetables, berries and meat. And yes, a raspberry pie. Some winters I have tired of root cellar fare and looked to the supermarket to brighten the plate, but this past year I honored every apple and cabbage down there with heightened appreciation.
The high tunnel greens certainly help make winter seem shorter as well. In late March, the strawberries began to bloom. High tunnel strawberries make winter-weary taste buds do backflips. After tasting them last spring, I increased the planting to a full row.
So here's to a spring that will light up your taste buds and rekindle your enthusiasms; to fat peas, sweet berries, tender zucchini, buttery lettuce, sun-warmed tomatoes and a re-affirmation as to why we do all this mucking about in the earth.
Glazed Roasted Roots
1 lb. each carrots, parsnips and beets
2 Tbsp. olive oil
salt and pepper to taste
3 Tbsp. maple syrup
Preheat oven to 450 F.
Cut roots into similar size pieces. In a large bowl toss with oil, salt and pepper. Spread on a shallow baking sheet. Roast for 15 minutes. Return to bowl and toss with maple syrup. Spread on baking sheet and continue to roast until tender, about 10 to 15 minutes. Remove and serve immediately.
Asparagus with Chive Aioli
Chive Aioli
1 clove chopped garlic
1/4 tsp. salt
1 large egg yolk
5 tsp. lemon juice
1 Tbsp. water
1/2 tsp. prepared mustard
1/2 c. olive oil
3 Tbsp. minced chives
In a small blender, blend together salt, garlic and egg yolk. Continue to blend and add the lemon juice, water and mustard. Add the olive oil one drop at a time, very slowly. Once thick, add the chives. Makes 1/2 cup.
Steam or oven roast asparagus until just barely soft. Serve immediately with a dollop of chive aioli.
Watercress Berry Salad
Serves 4
2 c. hulled strawberries
3 Tbsp. fresh spearmint, finely chopped
1/3 c. fresh orange juice
A mix of watercress and thinly sliced romaine lettuce as a bed for each plate
Prepare the strawberries into bite-sized pieces. In a small bowl, mix the berries, mint and orange juice. Place the mixture on each plate of watercress and lettuce.
Kathy Gunst's Grilled Rhubarb
Based on Kathy Gunst's book, "Notes from a Maine Kitchen: Seasonally Inspired Recipes"
2 c. fresh rhubarb, ends trimmed, cut into 2-inch pieces
1/4 c. sugar plus 1 Tbsp. sugar
Place the rhubarb in a bowl and sprinkle with 1/4 c. sugar, letting the rhubarb "marinate" at room temperature for about 1 hour (or cover and refrigerate up to 12 hours).
Place rhubarb on a grill rack or basket on a hot grill (about 350 F). Grill for 5 minutes. Flip over and grill for another 3 to 5 minutes or until rhubarb is softened but not falling apart. Sprinkle with another tablespoon of sugar. Serve with grilled meats or with yogurt or ice cream.
Wilted Spinach and Radicchio Salad
1 small red onion, quartered and thinly sliced
2 to 4 garlic toast rounds per person
3/4 lb. fresh spinach leaves
1/4 lb. thinly sliced red radicchio
6 Tbsp. olive oil
12 to 24 kalamata olives
balsamic vinegar
1 clove minced garlic
1 Tbsp. minced spearmint
6 ounces feta cheese
freshly ground black pepper
Toast baguette rounds. Immediately upon removing them from the toaster, rub them with a clove of garlic.
Cut olives in half, pitting if necessary.
Prepare the spinach by giving it a rough chop, if leaves are large. Place in a large metal bowl and toss with onions, minced garlic, mint, olives and vinegar.
Crumble feta over the salad.
Heat the olive oil until almost smoking. Pour it over the spinach, tossing it with tongs, to coat and wilt the leaves. Taste and season with more vinegar and freshly ground black pepper. Makes 3 to 6 servings.
Shrimp Bisque with Fresh Peas
1 lb. small shrimp, shelled
1 c. finely diced onion
1 c. shredded apple
2 Tbsp. butter or vegetable oil
1 heaping Tbsp. white flour
1-1/2 c. vegetable stock or water
1 Tbsp. fresh lemon juice
1 piece of lemon peel, 2-inches long
1/8 to 1/4 tsp. curry powder
1/4 tsp. salt
1/4 tsp. fresh pepper
2 Tbsp. dry white wine
1 c. half and half
1-1/2 c. freshly shelled peas, lightly steamed
minced parsley to garnish
Rinse the shelled shrimp and set aside.
In a covered saucepan, sauté the onions and apples in butter or oil for 10 minutes. Sprinkle with flour and cook, stirring for a few minutes. Stir in the stock/water, lemon juice, lemon peel, curry, salt, pepper and wine. Simmer for about 5 minutes or until the mixture begins to thicken. Add the shrimp and half-and-half. Simmer gently until the shrimp are pink. Shrimp will toughen if cooked too long. Remove the lemon peel.
In a blender, purée half the soup mixture. Return it to the pot. Add peas. Serve immediately, garnishing each bowl with minced parsley.