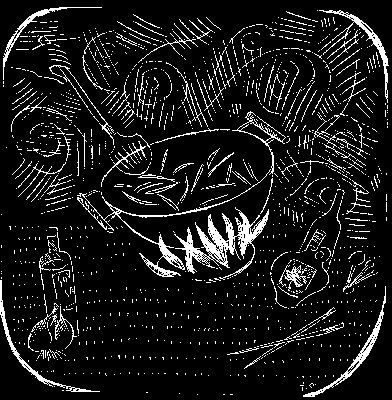 Toki Oshima drawing
By Roberta Bailey
I have such gratitude toward Jean Ann Pollard. She has been a guide and inspiration to me in the kitchen since 1987, when she published The New Maine Cooking. Until then, I would go to the garden or the root cellar, choose vegetables for the day, then thumb through books to find inspiration and a recipe that came close to matching what I had on hand. Often the only thing in common was the vegetable. With Pollard's first book, I was able to make seasonal recipes, start to finish.
Pollard has a new book, The Simply Grande Gardening Cookbook, with gardening notes by her husband Peter Garret. Organized seasonally and monthly, each section includes gardening tips, sociological history and quotes for the featured vegetable followed by a collection of diverse and delicious recipes using that vegetable. Sixty-eight vegetables, 275 recipes: I feel blessed and excited to have received the book in early July, just in time to have it as a constant summer kitchen companion. I like to read about the food I am preparing. I like being reminded of my place in history, the continuity of cycles. Then mincing garlic or dicing peppers takes on more meaning.
The Simply Grande Gardening Cookbook (Burford Books, 2001, $18.95, 338 pp.) comes out of the combined efforts of Jean Ann and Peter, who lovingly care for and grow Simply Grande Gardens, a 1-acre garden in Winslow, Maine, that feeds 15 families. Hydrogeologist Peter is the head gardener, writer and artist; Jean Ann supplies the recipes for the vegetables.
Simply Grande has so many inspirational recipes, it is extremely difficult to choose just a few. I can't wait to try this curry.
SPRING
Grapefruit Rhubarb Marmalade
Makes 6-1/2-pint jars
Pull, wash well and drain:
about 4-1/2 lb. rhubarb stalks
Cut the stalks into 1-inch pieces to measure 4 lbs.
Wash 2 grapefruits thoroughly with soap and water (4 oranges can be substituted)
Cut the grapefruits in half. Juice them (retaining the seeds), and slice the rinds into thin strips. Cut the strips into bite-sized pieces. Meanwhile, place the seeds into a little clean cloth bag and close with a string.
Into a large stainless-steel pot or porcelainized pot, place:
the 4 lb. cut-up rhubarb
2-1/2 lb. light brown sugar
the thinly sliced grapefruit rinds
2 T. powdered ginger
1/2 c. grapefruit juice
the little bag of seeds
Put a wok ring on your stove, place the pot on it and cook slowly over medium-low heat till the marmalade is thick and brown (4-6 hours). Stir once in a while, especially at the end to be sure there is no burning on the bottom.
Once the marmalade is thick and yummy, remove the bag of seeds, ladle the marmalade into hot, sterilized jam jars, and process in a boiling-water bath for 10 minutes.
SUMMER
Spicy Hot Green Beans
Serves 2 to 3
Place a wok on its collar, heat, and add:
2 T. sunflower seed oil
When the oil is warm, reduce the heat to medium and add:
2 cloves garlic, minced
When these are lightly browned, stir in:
1 T. red chili paste
1 T. refined white sugar OR maple syrup
shoyu (naturally fermented soy sauce) to taste
Stir for about 30 seconds until blended and aromatic. Taste. Adjust the sweetening and chili paste as desired.
Add:
1 lb. green beans, snapped into 1-inch lengths
You should have 4 cups. Stir-fry for about 2 minutes, till the beans are crisp-tender. Serve hot.
FALL
Aubergine Curry
Serves 6
Rinse:
2 medium eggplants (1-1/2 to 2 lb. total)
Peel, quarter, then slice into 1-inch thick bits. Place in a big bowl and sprinkle with:
1 T. sea salt
Toss with your fingers. Let the eggplant rest in the colander for 1/2 hour, then place in a tea towel, press out the excess water, and cut the slices into smaller cubes.
Wash well and cut into cubes to equal 3 cups:
3 large potatoes
Cut into 1/2-inch cubes:
2 lg. red or green bell peppers
In a large stainless or porcelainized pot, heat:
1/2 c. extra-virgin olive oil
Add and sauté for several seconds:
1 t. powdered ginger
1 t. powdered turmeric
1/2 to 1 t. powdered cayenne
1/2 t. powdered cinnamon
1/2 t. ground coriander
1 t. white mustard seed
1 t. powdered cumin
1-1/2 t. salt
2 lg. garlic cloves, minced
Add and toss until evenly coated with spices:
the eggplant, potatoes and peppers
Add: 2-1/2 c. water
Cover the pan and simmer the vegetables for about 20 minutes, stirring occasionally. Remove the cover and simmer 15 more minutes, stirring often.
Cut into small cubes and add:
4 big firm, red tomatoes
When the tomatoes are heated through, serve with rice and condiments such as a bowlful of currants, banana slices, banana or cucumber raits and/or plain yogurt
WINTER
Chinese Pickled Turnip and Carrots
Cut in small bite-sized pieces and place in a bowl:
1 small white turnip
1 half carrot
Add:
10 thin slices fresh ginger root
1 red chili pepper, diced
1 red pepper, diced
4 t. sea salt
Mix well and let stand for 6 hours.
Lightly rinse the vegetables, drain, and return to the bowl.
Add and mix well:
5 T. white sugar
5 T. apple cider vinegar
Let rest for 6 hours, refrigerated. Serve as a condiment.