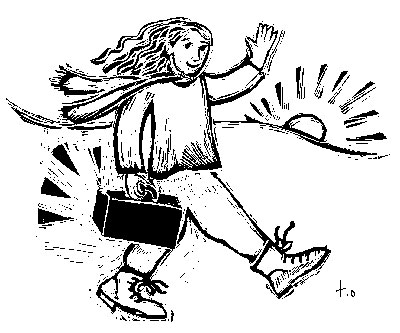 Toki Oshima drawing
By Roberta Bailey
The other day a friend telephoned me in complete exasperation. She had been trying to find something that her eight-year-old would eat other than pizza and macaroni and cheese. I wasn't much help. My kids liked most vegetables and I let them eat a lot of macaroni and cheese (with parsley in it). We lived so far from a pizza place that it wasn't an issue.
But my wanting them to eat well and their white bread dreams were often an issue. I tried to respect that what goes into their bodies is one of the few sources of control and power in an adult world. So they were given choices. I made sure that the choices were fairly healthy. That was hard. Making varied healthy school lunches that kids will eat (in front of other kids) is a big challenge.
I confess that my kids are in their twenties now. So I polled co-workers, friends, and family about what they send in the lunch box. (I had to make sure that lunch boxes still existed.) Suggestions included fakin bacon (soy bacon), BLTs, celery and cream cheese, make your own salad, tacos, hummus with grilled tempeh, cashew butter and celery stick and raisins, wraps with anything your child will eat in it, popcorn balls, small calzones, mochi, sticky rice, quiche with their choice of fillings, and blueberry pie. I also called my daughter, who said grilled cheese sandwiches, tomato soup, homemade macaroni and cheese, and omelets that she got to decide what to put in it and to help make.
It's all a juggling act. Here are a few recipes to help you balance with grace.

Tofu-Egg Salad
Good in a wrap, on crackers, or sandwich bread.
1/2 lb. firm tofu
1 egg, hardboiled and peeled
mayonnaise to taste
herbs, such as minced chives, curry powder, basil, minced celery leaf
salt and pepper to taste
Crumble, the tofu and the boiled egg together. Add mayonnaise to the desired texture. Add one or more spices and salt and pepper to taste.

Blueberry Pie with Easy Oil Crust
4 cups frozen or fresh blueberries (20 ounces)
3 Tbsp. quick-cooking tapioca
1/2 c. sugar, honey or maple syrup
1/8 tsp. salt
Mix all ingredients. Let stand for 15 minutes. Fill the pie shell. Cover with crust and bake at 450 degrees F for 10 minutes, then reduce heat to 350 for 45 minutes.

Easy Oil Crust
(Adapted from a recipe by Karen Harmon in the Belfast Co-op Store Cookbook)
2 c. flour
1 tsp. salt
Mix above ingredients together, then add:
1/2 c. safflower oil
1/4 c. water
(Or a tad more oil and water to make the dough easier to work)
Roll out and place in pie crust.

Apple, Carrot, Raisin Salad
Grate two to three carrots. Dice one apple. Mix in a bowl with the perfect amount of raisins. Add a dash of maple syrup and mild vinegar, such as rice wine vinegar. One tablespoon safflower oil is optional. Mix and chill or serve.

Banana Muffins
1 c. oatmeal
1/4 c. soymilk or lowfat milk
2 ripe bananas, mashed
1 egg, beaten
1/2 c. brown sugar or maple syrup
1 tsp. grated orange rind
1/4 c. safflower oil
1 c flour
2 tsp. baking powder
1/2 tsp. salt
1/2 tsp. baking soda
Combine oatmeal, milk, bananas, egg, sugar or syrup, oil and orange rind. Add dry ingredients and stir until just mixed. Fill greased muffin tins two-thirds full. Bake at 400 degrees F for 15 to 20 minutes.

Easy Almond Torte Cookies
In a food processor, blender, or grain grinder, grind to flour:
1 c. raw almonds
1 c. rolled oats
Add:
1 c. whole wheat pastry flour
1/4 tsp. cinnamon
pinch of salt
In a separate bowl, blend together:
1/2 c. maple syrup
1/2 c. safflower oil
Mix all ingredients. Let sit for 5 minutes. Mold into round cookies with a deep well in their center. Add a spoonful of jam to each center. Bake at 350 degrees F for 12 to 15 minutes, or until lightly browned.