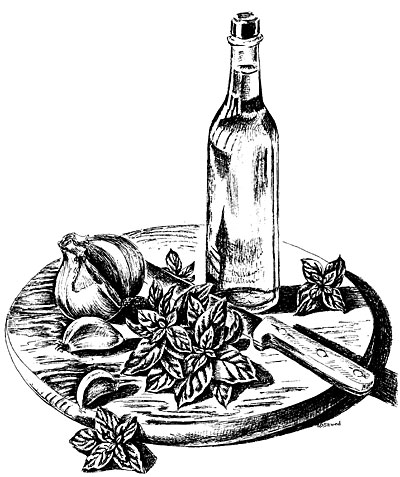 Sue Szwed drawing
By Roberta Bailey
I once stated that if I could grow only one plant, it would be sweet basil – aromatic, pungent, mouth-watering basil. No sooner were the words out of my mouth when thoughts of tomatoes, fresh salad greens, cilantro, and garlic immediately challenged my claim, and I conceded that basil was better with an entire garden to back it up. Sweet basil in tomato sauce, lemon basil on fish or in salad, Thai basil with tofu and snow peas: Virtually every meal that I cook reminds me of this lesson. The Pesto Manifesto, Recipes for Basil and Beyond, by Lorel Nazzaro (Chelsea Green Publishers, 1-800-639-4099, www.chelseagreen.com. April 2002, $14.95, 182 pages), a Brunswick, Maine, resident and self-confessed over-the-top basil aficionado, starts in the backyard garden, then progresses to the many culinary corners of the earth. As well as being an extremely creative and diverse collection of basil and pesto recipes, the book covers history, growing and harvesting tips, cooking with dried, frozen and fresh basil, even the business of selling pesto. From Afghanistan to France, to Thailand and back to Maine, the recipes tell it all.
Gemolata

An Italian crushed herb condiment used with vegetables or veal. 'Gemma' means the bud of a plant
1/4 c. lemon zest
4 t. garlic, minced
3/4 c. basil, minced
olive oil
Mix the first three ingredients together by hand, and add just enough olive oil to moisten.
Arugula and Carrot-top Pesto
Use young feathery bright green carrot tops
1/2 c. carrot tops or parsley
1 c. arugula
1/2 c. soy oil (Ed. note: Use organic oil to avoid genetically engineered soy.)
1 large clove garlic
2 T. sunflower seeds
1 T. nutritional yeast
1 t. sea salt
1 t. horseradish
Put ingredients in a food processor and blend until the nuts are chopped.
Cilantro Chutney
2 c. young cilantro leaves
2 T. ginger root, diced
1/4 c. lemon juice
1/4 c. water
1/4 c. unsweetened coconut
1 t. salt
1/4 c. diced onion
Put all ingredients in a food processor and grind for 10 to15 seconds. Serve with raw or steamed vegetables. (Author's note: Great with Indian or Thai food as well, or over fish.)
Kale Pesto
8 large kale leaves
1/2 c. olive oil
2 scallions, chopped
1 T. of your favorite prepared mustard
1 clove garlic
1/2 c. kale stock
Cook kale in a little more than half a cup of boiling water for 5 minutes. Drain, saving 1/2 cup of stock. Place oil, scallions, mustard and garlic in a food processor along with the kale. Grind for 10 seconds. Check for consistency. If too thick, add a small amount of stock and continue to process until desired consistency is reached. Serving suggestion: pour over cooked beets, toss lightly with mustard seeds and season with salt and pepper. Also good chilled.
Sabzee with Pesto
(on Pita)
A vigorous dish from Afghanistan, eaten in spring when new herbs and greens have sprouted
Use any combination of the following:
Spinach
Mint
Dill
Tender turnip, beet or mustard greens
Cilantro
Parsley
Arugula
Pita bread
Chop the greens together roughly and place them in a bowl. Toss with pesto and a sprinkle of salt. Spread a thin layer of plain goat cheese, yogurt, or ricotta inside pocket bread and fill with the greens mixture.
Lorel Nazzaro's Pesto Recipe
Place 2 large cloves of garlic in the bottom of a blender or food processor. Add 3 c. very firmly packed fresh basil leaves, 2 T. grated Parmesan cheese, and 1 c. olive oil. Grind for 10 seconds. Add 1/2 c. pine nuts. Grind for 8 to10 seconds longer. The pesto should not be pulverized but should have small pieces of leaves and nuts. It can be stored in the refrigerator at least four weeks or frozen in plastic containers for up to one year.
Want more seasonal recipe inspiration? Sign up for our monthly local and organic kitchen emails.