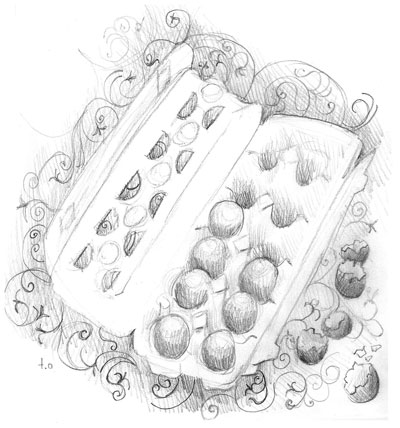 Toki Oshima drawing
By Roberta Bailey
Our farm is nestled up against a low ridge that parallels the Kennebec River. The soil is deep and virtually rock-free. We do get a bit too wet in spring with that river-bottom clay, but we never have to water. On the backside of the ridge is a meandering chain of bogs and slow-moving streams, a corridor of daily bird migrations.
Every morning, half a dozen great blue herons head south, crossing the farm with almost silent and ancient majesty. They return to the north at dusk. Starting in August, a flock of Canada geese honks its way south each morning and returns north in the evening, often so late that one can only hear their honks and the collective whisper of their wings. Each day there are more of them, until the third week of October when hundreds, often in four or five expansive V-formations, head south in a racket of honking. You never know when the last passing will be. This year it came oddly early. No geese passed much after the three hard frosts in the third week of September. I kept listening, but they were gone.
The orchard is a delight in spring as all two dozen birdhouses on the fence posts are filled with chortling tree swallows. The Eastern bluebirds nest in the boxes along the grape arbor. I plan my pruning and orchard maintenance after their arrival. Usually I end up lying in the grass just watching them swoop through my sky-filled field of vision.
The Baltimore orioles nest in spindly saplings that no cat can climb. Hummingbirds dart and hover throughout the gardens and flower beds. Goldfinches and chickadees feast on the flower seeds. The pileated woodpeckers hammer their presence known in an old black cherry tree near the nut trees. And always the buteos and osprey circle and keen. At last count, seven eagle nests were on the stretch of river closest to the farm. The eagles often soar high above the farm fields, banking off the thermals that curl along the ridge. Sometimes they swoop low and scour the mown fields or worry the chickens.
And there are the chickens, all 40 of them. This time of year, they don't venture too far from the warmth of the coop, but they are still ranging, scratching through the closest garden and under the elders. I supplement their feed with kelp meal and dried hot peppers. The peppers make their yolks quite orange, and the kelp helps with trace minerals and may increase the level of omega 3 fatty acids in the eggs. The number of eggs has dwindled considerably since the long days of summer. I froze some of the summer eggs for winter baking, especially around the holidays, when so many more eggs are needed. To freeze them, simply crack one or two eggs into a bowl, whisk thoroughly and freeze them in a container. Label each container with the number of eggs that are in it. Thaw completely at room temperature or overnight in the fridge before using.
Pear or Apple Clafouti (an omelet-like custard)
Filling
3 c. sliced tart apples or firm pears
1/2 tsp. cinnamon or cardamom
1/2 tsp. freshly grated orange and/or lemon peel
Batter
4 eggs
1 c. milk
3/4 c. unbleached white flour
1 tsp. vanilla extract
1/8 tsp. salt (optional)
1/3 c. honey
1/4 tsp. cinnamon
1 Tbsp. vegetable oil or softened butter
Preheat the oven to 350 F. Toss the apple or pear slices with the cinnamon and grated citrus peel. Place apples or pears in a lightly buttered, 9-inch-square baking dish or a 10-inch non-reactive pie pan.
In a blender or with an immersion blender, combine all the batter ingredients and mix until smooth. Pour the batter over the fruit and place in hot oven. Bake for 50 minutes or until a knife inserted in the center comes out clean. Cool 20 minutes before serving warm or at room temperature.
A wide range of fresh, frozen or canned fruit can be substituted in this recipe. Cooking times may vary.
Maine Berry Flan
1 c. milk
1 c. half and half
1/3 c. sugar or 1/4 c. honey
freshly grated peel of one lemon
2 large eggs
2 egg yolks
1 c. frozen or fresh raspberries or blueberries (If using frozen berries, thaw and drain off the juice.)
Preheat the oven to 325 F.
In a saucepan, combine the milk, half and half, sugar or honey and lemon peel. Heat to a simmer, then remove from the heat. In a blender, mix the eggs and yolks. With the blender running, slowly pour the milk mixture through a strainer and into the eggs and blend for a few seconds.
Pour the mixture into four 6-ounce custard cups or small ovenproof bowls or cups. Place about eight berries or a tablespoon of berries in the center of each cup.
Set the cups in a cake pan and pour boiling water into the pan so that it reaches about halfway up the cups. Bake the flan for 50 to 60 minutes or until firm in the center. Cool on a wire rack, then chill for at least 30 minutes. Serve chilled. Serves four.
Eggs Foo Young (a rich omelet made with the addition of meat, fish or vegetables)
2 c. fresh bean sprouts
2 tsp. cooking oil or as needed
1 tsp. grated ginger
4 to 5 chopped green scallions
1/4 c. diced celery
1 c. chopped shrimp, fish, pork or chicken (optional; grated carrot or other vegetables may be substituted)
6 well beaten eggs
1 tsp. salt
1/2 tsp. pepper
a pinch of hot pepper flakes (optional)
oil for cooking
tamari
Rinse and drain the fresh bean sprouts. Heat 2 tsp. of oil in a heavy frying pan and stir-fry the scallions, celery, ginger and fish, meat or carrots. Beat the eggs, salt, pepper and pepper flakes together in a bowl, then stir in the sprouts and the stir-fried mixture. In another small skillet, heat 1 Tbsp. oil. Ladle the egg, sprout and stir-fried mixture into the skillet, forming small pancake-sized omelets. Flip to cook both sides. Serve with tamari or soy sauce.
Stracciatella or Roman Egg Soup
2 quarts chicken or vegetable stock
4 eggs
5 Tbsp. Parmesan cheese, finely grated
salt and pepper
1/4 to 1/2 tsp. anchovy paste or fish sauce
2 to 3 Tbsp. finely chopped parsley
Bring stock to a vigorous boil. Whisk the eggs and cheese together. Add them to the boiling stock in a thin stream, whisking as you pour. Season to taste. Stir in parsley just before serving. Serves five to six.
Portuguese Sweet Bread (adapted from James Beard's recipe)
2 Tbsp. active dry yeast
1/2 c. sugar
1/2 c. honey (or use all honey rather than honey and sugar, but you may need more flour if you use all honey)
1/3 c. warm water
1/2 c. softened butter
1/2 c. warm milk (soy, rice, almond or animal milk)
4 eggs, lightly beaten
2 tsp. salt
3 c. all purpose white flour
1 to 1-1/2 c. whole-wheat flour
Combine the yeast, 1 tsp. sugar and warm water in a large bowl and allow to proof. Place the butter in the warm milk, add the remaining sugar and honey and whisk together, then add to the yeast mixture. Add three of the eggs and the salt. Then add 3 c. of white flour and 1 c. of whole-wheat, 1 cup at a time. Knead by hand or with a mixer on slow until the dough is smooth and elastic. It will feel like an earlobe in texture. Add more flour if the dough is sticky.
Shape the dough into a ball and place it in a greased bowl. Cover and let it rise in a warm place until doubled in bulk, about 1 to 2 hours. Punch down the dough and divide it into two equal balls. Place in two small (9-inch), oiled cast iron or stainless skillets or omelet pans or in two standard bread pans. Cover loosely and let rise again until doubled in bulk.
Beat the remaining egg and brush the tops with it. Bake in a preheated 350 F oven for 30 to 40 minutes. Loaves should be well browned and sound hollow if rapped on the top or bottom. Remove from pans and cool on a wire rack before slicing.

About the author: Roberta Bailey raises vegetable and flower seed crops on Seven Tree Farm in Vassalboro and works for Fedco Seeds as a division coordinator.