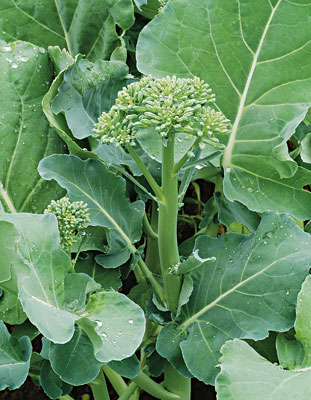 'Happy Rich' gailaan. Photo courtesy Johnny's Selected Seeds, Johnnyseeds.com.
By Roberta Bailey
"What is your favorite vegetable?"
I never used to be able to answer that question. When asked, I would think of tomatoes, and then the need for basil or cilantro, or the spicy zip of arugula, and before I knew it, I had a salad of answers. I would just reply that I really love every vegetable. And then I would quietly remind myself to really appreciate and honor the traits of each as I eat … the sweetness, the crunch, the starchy satisfaction, even the creamy whiteness. I used to think that white vegetables had little nutritional value. Why eat cauliflower when its relative broccoli packed so much iron and calcium? Now I hear that white vegetables have immune-boosting components. Humbled yet again by my rule of living: Don't rule out something because of things you don't know.
Lately, my favorite vegetable is gailaan. Also known as Chinese broccoli or kailaan, it produces greens and a small floret on thick, elongated stems. I crave the firm texture of those stems every time I see or think about them. Walking past the row of gailaan in the garden always means stir fry for dinner.
It took me awhile to name this as my favorite vegetable, but only because I did not know the word. My daughter and I have a favorite dim sum restaurant in Boston that we frequent whenever I visit her. The staff starts to serve "greens" (gailaan) by noon. We wait for gailaan to come out of the kitchen. They are bright green and slightly leafy and steamed to perfection with a texture that is perfection itself. The wait staff serves them squirted with tamari and sliced into half spears. But we were never able to get their name. We also noticed them in some Asian markets, but never with any sign, never in English.
Somehow, perhaps browsing the Kitazawa seed catalog, I put a name to them, and at our next dining adventure I impressed my daughter by asking for them by name. Or perhaps she was just impressed that my request worked at all.
Since then, I have ordered every variety of gailaan that I can find in a seed catalog. Kitazawa offers five or six with different seasonal preferences. Its late season variety, 'Te You', matured in late December in my high tunnel from an August seeding. It went on to produce multiple spears from late February into April, when it finally gave way to white flowers that the bees loved. In summer, 'Happy Rich' from Johnny's Selected Seeds produces the fattest stems. Fedco's 'Green Lance' seems well adapted to many micro-climates. I plant every three weeks from spring through fall to ensure a steady supply.
Try something new. Now is the perfect time to plant. Here are some recipes for inspiration. No translation necessary.

Note: I add gailaan to Thai soups or almost any recipe that uses broccoli. It is great added to a Tom Yum Soup.

Steamed /Blanched Gailaan with Oyster Sauce
About 1 lb. gailaan spears, trimmed
2 to 3 Tbsp. oyster sauce
2 Tbsp. warm water
1 clove finely minced garlic (optional)
Rinse and drip dry the gailaan. To prepare the oyster sauce, mix with water (and garlic if desired) and place in a small saucepan. Over medium heat, bring to a rapid boil, then set aside.
To steam spears, set a steaming rack in a large pot holding 1/2 to 1 inch water. Bring to a boil. Place spears in pot and cover. Steam for 2 to 3 minutes, until stems are just tender. Remove gailaan from the pot and serve with oyster sauce poured over it.
To blanch, bring an ample sized pot of water to a full boil, immerse the gailaan spears in the pot for 2 minutes and then remove them. Pour the oyster sauce mixture over the spears and serve immediately.
Note: I have used miso in place of oyster sauce. Just boil the water and garlic together, then add the miso. Add more water to make a sauce. Do not boil the miso, as boiling will kill the live cultures.

Gailaan Stir Fry
1 lb. gailaan
2 Tbsp. vegetable oil
1 inch fresh ginger root, sliced very thinly or grated
3 to 6 ounces mushroom – shitake, oyster or other
1/4 to 1 tsp. dried hot pepper flakes (optional)
2 to 3 cloves garlic, minced
2 to 3 Tbsp. tamari
1 Tbsp. rice wine
1 tsp. cornstarch mixed with 2 Tbsp. warm water
1 tsp. toasted sesame oil
To prepare the gailaan, rinse thoroughly and trim any dry ends. Cut off the leaves and cut them into 2-inch chunks. Set aside. Cut the stems into 1-inch pieces. Set aside. Slice the mushrooms as desired.
Heat a wok or large pan until very hot, then add the vegetable oil. Add the ginger and garlic and sauté for 30 seconds. Add the gailaan stems and mushrooms. Sauté for about 2 minutes. Add the hot pepper flakes if desired. Add gailaan leaves, tamari and rice wine. Stir to combine and cook for 1 minute. Leaves will just be wilted. Pour on the cornstarch mixture. Stir for another minute. Turn off heat and serve immediately with sesame oil drizzled over it.

Miso Soup with Gailaan
8 c. water
1/4 c. miso paste
1 to 2 cloves garlic
1 small onion, cut lengthwise into slivers, or 1/4 c. scallion
slices
1/2 to 1 c. cubes of firm tofu
1 to 2 c. chopped gailaan
In a heavy saucepan, bring 2 cups of water to a boil and add garlic and onion or scallion. Simmer until onions are starting to soften. Add gailaan and tofu cubes. Simmer for a few minutes until gailaan is tender. Add remaining water and heat to just below a boil. To add miso, put 1/2 c. of soup water in a bowl and stir in the miso. Stir the mixture into the soup. Taste and add more miso if necessary. Do not boil the miso, as boiling will kill the live cultures. Serve immediately. Serves 4.

Thai Style Gailaan
1 lb. Chinese leafy greens (gailaan or jie lan)
1 Tbsp. salt
1 Tbsp. vegetable or sesame oil
1 to 2 Tbsp. minced garlic
1 Tbsp. fermented soybean paste or miso
1 Tbsp. Thai fish sauce
1/2 c. water
Wash the greens thoroughly in cold water. Cut off and discard any discolored leaves. Slice any thick stems lengthwise in half.
Bring a large pot of water to a rolling boil and add the salt. Toss in the greens, blanch for a minute, then drain and set aside.
Heat a large wok over high heat. Add the oil and swirl to coat the wok. Toss in the garlic and stir fry for 30 seconds, then toss in the greens. Stir fry vigorously for about 1-1/2 minutes, then add the soybean paste and fish sauce. Stir fry for another 30 seconds, then add the water, bring to a boil and cover. Cook for about 2 minutes, then remove the lid. The greens should be tender and still bright green. Turn out onto a plate and serve hot or at room temperature. Serves 4 to 6 as part of a rice meal.
About the author: Roberta is our long-time recipe columnist. She lives and farms in Vassalboro.