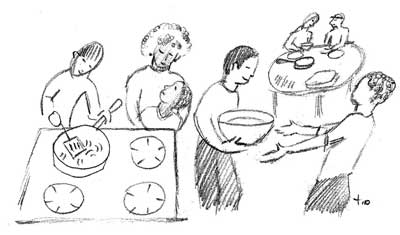 Toki Oshima drawing
By Roberta Bailey
These days "kindness" is the word that I hold in the foreground of my mind. It is on a slip of paper at the corner of my bathroom mirror, the base of my computer, and I envision it on the inside of my forehead. It helps me move through the day, coaxing me out of bed and into the outside world. It reminds me of the goodness in humanity and the heart-opening power that a simple gesture can hold. I place great weight in acts of kindness, being inspired by the words of poet, psychoanalyst and post-trauma specialist Clarissa Pinkola Estes in her essay "We Were Made For These Times":
"Ours is not the task of fixing the entire world all at once, but of stretching out to mend the part of the world that is within our reach. Any small, calm thing that one soul can do to help another soul, to assist some portion of this poor suffering world, will help immensely. It is not given to us to know which acts or by whom, will cause the critical mass to tip toward an enduring good.
"What is needed for dramatic change is an accumulation of acts, adding, adding to, adding more, continuing. We know that it does not take everyone on Earth to bring justice and peace, but only a small, determined group who will not give up during the first, second, or hundredth gale."
Kindness is my stepping stone. I place one foot on one stone at a time and I venture forth. It reminds me to be inclusive and helps me to ward off divisiveness. The light in another's eyes lets me know that it is the right path.
These recipes are simple gifts. I hope that they feed your soul and nourish those with whom you share them.
Onion and Cilantro Chutney
Makes 2 cups
8 ounces red onion
1/2 c. cilantro leaves
1 tsp. sea salt
3 Tbsp. fresh lime juice
1 tsp. vegetable oil
1-1/2 tsp. ground cumin
Bring a small pot of water to a boil while you slice the onions into 1/4-inch thick strips. Blanch the onions by dipping them in the boiling water for 20 seconds and then removing them and cooling them under running water to stop the cooking. Drain thoroughly and place in a bowl. Add the lime juice, salt and cilantro.
In a small skillet, warm the oil, add the cumin and brown for 2 to 3 minutes, stirring constantly. Add this fragrant mixture to the onions and stir well.  Serve immediately. Keeps up to three days.
Jammy Tortes
1 c. almonds, walnuts or pecans
1 c. rolled oats
1 c. whole wheat pastry flour
1/4 tsp. cinnamon
pinch of salt
1/2 c. maple syrup
1/2 c. vegetable or canola oil
Jam of choice
Preheat the oven to 350 F.
Grind oats and nuts into a meal with a food processor, blender or grain grinder. Add the flour, cinnamon and salt to the meal.  Whiz together the oil and maple syrup, then stir them into the dry ingredients. Form balls and place on a greased cookie sheet. Make an indentation in the dough and spoon a small amount of jam into the center. Bake for 15 minutes.
Rhubarb Juice
1-1/2 quarts of rhubarb, cut into 1-inch pieces
2 quarts water
1 c. sugar or 3/4 c. maple syrup or honey
Boil the rhubarb in the water in a covered pot until mushy. Strain. Add sweetener to taste.  Refrigerate.
Mint Pesto
Makes 1 cup
1-1/2 c. chopped spearmint
2/3 c. freshly grated Parmesan cheese
1/3 c. slivered almonds
2 Tbsp. sunflower or canola oil
Place mint, cheese, almonds and oil in the food processor. Process until finely chopped.
Serve with lamb or chicken. Pack in small jars to freeze or share. Refrigerate for up to one week or freeze for up to six months.
Apple Scones
2 c. all-purpose flour
1/4 c. packed brown sugar
1 Tbsp. baking powder
1/4 tsp. salt
1/4 tsp. cinnamon
1/4 c. butter, chilled
1 c. fresh diced apples
3/4 c. half-and-half cream or non-dairy substitute
1 egg
Preheat oven to 375 F. Cut butter into mixture of flour, sugar, baking powder, cinnamon and salt. Add diced apple and toss to mix.
In a separate bowl beat together cream and egg, and slowly pour the mixture into the dry ingredients, stirring with a rubber scraper until dough forms. Knead just until it comes together, three or four times. Don't over-handle. Divide the dough in half. On a lightly floured board, shape each half into a 6-inch round. Cut into six wedges. Bake on ungreased sheet for about 20 minutes at 375 degrees F. Serve warm.
This article was originally published in the Spring 2017 issue of The Maine Organic Farmer & Gardener.
Looking for more seasonal recipes? Sign up for MOFGA's Local and Organic Kitchen Newsletter.